ANALYSIS
By Ben Hayward | Spanish Football Writer
Real Madrid's date with destiny has arrived. Jose Mourinho's men were badly beaten last week in Dortmund, with the 4-1 loss at BVB seemingly all but ending their
Decima
dream for another year. Hope, however, springs eternal - and ever since that damaging defeat, all the talk in Madrid has been about a Champions League comeback at the Santiago Bernabeu on Tuesday night: Operation 3-0.
While Barcelona face what looks like an impossible task in overturning their 4-0 reverse at Bayern Munich last Tuesday, Cristiano Ronaldo's goal in Dortmund has given Madrid more hope of advancing to the Wembley showpiece next month. And three goals will suffice, providing a clean sheet can be kept.
Hopes of an epic comeback commenced after the defeat in Dortmund. President Florentino Perez was angry at what he had witnessed, but bit his tongue and found some encouraging words for a decimated dressing room. He reminded the players of the grandeur of the club, their famous comebacks in the past and told them that, at the Bernabeu, anything was possible.
Suddenly, the mood changed. On the bus back to the airport, the players began to sing songs. Belief had returned. The Madrid media has helped, starting a campaign to support the side, while the club posted a video on their site in which many of the top players, including Cristiano Ronaldo, Xabi Alonso and club captain Iker Casillas, called for the fans to back the team. "You are our strength."
And on Monday, Mourinho told the press he had spoken privately to his team. The message was one of unity. Off the pitch, the club have done everything they can to boost morale ahead of a game which may make or break their
Decima
dream.
On Tuesday, the hard work begins on the pitch itself. So what can Madrid do to overturn their Dortmund deficit?
Goal.com
suggests five key areas which need to be addressed if Mourinho's men are to turn this tie around and reach next month's final at Wembley.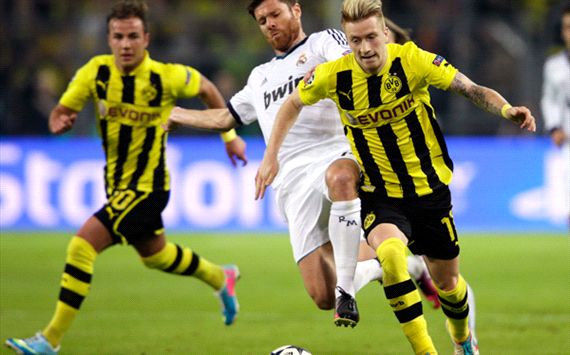 Real Madrid will believe in their ability to score three goals at home on Tuesday night. Key to their hopes, however, will be stopping this Dortmund side from exploiting the space left by their need to attack.
In Marco Reus, Kuba and Mario Gotze, BVB possess three fast, quick-minded forward players who can be devastating with space to attack - as Madrid have found out to their cost in the teams' three meetings already in this competition. Real must therefore distribute the ball with intelligence but ensure there is protection from midfield and discipline from both full-backs as well as the two central defenders.
Give too much time and space to Dortmund's trio of creators and the excellent Ilkay Gundogan in midfield, and the Spanish side may need to score many more than three goals on Tuesday.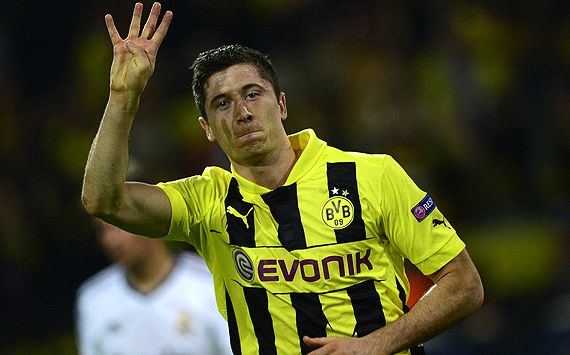 Robert Lewandowski's four goals in the first leg have given the Germans the upper hand in this tie and Mourinho was furious with his defence in Dortmund.
Pepe was arguably at fault for the home side's first three goals in that match, while Alonso's clumsy challenge allowed the Pole to convert the fourth from the penalty spot.
On Tuesday, the Portugal defender is likely to be left out on Tuesday as Ramos marks the in-form frontman. And Madrid's vice-captain is conscious that he and Madrid need an attitude adjustment to contain the striker this time. "We lacked attitude," the Spain star said after last week's loss. "And I'm the first [on the list]."
Ramos and Varane have played together much more often than Pepe and the Frenchman, which will give Madrid's back line a greater understanding in the second leg, as Essien comes in on the right. And this is likely to be a much more streetwise side to the one which lost in Germany. "Lewandowski scored four goals and we didn't foul him once," Mourinho complained on Monday. The message was clear: Get tight on the Pole this time.
MATCH DORTMUND'S INCREDIBLE INTENSITY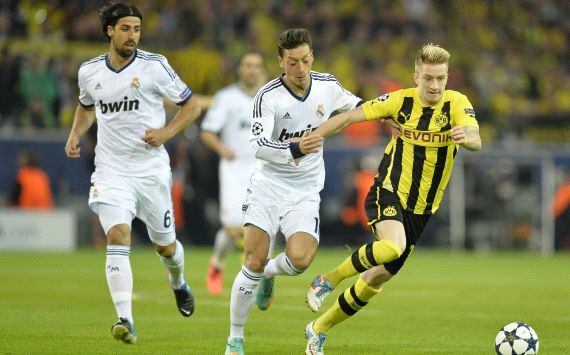 And it's not only the defence. In order to beat BVB, Madrid will need to win the midfield battle and Mourinho can perhaps learn lessons from Bayern's success against Jurgen Klopp's side this term.
The Bavarians got the better of BVB in the German Cup (1-0) in February, but could have been three ahead at half-time, and also edged out Dortmund in the Super Cup (2-1) by matching their rivals' incredible intensity in midfield.
Madrid will need something similar and Mourinho can take heart from his side's performance in the capital clash at Atletico on Saturday, when a team made up largely of fringe players pressed, hustled and harried to secure victory in a game which many had expected them to lose.
If Mourinho's men can press in midfield and work just as hard as their opponents, their star players will have more opportunity to shine.
MOVE THE BALL QUICKLY TO CRISTIANO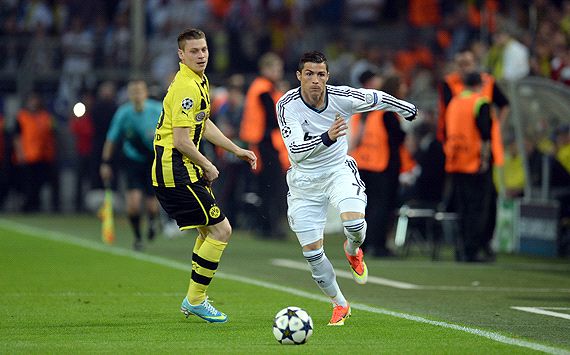 Cristiano Ronaldo is fighting fit and will start on Tuesday, having overcome the muscle problem which saw him miss Saturday's derby at Atletico - and he remains Madrid's great white hope in this match.
Ronaldo netted his side's sole strike at the Signal Iduna Park last week, but spent much of this time deep in midfield and was unable to influence the game (aside from the goal) in the areas where he can be so dangerous. For Madrid to succeed on Tuesday, that must change.
A return to the side's favoured formation is likely to help, but Madrid's midfielders must release the ball quickly to their talisman for maximum impact on Tuesday. Cristiano is Madrid's man for the big occasion and if his team-mates can feed the forward early and in space, the Portuguese's pace, dribbling and finishing ability could yet decide this tie.
PICK DI MARIA AND USE THE WIDTH OF THE PITCH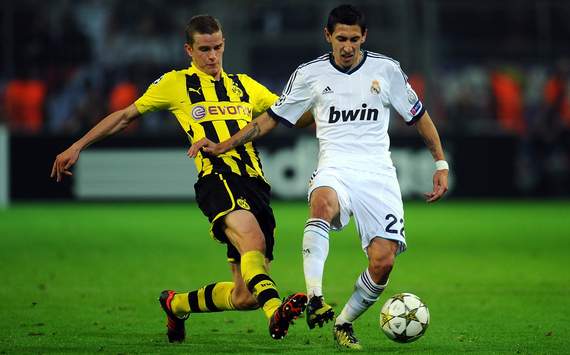 Angel Di Maria was left out of the starting side in Germany after he returned to Spain for the premature birth of his daughter and made it back just in time for the Dortmund date.
The Argentine arrived alone and exhausted, clearly having hardly slept, and Mourinho decided to leave the winger on the bench last Wednesday - at least until late in the game.
In his absence, the 4-1-4-1 formation failed to hurt the German side and the winger's speed will be needed to stretch the Dortmund defence in the return match, especially as left-back Marcel Schmelzer lacks pace and right-back Lukasz Piszczek is carrying an injury.
Centre-backs Mats Hummels and Neven Subotic are also more uncomfortable with width and Di Maria's inclusion will open up spaces which he, Mesut Ozil and Ronaldo can exploit at the Bernabeu.
Follow
Ben

Hayward on