COMMENT
By Kris

Voakes

| Italian Football Writer
There was a time in the summer of 2011 when Bayern Munich fans were relishing the thought of Arturo Vidal's next appearance on the Allianz Arena turf. But when he finally makes his return to Munich on Tuesday night in a Juventus shirt, he is likely to receive a hot reception from the home crowd due to the bitter war of words that shadowed the course of events which led to him ending up in Turin.
For much of the first month after the 2010-11 season had ended, Vidal looked destined for Munich, whether through the softening of Bayer Leverkusen's decision not to sell to a fellow Bundesliga club, or by the Chilean waiting a year and leaving die Werkself on a Bosman free.
Leverkusen had originally claimed that Bayern's bid had not met their valuation, but then changed stance, saying they would not consider FC Hollywood when assessing their sale options on the midfielder.
"Bayern can offer what they want. They will not get him. There is a threshold only for foreign clubs," Leverkusen sporting director Rudi Voller told Kicker.
Vidal himself was attempting to push through a deal, making it clear he would love to don the famous red shirt. "I want to go to Munich. Now," he told Bild. "I absolutely want the clubs to reach an agreement.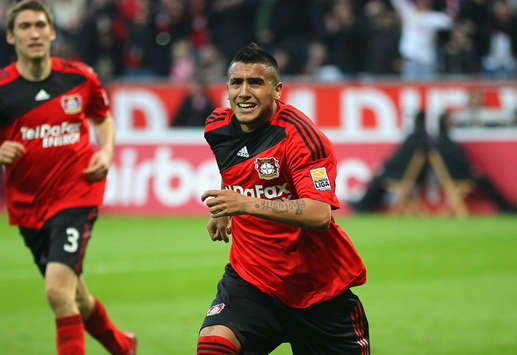 Vidal |
Celebrating against

Bayern

, the team he then overlooked
"There is now an official offer from Munich. Before, there were only talks about it, now it is concrete. I wanted to extend last year and [
Leverkusen
] were not interested."
He continued: "One must forgive me, I would like to take this unique opportunity. One of the best clubs in the world wants to sign me. In addition, my old coach Jupp Heynckes is there. That I have given everything for Leverkusen could not be disputed."
But when Juventus came into the picture, suddenly the transfer horizon looked different, with Leverkusen having a potential buyer they were happy to sell to. Die Roten still held out hope, but they were clearly outsiders in the race.
And as soon as the Old Lady offered the €10.5 million that Leverkusen considered sufficient for a sale, Vidal was suddenly heading for Turin, calling the Old Lady "an institution, the maximum for any player".
"Bayern also have great players, but Juventus are Juventus," said Vidal. "And, I also wanted to play football in Italy as football there has a great passion, just like in Chile."
"Vidal has broken his word," Bayern director Uli Hoeness told Bild in response.
I want to go to Munich. Now. I absolutely want the clubs to reach an agreement



- Arturo Vidal, June 15, 2011
"It would have taken great backbone to play at Bayer Leverkusen, having made the statement: 'I am going to Bayern.' And I would not expect the player to have such backbone.
"I always thought that with that kind of transfer, the odds were below 50 per cent. I thought to myself: if it works, it's nice; if not, it's OK."
Since arriving in Turin, Vidal has transformed the Bianconeri as both an attacking and a defensive proposition.
Off the ball, he provides the battling axis in front of the more vulnerable right side of the Juve back three, sweeping up at the base of midfield in order to restart attacks from higher positions and give the defence as little work as possible.
When in possession of the ball he has the ability to time runs perfectly into the box, works cohesively with Andrea Pirlo to his left and Stephan Lichtsteiner to his right, has a sharp eye for goal and hugely effective passing game to both long and short targets.
Many observers have credited Pirlo as being the inspiration behind Juve's return to the head of Italian football over the past 20 months, but Vidal's part in their rise from the ashes cannot be underestimated. He has also had time to explain further his decision not to wait for Bayern, or force through a move to the Allianz Arena.
"Bayern were serious and they came forward, but Juventus showed more of an interest in me," he told the Corriere dello Sport. "Also, here I have great team-mates like Andrea Pirlo and Claudio Marchisio."
And it will be those two who will line up to Vidal's side at the Allianz in the Champions League quarter-final first leg which has such an undertone for the 25-year-old. They have quickly become one of the most feared midfield trios in football, and the Chilean will be hoping against hope that they help to make his point on Tuesday night.
After turning down Champions League football with Bayern last year and seeing them miss out on the European title by a matter of minutes, his job now is to make them regret not doing more to force through his signing by sending Juventus through to the last four at their expense.
Follow Kris Voakes on