COMMENT
By Carlo Garganese | International Football Writer
The date is May 24, 2014. The venue: Estadio da Luz in Lisbon. The occasion: the 2013-14 Champions League final. The two finalists: Barcelona and AC Milan.
Five-time Ballon d'Or winner Lionel Messi needs just one strike to surpass his record of 80 goals from the previous season, Xavi miraculously recovers in record time to start the showpiece despite tearing his hamstring a fortnight earlier, while Adriano Galliani and Silvio Berlusconi proclaim that Milan are the most successful club in history and contain the Champions League in their DNA.
Despite starting the final as underdogs following a decade of setbacks against the Catalans, Milan finally end their hoodoo to lift their eighth Champions League crown. Mario Balotelli scores the winner, Barcelona complain that the grass is a millimetre too long, while Berlusconi whispers in Messi's ear during the trophy presentation. What did he say, Cristiano?
Some of the above is clearly fantasy – although certainly not the Xavi part. Yet despite the thumping 4-0 defeat at Camp Nou on Tuesday night, which sees Milan exit from Europe, the San Siro giants are not as far away as it seems from returning to the pinnacle of European football and indeed, finally, and decisively, humbling Barcelona.
Their 2-0 win at home in the first leg was a tactical masterclass, while even despite the second leg thrashing and the territorial dominance and mastery of the Spaniards, Milan were not far from progressing. If M'Baye Niang slotted his one-on-one chance an inch to the right just seconds before Messi levelled the scores on aggregate from an offside position, then we have a completely different ending.
As has been stressed on numerous occasions over the past couple of months, Milan boast the most exciting young forward line in Europe. The trident of Stephan El Shaarawy, 20, Balotelli, 22, and Niang, 18, has already displayed huge promise, and this time next year will be terrifying defences all over the continent. The ineligibility of Balotelli was a huge factor in Milan's defeat on Tuesday. With Giampaolo Pazzini failing also to complete a Xavi-like recovery, the Rossoneri needed Balotelli to bully the Barca defence and hold on to possession. In his absence, the ball kept coming back at Milan and with the Blaugrana pressing like blood-hungry wolves that hadn't eaten in days the pressure was just too much to bear.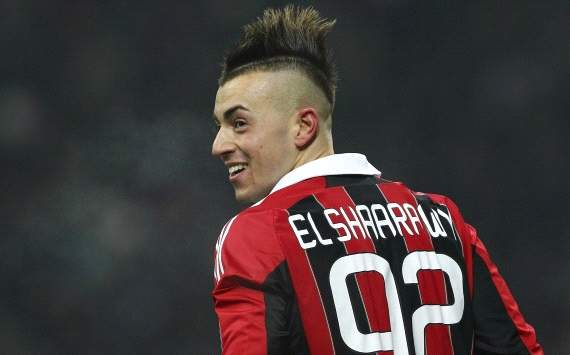 The future's bright | Youngsters like El Shaarawy will turn Milan into one of Europe's best

Mattia De Sciglio, 20, is developing into a fine young full back, and should have started on Tuesday instead of the disastrous converted midfielder Kevin Constant. Despite inexplicable criticism from some fans, there are still only a handful of superior right backs in circulation in this deprived era than Ignazio Abate. His crossing needs to improve, but his speed, stamina and ability to stretch teams make him such an underrated asset.
With the addition of a quality centre back and centre midfielder – a deal for Genoa's Juraj Kucka already looks done, and Nigel De Jong will return from injury – Milan will improve even further. Even if Massimiliano Allegri doesn't remain as coach, the 2011 Scudetto winners are constructing an impressive outfit. They have been the most in-form side in Italy since the end of November, and have secured contracts for a number of promising starlets such as Bartosz Salomon, Riccardo Saponara and, of course, academy-graduate Bryan Cristante.
Milan fans shouldn't be too disheartened after failing to make a significant impact on the Champions League for a sixth successive season. When a youthful Manchester United of Roy Keane, David Beckham, Ryan Giggs and Paul Scholes were consistently being embarrassed by the all-powerful Juventus in the 1990s, the tide eventually turned. And when it did, it spelled the end of an era for an ageing Juve as United went on to win the Champions League in 1999 ... in Barcelona of all places. This time next year we may be able to replace Juventus with the current Barcelona, and Manchester United with the new Milan.
Follow Carlo Garganese on