Real Madrid
secured their place in the quarter-finals of the
Champions League
after overcoming
Manchester United
3-2 on aggregate on Tuesday night - and Twitter didn't miss out on having its say.
Red Devils midfielder Nani's red card got plenty of top players talking, whilst his team-mate Ryan Giggs has been roundly congratulated after making his 1000th appearance.
Rio Ferdinand, Cristiano Ronaldo, Gerard Pique and more all feature in
Goal.com
's latest offering of
Word on the Tweet
...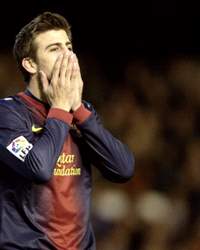 "Giggs playing his 1000th career appearance against Real Madrid! #legeng #ChampionsLeague"
Barcelona
defender
Gerard Pique
praises his former team-mate
Ryan Giggs
for reaching another landmark.
Not exactly sure what a 'legeng' is, though.
"How can u give a red card for that???is he serious....???thats sad killing a big game like that... #ManUvRealM"
AC Milan
midfielder
Kevin-Prince Boateng
was, much like the Old Trafford crowd, baffled after seeing
Nani
red carded.
"Harsh on United. Thought Modric made the difference when he came on. Giggs 1000 games... #legend"
Gareth Bale
highlights his old team-mate
Luka Modric
as the difference between the two sides and hails his compatriot
Ryan Giggs
in the process.
"Disappointing that a game of that size was decided by a refereeing decision. Can understand why he sent him off but got to say it was harsh."
Michael Owen
gives his (typically middle-of-the-road) opinion on the red card in the game between two of his old teams.
"Thank you for a massive and unbelievable reception. I'm happy to win but also sad for Manchester United."
Match-winner
Cristiano Ronaldo
is somehow happy and sad at the same time after knocking out his former team.
"Disappointed to hear about the result #MUFC"
Wilfried Zaha
netted for
Crystal Palace
on the same night but is sad to hear that the club he will join in the summer has been knocked out of the
Champions League
.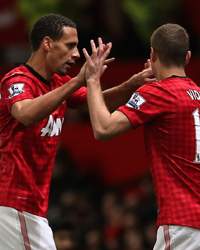 "I must say last night our fans done us + our club proud. Best/loudest support I've heard at ANY ground throughout my career. Thank you"
Rio Ferdinand
thanks
Manchester United
fans for their support during the match at Old Trafford.
He clearly wanted to get involved, what with all the clapping.
"2 great moments last night 1.giggs performance 2.ronaldos ovation at start of game -agree with utd stance silence sometimes more powerful"
Everton
captain
Phil Neville
is another to reflect on the massive tie involving his former side.
"Good morning friends, my recovery from the ankle is improving favourably, by the way very happy to celebrate my birthday 26 in Swansea."
Meanwhile,
Swansea City
defender
Chico Flores
has revealed that he is closing in a return to action after missing out on the Capital One Cup final with injury.