COMMENT
By
Wayne Veysey
| Chief Correspondent
In his flash post-match interview minutes after the final whistle, Jack Wilshere's face was the big give-away.
He said the right things, of course. Arsenal are still in with a shout of qualifying for the quarter-finals despite a "tough" assignment in Munich, the first-leg defeat was the fault of the players not the manager and Arsene Wenger's track record is unquestionable.
It was sensible and coherent stuff. He has been well trained to deal with the media, has Jack. Behind closed doors, he is a feisty and emotional individual who is not afraid to speak his mind, as one or two of his colleagues have discovered during frank dressing-room inquests this season.
In front of the camera or with a load of dictaphones pressed under his nose, Wilshere is more guarded. He knows where the boundaries lie.
WHERE THERE'S A WIL, THERE'S A WAY

PLAYER RATING | JACK WILSHERE



As ever, looked most likely to instigate something for Arsenal. He found space difficult to come by in the middle of the park but did wriggle free to drive at the

Bayern

defence on a number of occasions and saw his whipped corner forced home by

Podolski

as the Gunners threatened.
Yet after being on the receiving end of a Munich-made masterclass in which he was the only Arsenal player to rise to the occasion, Wilshere's hangdog expression spoke volumes for his feelings.
The disappointment, frustration and regret was etched on his face as clearly as the gulf in class between Arsenal and Bayern Munich had been on the pitch he had just vacated.
Credit to Wilshere for fronting up off the pitch, just as he had fronted up on it.
While nearly all of his team-mates wilted in the face of a Bayern performance shimmering with authority and class, Wilshere refused to yield.
When his team were left teetering on the brink of a Champions League exit after going 2-0 down after 20 minutes, he took personal responsibility for dragging Arsenal back into the tie.
Positioned in a playmaker role behind the front three of Theo Walcott, Lukas Podolski and Santi Cazorla, Wilshere made a series of surging runs as he looked to commit Bayern's superbly organised back-line and create opportunities for his team-mates.
His touch was always precise, his passing quick and tidy and his appreciation of space outstanding.
After the break he was at the heart of the mini-fightback, and was equally as comfortable for the last 20 minutes when a double substitution prompted Wenger to move him back into a deeper role alongside Mikel Arteta.
WILSHERE DEFENDS WENGER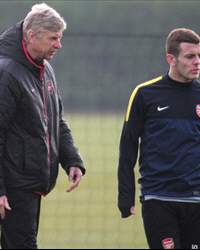 "I don't think it's anything to do with the manager. I think the players will take responsibility. We're man enough to take it."


Mario Mandzukic all but sealed Arsenal's exit from the competition by stealing in front of Bacary Sagna to meet a drilled cross with a looping finish almost in slow motion. Once again, it was Wilshere who rallied the team and did more than anyone else in red and white to reduce the visitors' advantage.
There would not have been a soul at the Emirates who was more heartbroken at the 3-1 defeat than Wilshere.
He said the right things, of course. "I don't think it's anything to do with the manager. He puts us on the pitch, it's down to us to perform.
"Players will take responsibility. The boss has been here for 16 years and he's been doing a great job, so you can't question him."
Wilshere is the fans' favourite not merely because he is the best player in the team and has an association with the club that goes back to when he started out at the academy aged nine, but for his passion and a commitment that can occasionally veer into over-zealous territory.
As they swallow their disappointment today, the question nagging away at many Arsenal worshippers is this: at what point will Wilshere look around the dressing room or the training ground and feel that his ambitions cannot be fulfilled in N5?
It will not have been lost on those same supporters that, while Theo Walcott's contract talks dragged on interminably, the No.10 swiftly dampened speculation about his own future by penning an £85,000-a-week deal that runs until 2018.
Aged 21, Wilshere is the outstanding English player of his generation. He is the beacon of hope for club and country.
For most players, this would be a weight around the neck. But, as Roy Hodgson noted earlier in February, Wilshere does not appear affected one jot by this expectation. Indeed, he seems to thrive on it.
Arsenal are confident that Wilshere will not be seduced by the many attractive offers that are likely to come his way in the next few years. He looks like he could comfortably hold his own in a Barcelona or Bayern team but unlike, say, Cesc Fabregas, his bond with Arsenal runs deeper than being assimilated into the club in his late teens and a lengthy spell in the first team.
Like Steven Gerrard at Liverpool a decade ago, he is the talisman and standard-bearer of the team, even when that side clearly operates outside of the elite at home and abroad.
It is hard to avoid the conclusion that, when compared with the marquee clubs, Arsenal cannot be regarded as anything other than second-rate as they pay the price for a chronic lack of investment in the team.
Yet, Arsenal will build their team around a core of British players as they move into a new phase of amalgamating youth with experience, led by Wilshere and supplemented by Theo Walcott, Alex Oxlade-Chamberlain, Aaron Ramsey, Kieran Gibbs and Carl Jenkinson. The most influential of the sextet is likely to inherit the club captaincy within the next 18 months, possibly even as early as this summer.
At this point in his career, the opportunity to lead from the front at the club he loves should be enough to fulfil Wilshere.
Does he deserve better than to be surrounded by more mediocrity than perhaps at any point in Wenger's reign? Possibly. And, maybe, in a few years' time, if Arsenal are still not genuine trophy challengers, he will have his own version of Gerrard's Chelsea quandary.
At that point, Wilshere might shrug his shoulders with resignation and decide that he has given his all and it is time to move on.