COMMENT

By Peter

Staunton
We've just passed the halfway mark in this season's Champions League group stage and the listings are not making comfortable viewing for some of the tournament's top sides.
Manchester City are again facing oblivion while other pot one and two teams face a tense 270 minutes of action in the matches to come in order to secure their progress in the competition.
Meanwhile, teams from Germany's

Bundesliga

go from strength to strength while

Zenit

and Hulk, despite a win, continue to provide compelling drama.
If Willian wants to play for a 'big club' he should stay put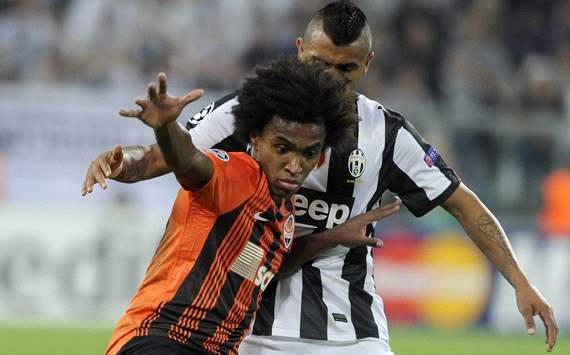 Willian

has declared that his time at

Shakhtar

is coming to an end. He now is intent on playing for a 'big club', citing Chelsea, Inter and AC Milan as the three of the teams on his

wishlist

to represent.
He is grossly underestimating the talent within the ranks of his own side; the cohesion, the relentless energy and the intrinsic thirst for success instilled in the team by

Mircea

Lucescu

. Simply put,

Shakhtar

can legitimately be termed one of the best teams in Europe right now.
"The match panned out exactly as we would have hoped," Lucescu told reporters after their hugely impressive 2-1 win over Chelsea. "Perhaps, it was one of our best games in recent times. It proves we're on the right track, we are still growing, our young players are maturing and gaining the necessary confidence. I believe we could've won by even more."
The Brazilian Willian is undoubtedly integral to the functionality of this Shakhtar side but he is by no means the only star. Darijo Srna has been among the world's best right-backs for the best part of a decade, Yaroslav Rakitskiy is one of the most promising central defenders on the continent while Henrikh Mkhitaryan has demonstrated why he is rated as a top quality striker with 14 goals in 12 league games.
The team have not been defeated in any match in 11 months and they will head to Stamford Bridge in the knowledge that a positive result will more or less guarantee a place in the last 16. If

Willian

wants to play for a club with a shot of winning the Champions League he may well be advised to stay put.
Hulk and Zenit make for captivating viewing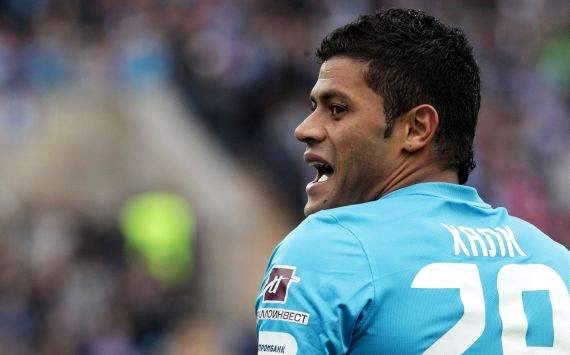 The

Zenit

-Hulk affair is formulating plot-lines to rival any

telenovela

. The post-match analysis following their tie with

Anderlecht

focused, primarily, on the €40 million Brazilian and what could only be described as a woefully abject display.
"Hulk was unlucky in many episodes today, said Luciano

Spalletti

after a fortuitous 1-0 win. "Often when in possession of the ball he made mistakes. It was impossible to do what he wanted, and because of this he got nervous. I can't say he played his best match."
Too often, Hulk made desperately poor choices and still looks an ill fit for a

Zenit

side that, according to logic, should have been much the richer for his presence. His passing was errant, his shots skyward, his work rate a non-entity and any pretence of teamwork given up by the final whistle.
His last, calamitous, act on the day was to deny

Aleksandr

Kerzhakov

his second goal of the game by failing to roll a simple pass into his path, instead opting to dribble before being tackled inside the

Anderlecht

area. It was embarrassing; painful to witness.
"I'm feeling pressured," Hulk told the media before Wednesday's match. "Today, I notice that I feel more pressure than when I arrived at Zenit, but I always try to keep my feet on the ground."
Hulk, like Samuel Eto'o before him, elected to move to the Russian Premier League, a decision which looks to observers to be primarily financially motivated and thus heaped huge pressure on his broad shoulders. It is his job to dispel that line of thinking and show his mettle in goals and high calibre performances.
Eto'o is now the captain of

Anzhi

Makhachkala

and is leading an intriguing project with dignity and with professionalism. He is possessed of sufficient self-assurance to think of himself as the main protagonist in

Anzhi

's football drama and is carrying out the requisite tasks as such.
Hulk, currently, is the star in a very different kind of soap opera.
Porto's Colombian No.9 is a bit handy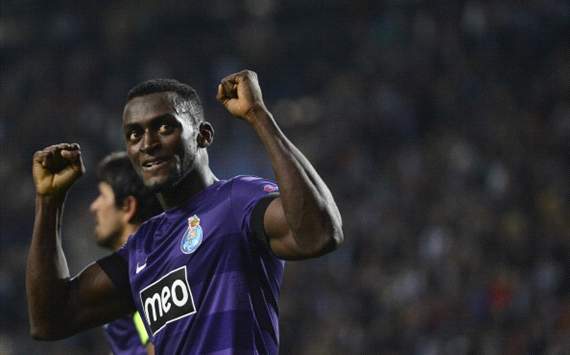 Porto have made their best start to a Champions League group campaign for 16 years, winning three matches out of three, and can wrap up qualification with a positive result in Ukraine on

matchday

four.
The Portuguese media has been effusive in its praise of Jackson Martinez in the wake of two goals scored against Dinamo Kiev; his first time netting in the competition and his first double for the Dragons. But what is surprising is that the manner of his second goal in particular was singled out.
"The striker had already scored a half-bicycle, dribbled around the goalkeeper, the

backheel

, the

Panenka

, the head, with the right and left foot, but he lacked an easy goal," said
Record
. "It happened that it was worth the three points and €1 million."
The implication was that Martinez had demonstrated his ability to score the spectacular and the unlikely fact in his short time with Porto is he had not yet just tapped one in. But his second on the night was just that; stroking home a low Lucho Gonzalez cross, and confirmed that after promising early season form, he is ready to lead Porto from the front.
The Colombian has come to European football relatively late in his career having already turned 26 but has already shown domestically and on the continent that he could, perhaps, fill the considerable gap left by compatriot

Radamel

Falcao's departure two seasons ago.
Martinez is a fearsome physical specimen - explosive and powerful - and moves in the right areas along the defensive line, as evidence by his clever run for James Rodriguez's pass in the lead up to his first of the night.
Porto have a long-standing reputation of unearthing South American talent and integrating them into European football and there is plenty of evidence to suggest that Jackson can be added to that illustrious list.
He was one of a number of strikers to make a huge impact on

matchnight

three with Roberto

Soldado

grabbing a tidy hat-trick for Valencia and Javier Hernandez bailing out Manchester United with a pair of headed goals.
Could it be that the superhuman efforts of Cristiano

Ronaldo

and Lionel

Messi

are obscuring the talent which lies just beneath?
Open season leaves 'big clubs' anxious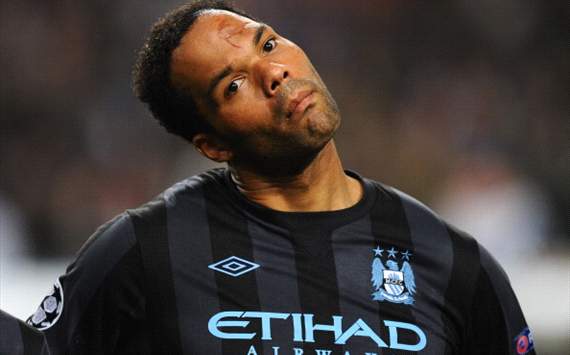 The Champions League group stages can often be a procession; the last two games played out with a weary pretence of competitiveness when qualification is already secured for the powerful sides and the prospect of a last 16 place a formality.
That kind of monotony could yet be perpetuated by the groups containing Barcelona and Manchester United, barring miracles, but Celtic's gumption in particular has set the cat among the pigeons. Look around the groups and you will see that not many teams are having an easy time of things in this, a genuinely elite competition.
To that end,

matchnight

three was an enthralling, exciting spectacle which cast the Champions League in a positive light.
Two pot four sides sit top of their listings in the shape of

Malaga

and

Borussia

Dortmund while Manchester City from pot two struggle, again, for relevance. Last year's finalists,

Bayern

Munich, sit third in their section with a trip to Valencia yet to countenance while their vanquishers, Chelsea, have won only one match out of three.
Elsewhere, pot four sides BATE

Borisov

, Celtic and

Cluj

occupy qualification slots prompting precarious situations for

Bayern

,

Benfica

and

Braga

. In fact, only three of the eight groups are currently headed by the pot one sides, those of Porto,

Barca

and Manchester United.
There is every chance that, at the halfway stage, things will even themselves out, but on the evidence presented thus far, there will be some questions to answer for the coaches of under-performing giants.
And it should bring meaningful, anxious matches all the way until the final

matchnight

.
Bundesliga teams complete remarkable week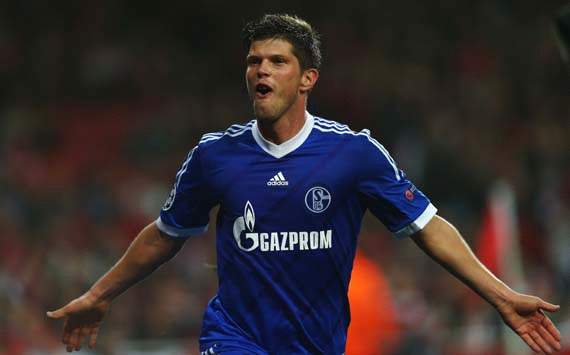 The organic, long-term planning strategies of participating teams in Germany's

Bundesliga

are beginning to pay dividends in Europe's premier club competition. The re-emergence of German teams on the international and continental scene has been gradual, beginning first with an overhaul of league clubs which led to increased competitiveness in the

Uefa

Cup/ Europa League, but now other clubs are flourishing under the rock that is

Bayern

Munich.
Borussia Dortmund, chastened in Europe last season, and Schalke, a club who have shown good aptitude for competition at this level in recent campaigns, boast two of the youngest squads of players in the Champions League at a shade over 24. Both achieved, arguably, their best results of the season on Wednesday night.
Dortmund were, in fact, beaten by their Ruhr valley rivals at the weekend, and must have feared the worst with Real Madrid coming to town. But a display endowed with silk and steel showed that

Jurgen

Klopp's ambitious young side have the constitution for a battle against one of the world's best teams.
Schalke went away to Arsenal, a club who had not been beaten at home by foreign opposition in the Champions League in nine years and produced a measured game plan which made Arsenal look toothless; powerless, even, as the Royal Blues dominated from start to finish.
The excellent and still improving Roman

Neustadter

was again prominent and is emerging as one of the best midfield prospects the game has to offer.
Bayern, for their part, did what was expected of them and put Lille professionally to the sword.
The league-v-league debate, in my eyes, is redundant because a powerful club can emerge anywhere these days. But there will come a cluster of clubs competitive on the continental scene from the

Bundesliga

sometime very soon.