COMMENT

By Peter Staunton
The Champions League is back in full swing and after the dramatic events of a fortnight ago, it's shaping up to be another fascinating year.
Matchday two saw Dutch giants Ajax trounced at home by Real Madrid, who now look to have got over their teething problems from the start of the season, while Roman Weidenfeller and Joe Hart engaged in an incredible battle of goalkeeping one-upmanship as Borussia Dortmund and Manchester City shared the spoils.
AC Milan were handed a reprieve after their poor start to the season as a turmoil-ridden Zenit St Petersburg collapsed, and Arsenal failed to convince, despite a 3-1 win over Olympiakos at home.
And, as ever,
Goal.com
was there to cast a watchful eye over all the events across the Continent.
BATE come of age in Europe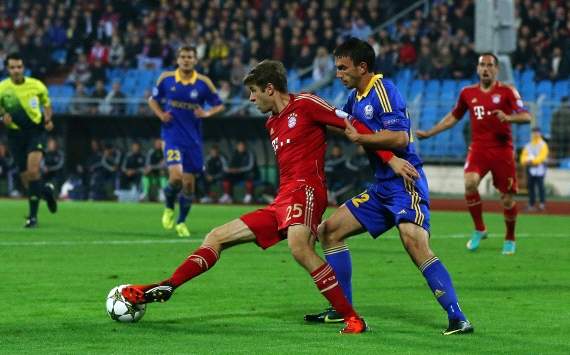 BATE do not deserve the patronising praise blithely attached to European 'minnows' in the Champions League. Six domestic titles in a row show that they are way ahead of the pack at home. And unlike, say, APOEL last season, the Belarusian representatives are not simply a hastily-assembled group of foreigners who just happen to work in a particular country.
This is a native enterprise and one which is testament to the vision and vigour of club president Anatoli Kapski. Reformed in 1996, the team began at the bottom rung of Belarusian football. Two successive promotions later and they were making their mark in the top flight. The club's philosophy is to let homegrown talent flourish.
"We will not bring stars here that would look down on on our young team," Kapski told Uefa last year. And this season's crop is bloodying the noses of some of western Europe's aristocrats, including Bayern Munich. Denis Polyakov and Igor Filipenko, among others, were part of the national under-21 side which finished third in the European Championship last season while Aliaksandr Hleb is a highly-regarded playmaker home now after a successful odyssey through Europe's top leagues.
He brings the experience and guile to what is a fascinating and hugely satisfactory project overseen by one of the game's brightest young coaches in Viktor Goncharenko. Discipline and concentration is apparent in the execution of defensive tasks while the counter-threat provided by Hleb and Vitali Rodionov is ruthless and clinical as Bayern Munich found out on Tuesday.
Next season they move to a new stadium, meaning they will not be forced to use the Dynamo Minsk ground some 100 kilometres away for European games. Six points from two matches and richly-stocked with homegrown talent with a new stadium on the way, BATE Borisov are doing things the right way.
Europe's elite club competition cannot escape the recession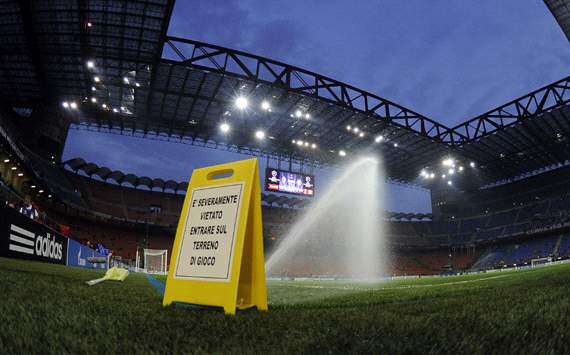 Economic realities bite. Europe's biggest clubs have long asked for top prices for their most important matches. As Europe's elite club competition, the Champions League should fall into that category. However, a quick scan of television pictures from around the continent revealed massive swathes of empty seats over the course of the first two matchnights.
Manchester City - Dortmund wasn't sold out despite the match's importance. Porto registered 36,509 paying customers in a 50,000-seat stadium for the visit of Paris Saint-Germain. Valencia drew 28,517 into Mestalla for the match against Lille where 55,000 seats are available. Juventus experienced a Delle Alpi flashback with 25,599 showing up for their vital home tie against Shakhtar Donestk. Arsenal have, in recent times, counted tickets sold rather than people present as their official attendance. Their game with Olympiakos was officially a sell-out but unless thousands of red, chair-shaped fans showed up on the night, that was never the case.
For Juventus, it has been documented that rising ticket prices contributed to a boycott among some fans on the night while the issue of third-parties selling on tickets already bought from the club continues to blight Juventus Stadium. Even in light of these mitigating circumstances, there can be no denying that fans, by and large, are beginning to dwindle away on Champions League nights.
Issues of price, an over-abundance of matches and, naturally, the standard of competition in the group stages all serve to create the conditions whereby home supporters are choosing the Champions League as the matchnight to skip. Patently, there is not as much money floating around in these times of economic hardship. There is an onus on clubs to remain reasonable to the fans which keep them buoyant.
Prices must be kept down in order for genuine supporters to again think of Champions League nights as fixtures to relish rather than another exploitative opportunity for clubs to blow holes in their pockets. Maybe, if Uefa eventually co-opts the NextGen series, matches involving youth players could also be played in advance of the main event, as has become customary in Mexican football.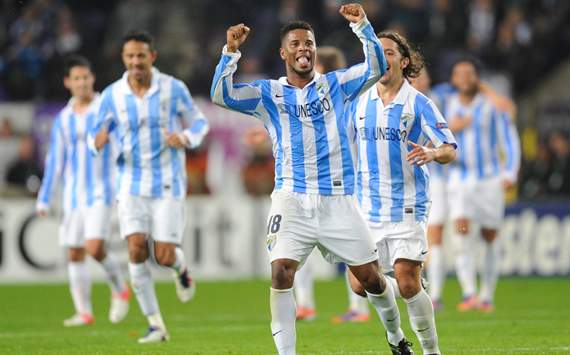 Satisfying, wasn't it, watching those long-range strikes fly in from all angles? From outside the area, time and again, the ball whizzed past hapless goalkeepers. From an offensive perspective, there are already some serious contenders for the goal of the tournament award.
"We played a very complete game both offensively and defensively against a team that drew with AC Milan. We got good movement from the team but that's less important than the attitude to go out and seek victory in each game, no matter who plays."
Those were the words of Malaga's coach Manuel Pellegrini in the wake of their commanding 3-0 away win over Anderlecht. Quite simply, Malaga have taken this season's Champions League by storm. Two games, six points, six goals scored and none conceded, the Andalusians are flying high.
They top the group from AC Milan, Anderlecht and a poor Zenit side and provided they secure decent results in the double header against AC Milan, are in decent shape to progress to the last 16 at the first time of asking. Going forward, Malaga are irresistible. Isco, Joaquin and Eliseu have been in terrific form while the backline, expertly marshalled by a rejuvenated Martin Demichelis, is watertight.
Football defies logic. At the start of the season, with Santi Cazorla and Salomon Rondon sold for a song, players were going unpaid and the Qatari dream looked a busted flush just one year on. Pellegrini is an
assured presence on the bench; his time at Real Madrid unjustifiably dented his fine reputation but under testing circumstances, he is rising again. How quickly things change. Malaga's state of mind, their bloody-minded intransigence has brought forth what is, right now, an unbeatable mentality.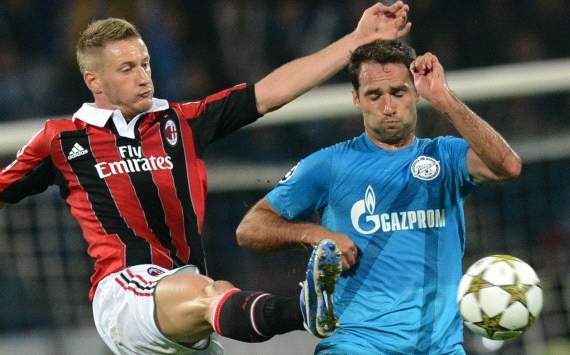 Igor Denisov identified what he perceived as a problem. The national team captain is a fine midfielder but he nonetheless didn't appreciate the competition brought to the squad by Axel Witsel's €40 million signing. He called for more respect to be shown to the indigenous players on which Zenit has always relied; the Russian players, presumably, that led the club to the Uefa Cup title in 2008 and has since been banished to the reserves.
Denisov may have a point; Russian football has had a history of placing expensive foreigners on a pedestal at the expense of homegrown players but the elephant in the room for the 28-year-old is that no Russian team has gone close to emulating that achievement since, especially his Zenit side with a bedrock of Russia internationals in the first team. The top end of Russian football's finances have grown exponentially with Zenit themselves, CSKA Moscow and Anzhi Makhachkala summoning massive transfer fees on demand when necessary to swoop for overseas talent.
The money they offer those already on their books is not exactly chicken feed either with Nemanja Vidic revealing that Spartak Moscow offered him more to stay at the club than Liverpool did for him to move to England. But the money on offer, and the money paid, is not in line, yet, with the standard of the league programme and that has led to Russia's teams having their pants pulled down in the European arena. With the acquisition of Witsel and Hulk, Zenit were widely heralded to have moved into the European elite. In spending terms, they did exactly that but they, as well as Spartak Moscow, lag way behind in a playing sense.
The record in the Champions League so far this year reads four matches, four defeats, and three goals conceded on each occasion by both representatives. Two lavishly-paid foreign coaches sit on the bench, foreign players fill the key positions in the lineups while Russians fill in the gaps elsewhere. Money alone is not sufficient for top level significance. The roots of the game must take hold in a proper manner. In Russia, that simply hasn't been the case.
The league may be of a relatively good standard but the reality is that while the foreign players are paid Champions League money, they are not Champions League calibre. Simply, the money is better than the football. Until that balance is recalibrated, Russia's football teams will struggle to be relevant.
PSG's limitations in full view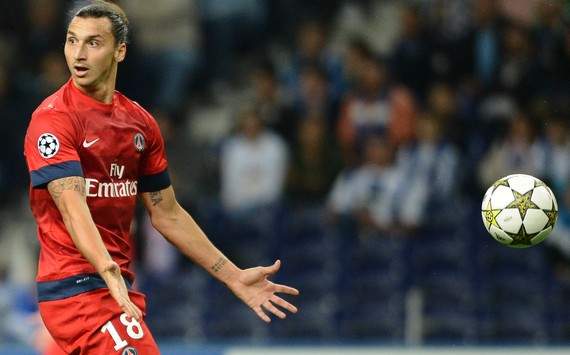 Carlo Ancelotti's expensively-assembled side found it difficult to impose themselves on matches early in the season being held to three consecutive draws. They have, admittedly, got their act together on the domestic front and their Ligue 1 bounce carried them through their first home tie of the Champions League against Dynamo Kyiv. They face Dinamo Zagreb next in a double header so will be reasonably confident of gaining a maximum six points from those two encounters.
But that positivity should be tempered. Wednesday's defeat in Porto brought with it the uncomfortable reality that PSG are a long way from being the finished article. With the strength of their opening night performance combined with the talent in the team and on the bench, PSG should, on paper, be contenders for the trophy. However, there are far too many kinks and inconsistencies in the team, as demonstrated by the loss to Porto, themselves shorn of Hulk in the summer transfer window.
For the hosts, Joao Moutinho was again imperious, showing the 'new Pirlo' Marco Verratti how to control a midfield. But the young Italian was not the only player on the French side exposed. Mamadou Sakho and Gregory van der Wiel were poor while Zlatan Ibrahimovic's Champions League stage fright again struck at a vital moment. And most worrying for Ancelotti was Ezequiel Lavezzi's incandescent reaction to being substituted barely eight minutes after being introduced from the bench.
He will need to keep egos in check. PSG will probably emerge from this group, albeit behind Porto, who have started the campaign at a canter. There are plenty of reasons for Ancelotti to fret. The pieces are in place for him this season. It's his task to now mould a winning unit for two fronts. He's closer to doing that at home than on the continent.