COMMENT
By Kris Voakes | Italian Football Writer
If the opening result at Chelsea brought with it several positives and the belief that Juventus could go far in the Champions League, Tuesday's 1-1 draw with Shakhtar Donetsk in Turin provided a wake-up call for a club still feeling their way back into a European mindset.
The failure to pick up three points leaves them looking at their remaining Group E calendar with greater uncertainty. Where previously they may have seen a virtual free ride into second spot at least, they will now be trying to map out the quickest route to 11 points, which is the likely necessity for qualification for the last 16.
But another thing they will surely have to look at more closely is the use of first-teamers in the run-up to European fixtures. After discussing on Tuesday morning the need to look after Andrea Pirlo, it is unfortunate that we must admit the Italy international was again short of his best against Shakhtar, but the big problem was that he was not the only one.
Two weeks ago, Arturo Vidal turned his ankle over very sharply at Stamford Bridge, and Chelsea went on to score one goal while he was off receiving treatment and a second as he limped his way back into action. Within minutes he was halving the deficit practically on one leg, and it was only after extensive treatment – likely involving at least one pain-killing injection – that the Chilean was able to continue after the break.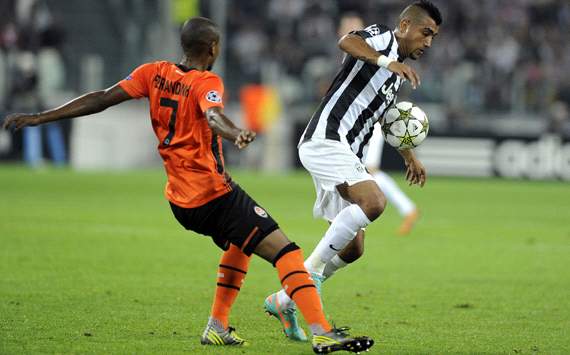 Vidal | Below his best after playing 180 minutes in seven days before Shakhtar arrived
Since then, he has been used indiscriminately. After being left out against Chievo three days on, he was a starter for the trip to Fiorentina last Tuesday and was then asked to play 90 minutes at home to Roma before attempting to lead the Bianconeri to victory in Europe last night. For one player who is so crucial to the cause to be requested to play so much is pushing it, but to ask him to do so that soon after playing for an hour with a nasty injury, as well as expect a second key man alongside him to fulfil regular duties is plain careless.
The result was that when Juventus needed to turn to their go-to men, they were both short of the physical capacity to play at the level to which their club have become accustomed. For once, the Old Lady were out-run, out-passed and out-pressed across the middle for much of the first half, and their Champions League hopes took a huge hit as a result. While Fernandinho, Willian and Henrik Mkhitaryan deserve huge praise for their displays for Shakhtar, there must be an admission from all at Vinovo that had Juve protected their big-hitters better, they would likely have won the game.
Alex Texeira's goal was more than deserved after the visitors had done all the running for the opening half-hour, and it was a massive positive for Juventus that Leonardo Bonucci's powerful equaliser came so quickly afterwards, because they may otherwise have needed to really raise the tempo to get back into the game, and the well appeared to be running a little dry already at that early stage.
Sure, Juve could have won it on another night, with Alessandro Matri somehow wasting their best chance, while Sebastian Giovinco broke Shakhtar open at times after coming on, but the Ukrainains had three superb chances themselves late on, with Willian hitting the bar with a ferocious strike in stoppage time.
It is in some ways positive that the Bianconeri can reflect that if they get things right next time, they should have enough to beat Shakhtar, but it is a huge negative that they have not picked up the three points from this first meeting. And it all comes back to the team selection against Roma.
At half-time, Juventus were 3-0 ahead and the game was over as a contest. Yet still, there was no rest for the two most important players in their make-up, instead the pair were sent back out for a second period which was effectively a dead rubber. Worse still, when substitutions were made later on in the game, the little-used Matri and Paolo De Ceglie, and Claudio Marchisio – who had only played the final 15 minutes at Florence during the week, were those chosen to be rested by Massimo Carrera, yet Pirlo and Vidal were not.
BALANCED SCHEDULE?
The workloads of those subbed v Roma compared to Pirlo & Vidal

| | | | | | |
| --- | --- | --- | --- | --- | --- |
| | Matri | Marchisio | De Ceglie | PIRLO | VIDAL |
| Sep 19 - Chelsea | 2 | 90 | 0 | 90 | 90 |
| Sep 22 - CHIEVO | 0 | 73 | 0 | 0 | 38 |
| Sep 25 - Fiorentina | 0 | 16 | 0 | 68 | 90 |
| Sep 29 - ROMA | 76 | 77 | 85 | 90 | 90 |
| MINUTES PLAYED | 78 | 256 | 85 | 248 | 308 |
While Marchisio's form has improved since being given the confidence boost of a regular start in central midfield, he remains the third most important cog in the engine room. Pirlo is the artist, the pass-master, the man around which the attack is built. Vidal, meanwhile, is the legs and the lungs of the operation, dictating the flow of the defensive effort and turning it into meaningful attacks. Forget the back three's varying abilities, his tackling statistics in 2011-12 were much of the reason why Juve had such a great defensive record as they went on to win the Scudetto.
So it is no surprise that when Vidal has not been at the top of his game physically, the Bianconeri's rearguard has appeared more exposed. Andrea Barzagli, Leonardo Bonucci and Giorgio Chiellini looked about as fallible as at any time since Antonio Conte took over as Shakhtar played balls in between the lines of defence and midfield with regularity. Stephan Lichtsteiner had some success going forward in the second half in particular, but his adventure was often used to the Italians' detriment – and so too Kwadwo Asamoah on the left – as Mircea Lucescu's men looked to get crosses in across the face of goal.
A tired Juventus is not the same as a fit one. With their defence more fallible and their midfield sitting deeper, the forward line is naturally dragged further away from goal, resulting in the jobs of the two strikers changing markedly from their usual role of converting possession into goals.
A fit Juve can press for 90 minutes, but they cannot be expected to do that twice a week every week. There needs to be greater consideration given to protecting the very players who they will rely upon to carry them towards glory in Europe. Because, if they continue to approach their demanding Champions League fixtures with such a mindless attitude, they may well be left not having to worry about the competition's extra demands at all after Christmas.