Chelsea
striker
Didier Drogba
has revealed that he would have stayed at Stamford Bridge had the Blues not won the
Champions League
this season.
The striker scored an 88th-minute equaliser against Bayern Munich in the final before netting the decisive penalty to pick up the trophy, and believes he has signed off in the best possible way.
"The best was to finish on a high with this Champions League final," he told
The Sun
. "It was the best of the best, la creme de la creme as we say in French.
DROGBA TO DEPART CHELSEA The striker is leaving the club after eight years but is unsure where his future lies

"I would have stayed if we hadn't won the Champions League because that was my challenge, what I wanted to achieve. If we didn't win, it would have been very difficult for me to leave because we have been chasing this trophy for the eight years since I was here and we were always close to it.
"We even walked by the cup in Moscow, when we lost to [Manchester] United [in 2008] and we could not touch it. Now I think it's time to go.
"When you spend eight years trying to achieve the best thing, when you are looking for something like the Champions League for years and years and you finally get it, what's next?
"The club have tried to keep me. I could stay as long as I was performing, it's not like they didn't want me any more.
"It's my decision. We all sat down together and everybody understands.
"Mr Abramovich said he understood my feelings, respected my choice and that I would be a Chelsea player forever. We spoke for the last few days and we keep talking because he's a good man, a very good man.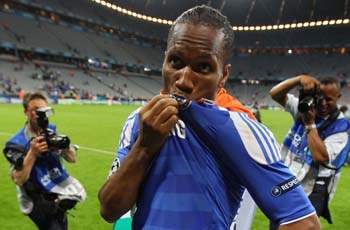 "The club have tried to keep me. I could stay as long as I was performing, it's not like they didn't want me any more" - Didier Drogba

"He gave everything to my family, gave them the chance to have comfort and a nice lifestyle which is fantastic because I came from the Ivory Coast where I didn't have all these things. Maybe he doesn't know, but he helped a lot of people."
Drogba also stated that he has not yet decided where he will go next, despite reports linking him with former Chelsea team-mate Nicolas Anelka's Shanghai Shenhua in China.
"I really want to keep thinking about what happened on Saturday rather than talking about China, America, or I don't know," he added.
"I won't play for another English club. I owe too much allegiance to Chelsea. My blood is blue."