Chelsea
defender
Ryan Bertrand
has hailed interim boss
Roberto Di Matteo
after being handed a shock start in Saturday's
Champions League
final triumph.
The 22-year-old was the surprise name on the teamsheet at the Allianz Arena, coming in at left midfield as the Blues went on to win the trophy on penalties.
WE ALWAYS BELIEVED - MATA Chelsea midfielder says his team were lucky but that destiny was on their side

And he thanked the Italian caretaker manager for his show of faith on the biggest stage in European club football.
"There have been times when I've wondered whether I'd make it here," he told the
Daily Mail
.
"We looked at it realistically but I've dug in and turned a few people's heads. Roberto has been massive for me.
"He has shown real trust and that breeds confidence. Most people don't get to the Champions League final in a lifetime, let alone win it.
"That's what I was thinking about all day. It's something extra special."
Di Matteo showed his squad a video containing good luck messages and clips of each player's rise through professional football in the build-up to the match.
And Bertrand hailed the move, insisting it gave the Blues a psychological boost ahead of one of the biggest games of their careers.
"The messages were a surprise," he said. "We were called into a meeting and there they were, every single player.
"First, it was my mum and brother saying: 'Well done' and 'Good luck to the whole team'. Then it went to the rabble, the whole family, which was a little bit embarrassing.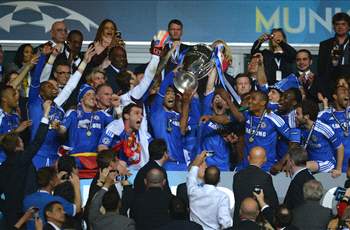 "Most people don't get to the Champions League final in a lifetime, let alone win it" - Ryan Bertrand

"There could have been some tears but there was a bit of laughter and banter and that really spurred us on. It was a brilliant touch."
The former Nottingham Forest loanee also revealed that he used memories from his childhood to spur him on prior to the showpiece in Germany.
"I was thinking about my brother in the Friary Estate in Peckham and around Bermondsey," he added.
"'And playing World Cup — a tournament we'd play with every man for himself — at the bottom of these flats.
"There was spray paint on the wall and a sign saying 'No Ball Games'. To us, that meant, 'Play Football Here'."
Bertrand went on to admit he tried to block out thoughts of the importance of the occasion, so as to prevent nerves getting the better of him.
"I did my best to put the fact that it's the Champions League final to the back of my mind," he continued.
"Pre-match, I was trying to prepare and I had all these images flashing through my head. Flashes of where I've been and where I've come from.
"I wanted to go out and do myself justice. I've been on loan quite a lot and I've been taught to play the game, not the occasion.
"It was never on this scale but hopefully I put it into practice."