Chelsea
sealed the greatest night in their history as they overcame
Bayern Munich
in a penalty shootout to win their first ever
Champions League
trophy.
Being the biggest game in club football, the great and the good of the sport were watching on in rapt attention - but of course that didn't stop them from dropping their thoughts throughout the game on Twitter.
Goal.com
kept its beady eye on the best of the online talk from before the match to after its end as the reaction came in thick and fast...
"For one night only come on Chelsea defend like you did in barca hit them on the counter stick to what's got you here!!"
-
Everton captain Phil Neville issues a call to arms for Roberto Di Matteo's men as the game approaches kick-off
"Hope @GNev2 don't disappoint and comes thru with a classic one-liner. It's #BingoTime"
-
While Joleon Lescott is expecting Phil's brother Gary Neville to deliver the goods on commentary
"The first game i played in the European league was with Bolton against Bayern Munich"
-
Ali Al-Habsi reminds us of the progress - or lack thereof - that the German side and his relegated former club have made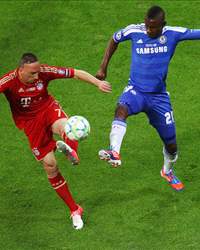 "0-0 half time.... i think chelsea have a good chance of winning this, with the chances Bayern have missed i think it could be chelsea's day!"
-
Alex Oxlade-Chamberlain can only see the final going one way after Bayern spurn chances in the first half
"Why are chelsea playin asif there's a second leg....... #confused"
-
Andros Townsend is confused by Chelsea's tactics as they resolutely defend in the Allianz Arena
"Ashley Cole having a great game!!"
-
Noel Hunt puts a classic commenator's curse on the Blues defender just prior to him playing a large part in conceding
"What does one have to do tonight to score a goal? Chelsea defending for their lives!"
- Asmir Begovic, paid every week to stop goals going in for Stoke City, bemoans the lack of net-busting action
"The tactical decision from di matteo to play cole and Bertrand is looking a good one...... So far. Drogba 4 the winner"
- Adam Lallana has high praise for two men against whom he will line up for Southampton next season
"Torres to score the winner!!"
- As Anthony Pilkington gets his prediction in for a dramatic late goal
"82nd minute wow!!! That will make the last 8 minutes very interesting! Bayern have deserved it so far!"
- Elliott Bennett reacts to Thomas Muller's late opener which looked to have things sewn up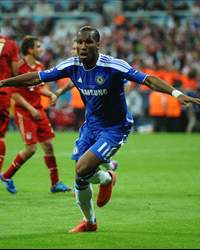 "DROGBAAAA!!!"
- Giuseppe Rossi revels in the even later equaliser
"Is it gonna be a repeat of the '99 final ??? Drogbbbbbbba !"
- Stuart Holden gets carried away in the excitement, predicting an even crazier finish akin to the Germans' famous defeat by Manchester United
"Come on Chelsea!!!!!!!"
-
Josh McEachran may have spent the second half of the season at Swansea City, but the midfielder was fully behind his parent club
"Angel on the crossbar is striking again"
-
While former Blues boss Ruud Gullit believes that God is on his old club's side
"What a game #Bayern-Chelsea"
-
Robin van Persie watched on in amazement, surely hoping to be involved in a final of his own next season
"Hope ur all enjoying the #ChampionsLeagueFinal ive jus met all the Disney princesses,, I know ur jealous !"
-
While Ben Foster missed the action entirely for unlikely purposes
"Chelsea have a Ghanaian,nigerian & 2 from Ivory coast in their squad so the amount of juju is a madness.#PowersArereal"
-
Mysterious forces are at work, according to Emmanuel Frimpong
"Which of the 2 goalies is going to take all the glory ..? The players nerves most be ridiculous.. Exciting end !!"
-
Newcastle goalkeeper Tim Krul put all the pressure on his fellow shot-stoppers as the game went to a penalty shootout
"Football is a simple game. 22 players kick a ball around for 120 minutes, and at the end the Germans always win! But not any more"
-
Gary Lineker made a topical change to his famous quote
"Well it looks like the English can take penalties after all..."
-
And Joey Barton, who doesn't always agree with Lineker, is on the same page as the former England striker this time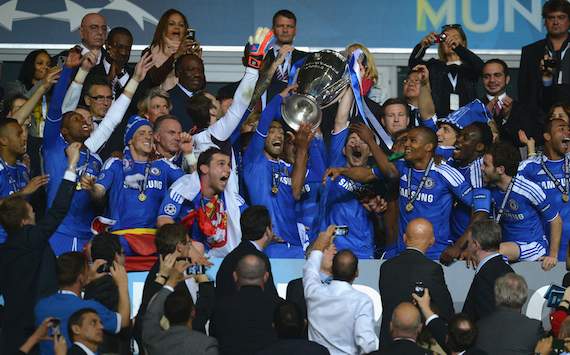 "Great win for chelsea..so happy for them,well done"
-
Yossi Benayoun expresses his delight at Chelsea's triumph - he's due to return to his parent club from Arsenal now
"Nooooooooooooooooooo -("
-
Benoit Assou-Ekotto sighs as Chelsea's victory means that Tottenham miss out on Champions League football next season

"No CL for Tottenham but FairPlay to Chelsea. Great victory great final for them."
-
As does Louis Saha, who gave the Blues some credit for their victory
"I defo don't feel sorry for the Germans! They have done the English enough times!"
-
Jack Wilshere won't sympathise with Spurs, though, and he hasn't got any love for Bayern either