Chelsea
midfielder
John Obi Mikel
wants to "make the club proud" by defeating
Bayern Munich
in the
Champions League final
after missing out on the action last time around.
The midfielder was in the squad when the west London club previously appeared in the final, losing on penalties to Manchester United in Moscow in 2008.
The 25-year-old was the only unused substitute from that game and he revealed that he knew before kick-off that he was not going to play any part in the final, but insists he is hoping to put things right against Bayern Munich on Saturday night.
CHELSEA OUT TO BANISH MOSCOW MEMORIES Frank Lampard admits he has good and bad memories of defeat to Manchester United in 2008

"As soon as we got to the final I knew I wasn't going to play because of [Claude] Makelele's experience," he told the club's official website.
"It was frustrating not playing but Makelele was one of the best when he was playing in that position, I had so much respect for him.
"I also knew before the game started I wasn't going to get on and I was disappointed with that, but I was praying for the team to win and it was sad it didn't happen, but hopefully on Saturday night we can put things right."
The Blues midfielder has often lined up as a deep-lying midfielder this season, allowing the likes of Frank Lampard to bomb forward.
He admitted that his work can therefore go unnoticed, but suggested that as long as the team is successful it does not matter.
He added: "This is the thing when you play in that position, you don't get as much credit as you deserve - but if we keep winning I am happy."
Mikel had become frustrated with life at Stamford Bridge, after losing his place in the side under Andre Villas-Boas, however the Nigerian suggested the players have been revitalised under Roberto Di Matteo.
"Now Roberto [Di Matteo] speaks to everyone and treats everyone the same," he added. "I am grateful to Robbie as not only did he give me the chance but he believes in me, and I am happy to give him everything I have, and make sure the team keeps winning.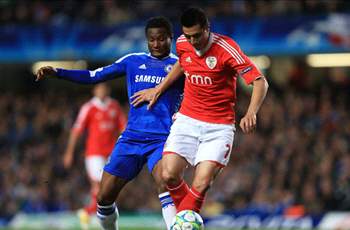 "It has been going well for the team generally...hopefully it is going to work against Munich" - Mikel

"It has been going well for the team generally and we have found a way to play. It has been working for us and hopefully it is going to work against Munich.
"The technical crew having been doing well, and the physios who have been working hard to get everyone fit.
"They have been massive in this run of games because we have been playing every three days and they have tried to keep everyone fit and fresh, and credit to them for that job. We just want to keep doing what we are doing."
The Premier League side face a tough trip to the Allianz Area, where Bayern are undefeated in the competition so far. Mikel is looking for an early goal to help them triumph and make the club "proud".
"It is a big one and hopefully it is going to go our way. If we can grab a goal in the early stages it is going to be good but we need to make sure we don't conceded early on," he added.
"It is going to be a very exciting game, and a very difficult game for us because we have key players missing, but those who are stepping in want to make this club proud.
"After the team lost in Moscow I could see how much it meant to the players, but now we have another chance."