POLL & DEBATE
By
Chris Myson
Ecstatic
Chelsea
fans around the world will still be reflecting on a glorious night at Camp Nou after their side completed a famous victory over
Barcelona
to reach the
Champions League
final.
It was a remarkable night for the Blues and the moment Fernando Torres sealed their progression to face either Bayern Munich or Real Madrid is one staff and supporters of the club will never forget.
Goal.com
looks at five of the best moments in the Chelsea story over the years and asks readers to vote in our poll on whether this latest chapter in their history can be considered the best yet.
If you feel we have missed any important moments, let us know by getting in touch through the comments below, or on
Facebook
or
Twitter
.
ENGLISH CHAMPIONS FOR FIRST TIME IN 1955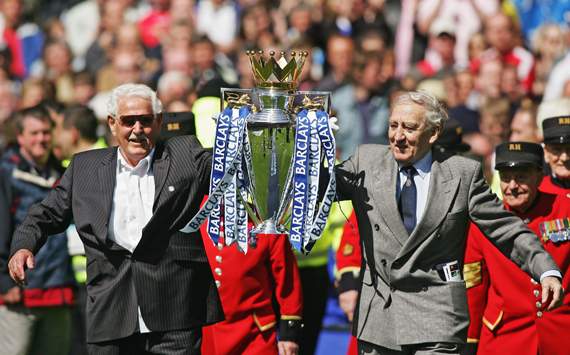 After they were founded in 1905, it took Chelsea 50 years to win a major trophy which arrived in the shape of the league title.

The Blues were crowned winners of the old First Division in the 1954-55 campaign, with their final tally of 52 points seeing them edge the likes of Wolves, Portsmouth, Sunderland, Manchester United and Aston Villa to be named English champions in a keenly contested race.

The title-winning season of manager Ted Drake and captain Roy Bentley (pictured above) did not kickstart an era of sustained success for the club - it was another 10 years before they won more silverware with the League Cup - but their maiden domestic title remains a pivotal and celebrated moment in their history.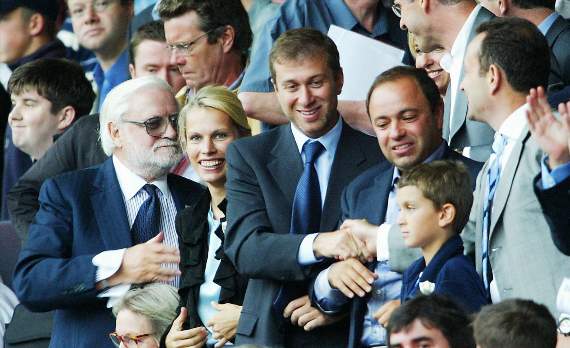 Billionaire Russian oligarch Roman Abramovich bought Chelsea from Ken Bates in July 2003 in a move that marked the start of a dramatic new era at Stamford Bridge and proved to be a vital moment in their history.

The club, enjoying their new wealth, embarked on an immediate spending spree in the transfer market as a number of expensive stars joined the Blues in the first years of his ownership, a pattern which has continued.

Meanwhile, off the pitch, Chelsea's facilities and 'brand' were developed as they looked to establish themselves as a team who could rival the traditional superpowers in the game.

Chelsea have gone on to achieve significant success - with only Manchester United having won more silverware in England since Abramovich's arrival - as the Blues made their mark as a major force in European football.
MOURINHO SEALS CLUB'S FIRST PREMIER LEAGUE TITLE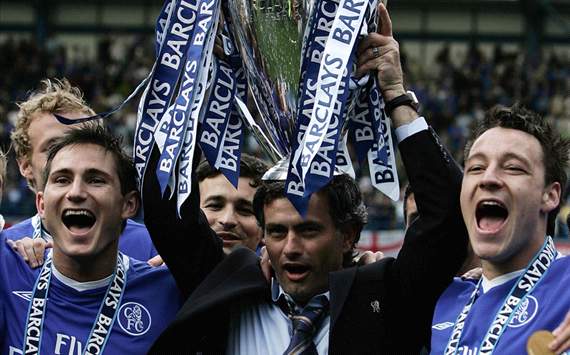 One year into Abramovich's tenure, Champions League winner Jose Mourinho was brought in as manager, with the outspoken Portuguese boss promising to win a Premier League title within three years of his arrival in England.

It did not take anywhere near that long, with the Blues romping to the title in the Special One's debut season (2004-05) at the helm, ending a wait of exactly 50 years since the club's only other top flight championship success.

The 12-point lead at the top of the table over Manchester United is one of the biggest recorded over the last decade as Mourinho mixed big-money signings like Arjen Robben and Didier Drogba with pre-Abramovich stalwarts like Frank Lampard and John Terry to impressive effect.

The Blues conceded only 15 goals in their 38 Premier League games and this time, with Mourinho in charge, there was significant silverware added to their league title in the years that followed. A new era had begun.
ANCELOTTI DOES THE DOUBLE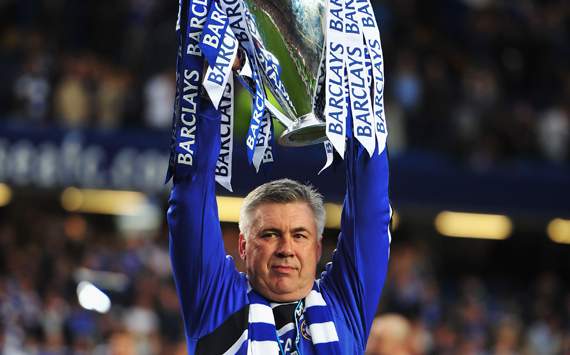 For all Mourinho's Chelsea success, one thing he had not managed was to win the Double of the Premier League and FA Cup in the same season.

Indeed, it was a feat the Blues had never achieved in their long history until that sequence was ended in 2010 when Carlo Ancelotti's team pipped Manchester United to the league title by one point and followed it up with a 1-0 victory over Portsmouth in the FA Cup final at Wembley.

It was the crowning moment of glory for a Chelsea side which had been through the ups and downs of the Abramovich era together, with the likes of Drogba, Terry, Lampard and Petr Cech all playing a pivotal role.

Wild celebrations followed the Double triumph, with an open-top bus parade providing a memorable moment when Ancelotti grabbed the microphone and entered into a song to entertain the fans lining the streets.
BARCA HUMBLED IN HISTORIC CHAMPIONS LEAGUE NIGHT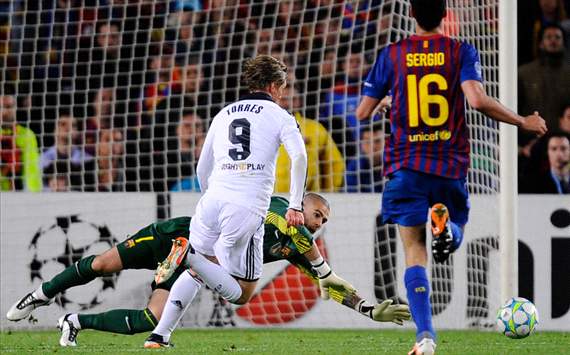 Chelsea came into their two-legged 2012 Champions League semi-final tie against Barcelona as massive underdogs.

The Blues had enough problems of their own - they sat as low as sixth in the Premier League and had a caretaker manager after sacking Andre Villas-Boas - without having to worry about facing Pep Guardiola, Lionel Messi and a rampant Barca side who had been crowned European champions in two of the last three seasons.

Even after they secured an unlikely 1-0 win in the home leg with a resolute defensive performance, few backed the Blues to go to Camp Nou and finish the job. Those predictions of doom looked spot on when the Catalans raced into a 2-0 lead on the night and Chelsea captain Terry foolishly got himself sent off for a clash with Alexis Sanchez in the first half.

However, a stunning Ramires chip gave the 10-man Blues a priceless away goal and Messi missing a penalty at the start of the second period made the English side believe an impossible victory could be on the cards.

They held firm under intense pressure until stoppage time, when a late breakaway gave much-maligned £50 million striker Torres the opportunity to round goalkeeper Victor Valdes and seal Chelsea's place in the final against all the odds with a 3-2 aggregate win.
Do you feel that Chelsea's triumph against Barcelona ranks as the best moment in their 107-year history? Is there another moment from the past you think still hasn't been topped despite their Camp Nou heroics? Let us know your views on the debate by voting in our poll and posting a comment below or by engaging with us on
Facebook
and
Twitter
.
Follow Chris Myson on