DEBATE

Chelsea
head to Camp Nou with a one-goal advantage but face a tricky dilemma in balancing defence with attack against
Barcelona
on Tuesday evening.
The Champions League holders endured a frustrating first leg at Stamford Bridge, where their domination of possession was trumped by a strike against the run of play from Didier Drogba.
Roberto Di Matteo is now tasked with protecting Chelsea's slender advantage in order to guide the club to their first Champions League final since 2008.
But how can Chelsea dump Barcelona out of the competition? Below,
Goal.com
UK chief editor Sam Lyon, deputy editors Jonathan Birchall and James Goldman, and chief correspondent Wayne Veysey each give us their take on how Di Matteo should arrange his side.
4-3-3 - LUIZ IN FOR CAHILL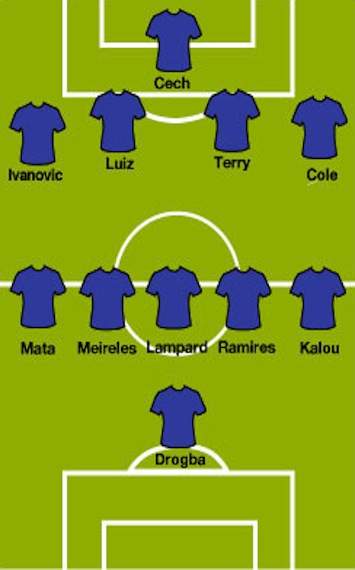 Jonathan Birchall | Goal.com UK Deputy Editor
The last time Barcelona were shut out at Camp Nou in the Champions League was 2009, as Guus Hiddink masterminded a goalless draw for Chelsea against the would be kings of Europe.
Three years (and three Chelsea managers) on, Roberto Di Matteo simply cannot bank on containing Pep Guardiola's side again, and should approach the tie with a view goalwards. Score once, and Barcelona need three. A fluid 4-5-1/4-3-3 formation would therefore allow for positivity, as well as much-needed pragmatism.
Chelsea's defenders will need all the support they can get from those in front of them and as such Salomon Kalou, the most industrious of the Blues' wide players, should start on the left in order to track the often devastating Dani Alves.
Of equal importance given Barca's need for a goal is Kalou's ability to exploit the vacant space left by Alves on the counter-attack, in a similar vein to Osasuna's Nino and Jeremy Mathieu of Valencia, who got two assists from the left wing against the Catalans in September.
Elsewhere, Lampard's ability to turn the ball over in the centre of midfield will be vital if Chelsea are going to create attacks from the back, whilst Ramires' catalytic energy makes him the ideal disruptive influence on the home side.
In regards to personnel, Di Matteo's greatest dilemma may be at the centre of defence, but if David Luiz is fit, he should, regardless of how cruel it may seem, replace Gary Cahill alongside John Terry. Retaining the ball for as long as possible will be vital to Chelsea's approach and the technically superior Brazilian can be trusted to do so. That said, if there are Blue backs to the wall in the closing stages, Cahill could well have a part to play off the bench.
And for the avoidance of doubt, if Drogba is fit, he starts. No question.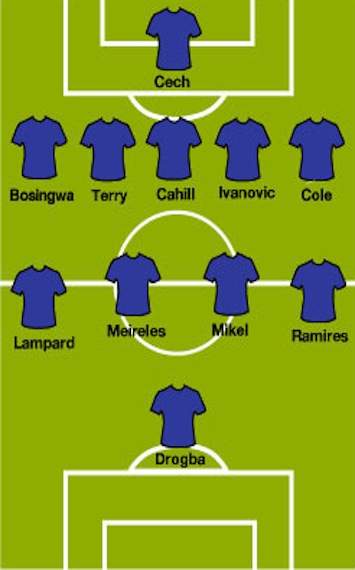 James Goldman | Goal.com UK Deputy Editor
The system Chelsea employed to secure an advantage ahead of the second leg may not have been for the purists but with the size of the prize on offer matching the scale of the challenge that lays ahead, Roberto Di Matteo should make no excuses for retreating into ultra negative mode at Camp Nou.
The narrow confines of Stamford Bridge made it easier for a back four to contain Lionel Messi, while a densely packed midfield restricted the influence of pass masters Andres Iniesta and Xavi.
That said, Barcelona's wastefulness a week ago is the primary reason for Chelsea retaining hope of progression and Di Matteo would be better served concentrating on blanket defence, rather than hatching an elaborate plan to score the away goal that could kill the tie.
Juan Mata would be the headline omission but the Spaniard is not suited to the hassling and harrying that will be required of a midfield that must hunt in packs. Where possible, wing-backs Jose Bosingwa and Ashley Cole could venture forward and supply the bullets for one-man battering ram Didier Drogba.
4-2-3-1 - TORRES & DROGBA START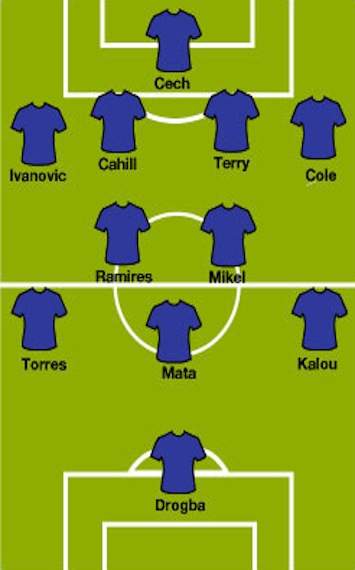 Sam Lyon | Goal.com UK Chief Editor
There are two ways Chelsea can go about this match; sit back and try to resist wave after wave of Barcelona attacks in the hope of repeating the shut-out they managed against the Catalan giants only last week - or to push on and try to pinch the away goal that could ensure their progress to next month's final.
Both options are fraught with danger, of course. Barcelona are not the side they were last year at present, but they're still the most dangerous team in the world given time, space and opportunity. Sit deep and Chelsea will see so little of the ball they will barely recognise it as shots rain in on Petr Cech's goal. Play on the front foot and Chelsea could be picked apart so fundamentally that the 5-1 hiding they received at Camp Nou in 2000 will seem like a narrow defeat.
What is clear, however, is that Chelsea cannot afford to risk the same strategy they employed in the first leg and hope that incredible fortune rewards their undoubted bravery twice in a row. Barcelona had 24 shots on goal in the first leg, hit the post twice and also had goalbound shots cleared off the line. On another night, those hailing Chelsea's defensive performance could have borne witness to a rampant away victory.
With that in mind, Roberto Di Matteo must throw caution to the wind and try to exploit the one area of the Barca side that looks unarguably vulnerable - their defence.
Lead with Didier Drogba in attack; his sharpness in front of goal, ability to hold the ball up and sheer ability to bully defenders will be pivotal to the Blues' hopes. Deploy those players who can combine attacking threat with work-rate and a willingness to track back, Fernando Torres and Salomon Kalou, while asking Juan Mata to attack from deep - thereby restricting Sergio Busquets' opportunity to kickstart every Barca attack. In midfield, Ramires and Jon Mikel Obi can combine legs with a laudable screen in front of the Blues' back four, and in defence pick the five men who held on so admirably last Wednesday in Petr Cech, Branislav Ivanovic, John Terry, Gary Cahill and Ashley Cole.
I don't expect Di Matteo to follow this template, if I'm honest. But then I don't expect Chelsea to get the result they need to reach the Champions League final.
4-3-3 - THREE-PRONGED ATTACK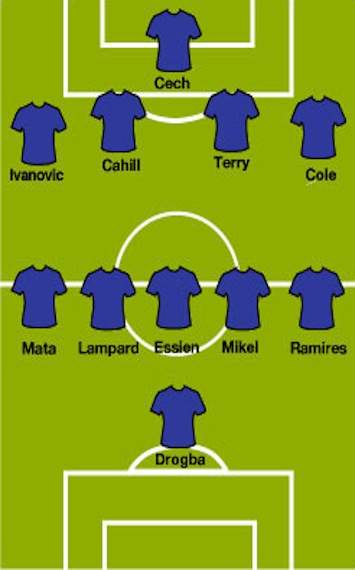 Wayne Veysey | Goal.com UK Chief Correspondent
I believe Chelsea need to be even more savvy and resilient than they were in the first leg to emerge from the Camp Nou with what would be the most astounding two-legged win of the Roman Abramovich era.
I would select 10 of the starting XI that defeated Barcelona against the odds in the first leg and set up the team in the same 4-5-1 formation, with Ramires' energy and defensive know-how once again helping to quell the threat of Dani Alves.
Raul Meireles is too reckless and wayward in the timing of his challenges to be trusted against a team that will once again hoard possession, so I would recall Michael Essien, even though the dynamism of his mid-20s has been curtailed by a series of terrible knee injuries.
Chelsea need to be more effective on the counter-attack than they were at Stamford Bridge, when the only chance they created resulted in Didier Drogba's goal.
Drogba's all-round battering ram skills can help hold the ball up, and at least three Chelsea players must join him when the Blues break with the ball - Ramires, Juan Mata, who is due to a stellar performance, and either Frank Lampard or one of the full backs.
If Chelsea just sit on the edge of their penalty box for 90 minutes, Barcelona will create umpteen chances. If their finishing is only marginally better than at the Bridge, the European champions will progress to the semi-finals.
Roberto Di Matteo's team will be cautious, and rightly so. But they must throw a few men forward when they have the ball, or the holy grail will remain just that.
Do you agree with our panel? How should Di Matteo line up his side to deal with the threat of Barcelona and ensure Chelsea secure their place in the Champions League final? Let us know your thoughts in the comments box below!
How do you stay up to date with football when on the move? With http://m.goal.com – your best source for mobile coverage of the beautiful game.