The Dutchman was once the key man of the Nerazzurri side, but now Claudio Ranieri is finding it hard to accommodate him, and tonight could be a pivotal game in his career
COMMENT
By Kris Voakes | Italian Football Editor
March 16, 2010. Stamford Bridge, London. Having taken a narrow 2-1 advantage away from the first leg in Milan, Jose Mourinho's Inter take on Chelsea with few backing the Nerazzurri to progress. But Wesley Sneijder turns in a masterclass as the Italian side clinch their first knockout win in Europe for four years. The Dutchman goes on to play a key role in their treble success two months later.
March 15, 2011. Allianz Arena, Munich. Trailing 1-0 after the home leg, Leonardo's Inter are boosted by an early Samuel Eto'o goal, but Bayern Munich take command with two more before half-time. Sneijder steps up to the plate, scoring the equaliser, then having a hand in Goran Pandev's late late winner which sends the Nerazzurri through. It is Sneijder's stand-out performance in a difficult season for both player and club.
March 13, 2012. San Siro, Milan. The 1-0 defeat away to Olympique Marseille three weeks ago leaves Claudio Ranieri's Inter needing yet another virtuoso Champions League round of 16 second leg display from Sneijder at the Giuseppe Meazza tonight. But, whereas last season he still had that ability to take a hold of even the biggest of ties, and two years back he was hitting the form which should have won him the Ballon d'Or, the former Real Madrid man is now a shadow of his former self.
SNEIJDER'S FALLING INTER RATINGS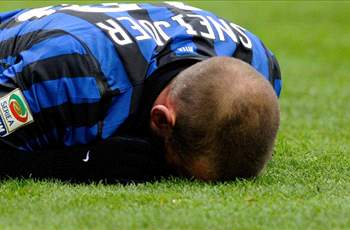 2009-10 average
6.86
2010-11 average
6.65
2011-12 average

6.50
Taken from Serie A & CL games only
Having looked likely to seal a €35 million (£30m) switch to Manchester United for much of last summer, Sneijder stayed at Inter. But unfortunately for the blue and black half of Milan, he has only really stayed in body and not in mind. For the dominant force that once was one of the world's hottest properties now faces a crunch match in his football career.
Tonight's 90 minutes represent what could be the Dutchman's last chance to get a really big move to a club he really desires. A landmark performance in a triumphant Inter comeback could lead to the Dutchman being able to resurrect his reputation. It will build a platform from which a decent run into the latter stages of the Champions League offers him further opportunities to prove he still has what it takes to play at the top.
But the 27-year-old's form this season has not been such that a game-defining turn can be expected on Tuesday night. In fact, with each passing week a Sneijder renaissance has looked less and less likely. His return after injury has coincided with the club's worst run in years, with Friday's victory at Chievo finally giving them their first win in 10 attempts. And Ranieri has bemoaned publicly the difficulty of basing his team around a man who no longer looks able to drive a side around the pitch effectively.
That display at the Allianz Arena 12 months ago represents the Oranje playmaker's last great performance. He and Samuel Eto'o were the key figures who expertly dragged a struggling Inter into the last eight. Eto'o is long gone, and Sneijder has spent this season playing like a man who wishes he had left too. His dip since the summer of 2010 has mirrored his decline at Real Madrid, where he was also unable to back up a marquee debut season.
He admitted last month that he'd had the chance to join Zenit in January, but he clearly still has the hope that something bigger will come along - specifically from the English Premier League. Yet on his form this term, not only will Manchester United (as well as other linked English clubs Man City and Chelsea) not want to pay anywhere near €35m (£30m) for his services, they may not want him at all. With his sullen, disinterested demeanour asking serious questions of his commitment to the cause at a time when his club really need him, he is not exactly wowing potential suitors. He even looked to be carrying a few extra pounds when snapped topless for a recent Vanity Fair article with his wife. And time is running out for him to prove his worth on the big stage.
SNEIJDER'S AILING FORTUNES IN SERIE A & EUROPE
| | | | |
| --- | --- | --- | --- |
| | 2009-10 | 2010-11 | 2011-12 |
| Games | 37 | 34 | 19 |
| Goals | 7 | 7 | 1 |
| Goal.com ratings of 8 or higher | 7 | 2 | 0 |
| Goal.com ratings of 6 or lower | 9 | 8 | 7 |
Inter are now eight points away from the Serie A top three with 11 games to go. A successful rally to clinch another Champions League spot for next term is unlikely given that they are also relying on four other teams' results. Marseille's visit tonight, if they were to lose, would be their players' last big showcase for the next 18 months.
For Sneijder, this is it. Make or break. He will almost certainly leave in the summer; in fact, you could pretty much put your house on it. But neither the destination nor the package will turn out to be the one Sneijder truly wants if he does not sort his act out, with the Champions League presenting the greatest stage of all.
Last month, AC Milan's Zlatan Ibrahimovic told Goal.com that perception is everything in negotiating a contract at a new club, explaining: "You should be happy to come, but [the club] should be happier."
It's time for Sneijder to turn it on again in order to put himself in with a chance of a move that would make him truly happy. If he doesn't, he could end up unwanted and miserable, staring at the possibility that a truly burgeoning career has fallen flat.
It's not only Ranieri who's in the last chance saloon at San Siro tonight.
Follow Kris Voakes on

Want to be at the Euro 2012 opener? Who doesn't? With Sharp FanLabs you can win free tickets to the opening event of 2012's biggest tournament. Click here to take part!