COMMENT
By Kris Voakes | Italian Football Editor
To Italians, the English represent so many things. There's the good (music), the bad (food), and the ugly (weather). And, according to Aurelio De Laurentiis, there's the unclean women, too!
But to AC Milan fans, the English have come to mean one thing … disappointment. With the Rossoneri now having been knocked out of the Champions League by sides from football's motherland in their last three appearances, it was no surprise that their pairing with Arsenal for the forthcoming last-16 tie was met with the odd fearsome wince.
However, those supporters who greeted the draw with cries of "here we go again" are hiding behind the fact that it is not only English clubs that their heroes have failed to perform against in recent times. In fact, Milan have struggled against pretty much everyone.
Having recorded only four wins in Europe since their unlikely away victory over Real Madrid in October 2009 in the group stage, the Rossoneri have hit a horror run which exposes them as continental also-rans in their current guise. To dig beyond that stat is to see exactly how much the club, who we are told have "the Champions League in their DNA", have struggled to make any kind of impression whatsoever. Their only victories in the competition in the last 28 months have come against Auxerre (twice), Viktoria Plzen and BATE Borisov, none of whom generally come into the reckoning when football fans list Europe's greatest clubs.
MILAN IN NUMBERS
Champions League chumps

4

Wins in 19 games since their 3-2 victory at Real Madrid on October 21, 2009.

2
The number of goals scored in six games against English sides since the 2007 final, both coming in a 3-2 home defeat to Manchester United.

61
Milan have allowed 61 more shots at their own goal than they have themselves managed in the last three Champions League seasons - nearly three per game.

1
Only one Milan player has scored more than two goals from open play since that Bernabeu win in 2009. Zlatan Ibrahimovic has seven, plus one penalty.
8
The number of times since the beginning of 2009-10 that Milan have lost a lead in the Champions League.
As the Gunners head for San Siro tonight, they should do so with little fear. Not only have they won at 'La Scala del Calcio' as recently as four years ago, with late goals from Cesc Fabregas and Emmanuel Adebayor crowning a thoroughly dominant display, but Milan have clearly not learned their lesson since.
That season there had been a shift in the club's focus, with much of their usual timetable in terms of diet and fitness regimes altered in order that the players would peak around December, in time for their assault on the Club World Cup, rather than the usual April/May target at the 'business end' of the season. The idea that the club was outwardly regarding the Champions League – when they were competition holders, no less – as an afterthought smacked of a sense of self-importance to some onlookers.
Undoubtedly, it was not their intention to belittle the competition, but the idea that they could cut corners and get away with it was little more than delusional. They got their just rewards in more ways than one.
The switch of focus resulted in a 4-2 win over Boca Juniors in the final of the intercontinental tournament, but come March they had nothing in the tank as Arsenal ran them ragged for two legs and eventually got the goals they deserved. By the season's end, a fifth-place finish ensured that they'd pay the heaviest of prices for their uneven campaign. A poor beginning was not overcome.
When they needed an extra kick of energy, they had none. And their play has lacked it ever since. Only there has been no other distraction in the years that have followed; no Club World Cup, no Uefa Supercup. Hell, you have to actually win Champions League games to get there. In their 22 matches at the elite level since Arsenal last visited, Milan have not only been outscored by their opponents, but they have also conceded more shots on target, more shots off target and more corners. In general play they have been less creative.
It is not just against the big guns that they have struggled. In visits to Zurich, Ajax, BATE, and Viktoria they have picked up a grand total of zero victories. They even lost at home to the Swiss side, shipping an early goal to centre-back Hannu Tihinen and never looking likely to recover until an injury-time pot-shot from Gianluca Zambrotta hit the post.
Too often in Europe there has been no method to the madness. Since Carlo Ancelotti set sail for Chelsea in the summer of 2009 after a final season which featured Europa League football rather than the tough stuff, the club have been led by Leonardo and Massimiliano Allegri, coaches with no pedigree at all in continental football.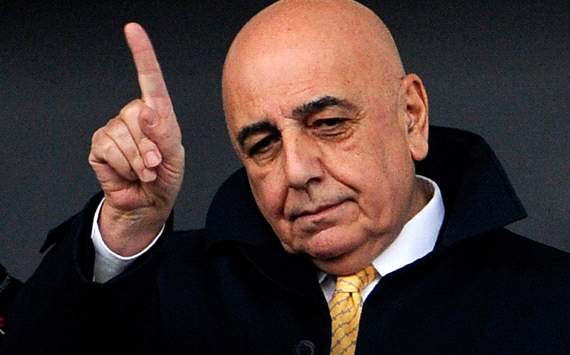 Adriano Galliani | His DNA talk is symptomatic of Milan's complacent attitude
Why would a club with apparent aspirations not take these vital ingredients into account? Why would they treat the Champions League as something that will just naturally gravitate their way at some stage? The complacency about the entire ethos at Milan is shining through in the results on the pitch.
They are still playing second fiddle in far too many matches, showing no signs of a new approach beyond the one that involves Zlatan Ibrahimovic at the first opportunity, and have left many people disappointed in terms of the attraction of their game, too. In attack they are letting far too many games pass them by, with the likes of Alexandre Pato and Robinho having very poor scoring records in Europe.
There has been no real ideas base about their midfield for some time, with the loss of Andrea Pirlo having not been counter-balanced. Mark van Bommel's addition was just what they needed for the final four months of the last Serie A season, but he was never going to be the creative hub for a side aiming for European success. To expect him to slot in where Pirlo once magically pulled the strings on the biggest stage is nothing less than delusional.
MILAN SCORERS IN LAST 19 CL GAMES


Player

Ibrahimovic (1 pen)
Ronaldinho (2 pens)
Inzaghi
Boateng
Pato
Cassano
Borriello
Robinho
Thiago Silva
Seedorf

Games
12
10
7
11
12
3
4
11
16
18

Goals
8
4
2
2
2
1
1
1
1
1

Meanwhile, defensively there seems to be no real direction from an operational level. The lack of a new top-class left-back has been a concern in league play too in the past three years, but in Europe it is fast becoming their biggest Achilles heel. The last two Champions League eliminations have come after run-ins with in-form right wingers at San Siro, with Manchester United's Antonio Valencia breaking the tie open two years ago and Aaron Lennon leading Tottenham to victory last term.
Suddenly, the last thing the Rossoneri seem to have in their DNA is Champions League football, and any idea that they can win it in the coming years needs to be seriously revised unless some extensive rebuilding work is done to the team. Their most recent triumph in 2007 came in large part thanks to the magnificent form of Kaka, but not only do they not have the Brazilian anymore, they simply have nobody who can affect the game in so many different areas of the pitch as he did.
CEO Adriano Galliani wasn't exactly incorrect when he first boasted about Milan's DNA, but he was misguided. It takes more than just belief to bring in the trophies, however positive an asset that may be. And now is the time for the powers-that-be to realise it before complacency becomes more engrained in the fabric of the club than success does.
Last time out, Milan led 2-0 going into the 89th minute away to Viktoria Plzen and ended up with a draw. Allegri was quick to pinpoint why they'd lost two points late on, stating: "We were 2-0 up and could have scored a third on several occasions. What makes me angry is that we played with complacency."
The Diavolo have no more divine a right to saunter through games against lowly opposition than they do to be regarded as one of the favourites by weight of proclamations alone. Allegri needs to prove he can fashion new ideas from his squad if he is to be regarded as a potential Champions League-winning coach. Milan fans deserve a real tilt, but even a decent attempt seems beyond them on recent evidence.
While it is true that not winning the competition wouldn't be a disaster this term, there needs to be a re-injection of a professional attitude, a champions' attitude, at Milanello, and at Via Turati, too. Otherwise, last-16 failures will only continue. This evening we will get to see whether any of that DNA talk really stands up. Either way, complacency cannot be tolerated.
Follow Kris Voakes on