COMMENT
By Kris Voakes | Italian Football Editor
And so the job was completed. Tentatively, but tremendously, Napoli made their way into the knockout stages of the Champions League on Wednesday night. A second 2-0 victory over Villarreal in Group A was enough to stave off any concern that they'd fall at the final hurdle, and it is Italy, rather than England, who take a third place in the last 16.
It was not one of their greater displays; for an hour they looked sluggish. Weighed down by the expectation – by the responsibility – they offered only fleeting glimpses of their usual ability to make chances from their own territory. But their hosts never looked convincing in their quest to upset the form book and secure their first point of the campaign.
When Gokhan Inler collected Marek Hamsik's pass and delivered a magnificent left-foot strike inside Diego Lopez's near post, the pressure was released. The relief and the joy mixed to unveil a more exuberant Napoli, and soon after Hamsik side-footed home when Edinson Cavani's run distracted two near-post defenders at Ezequiel Lavezzi's corner. The job was done. The travelling supporters began their celebrations, Naples erupted, and Manchester sank to its knees.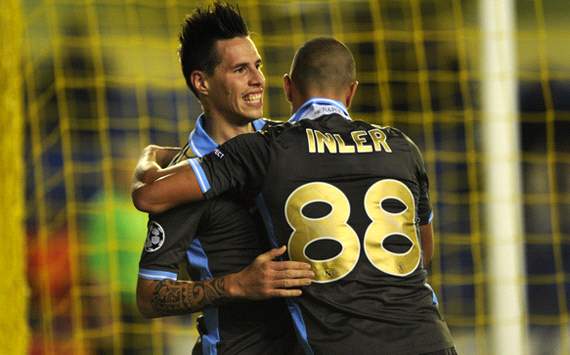 Hamsik & Inler | Napoli's goalscoring heroes as they progressed to the last 16
As much as the victory in Spain mathematically clinched their spot in the draw on December 16, it was their results in the head to head with Roberto Mancini's mega-money Manchester City that earned them their right to continue on in the Champions League.
The opening night draw at the Etihad Stadium could have gone either way, but the Vesuviani held firm and even led at one point, as City showed the greater nerves of the two newcomers to the revised competition. Then a fortnight ago it was Napoli who turned less possession into more chances, and ultimately more goals. They had been cleverer, more wily, shown greater experience, and a greater ability to come to terms technically with football at the top level. City's denouement arrived at San Paolo.


SO EFFICIENT
Italy's points in 2011-12
17

Napoli

Champions Lge

16

Inter

Champions Lge

16
Milan

Champions Lge

7
Lazio

Europa Lge

6
Udinese

Europa Lge

1

Palermo

eliminated

0.5
Roma

eliminated
And it is to that grand cauldron in Naples that Champions League football will return in February or March. As it will to San Siro as Italy takes three representatives to the knockout stages. It is a unique feat in this season's competition. Spain lost Valencia and Villarreal, England said goodbye to Manchester United as well as their noisy neighbours, while Germany's champions Borussia Dortmund will play no part in European football after Christmas.
The trio of countries that will have four clubs at the top table next term are left with only half as many in the second half of this year's version, while Italy stands proud. Not that you'd know it looking at the co-efficient table for this season.
The achievements last night, combined with last week's Europa League results, take Italy up to fifth in Uefa's standings. Yes, FIFTH! They leapfrogged Portugal, the Netherlands, Belgium and Cyprus thanks to Napoli's win and the progression of Inter and AC Milan.
The best performing country in the Champions League so far is actually losing ground on the other competing nations for that fourth spot at the big table. Why? Because Roma and Palermo realised they had better things to do than spend up to 19 weeks this season playing in the Europa League when they could be preparing for the altogether more important prospect of Serie A football. Had the Rosanero gone for broke and taken the competition seriously, an appearance in the final would have extended their season by 50 per cent, while for the capital side it would have been an extra 17 matches. Their exits at the first hurdle, to FC Thun and Slovan Bratislava respectively, undoubtedly improved the quality of their league campaign – you only need to look at Juventus' form to see what free midweeks can do. But Italy is still paying for having its priorities sorted.
Napoli's win gained the country four bonus points for progression to the knockout stages, plus an extra point for a last-16 appearance, but that then gets divided by seven – the number of Italian participants in Europe when the season began back in June – making a 0.714 gain for the peninsula. To put that into context, Stoke City's three Europa League wins this season have gained England 0.750 points.
The farce continues this morning. Italy should be taking a bow right now. A struggling Inter have shown grit and character to make the last 16, Milan set the tone with their 2-2 draw in Barcelona on opening night and clinched their progression two rounds early, while Napoli came out of the 'Group of Death' unscathed. But Italy stands fifth in this season's tally.
CO-EFFICIENTS EARNED IN 2011-12 BY COUNTRY
| | | |
| --- | --- | --- |
| | Co-efficient | CL-only co-efficient* |
| England | 11.750 | 14.500 (3rd) |
| Spain | 11.071 | 14.000 (5th) |
| Germany | 10.083 | 14.333 (4th) |
| France | 9.333 | 13.833 (6th) |
| Italy | 9.071 | 16.333 (1st) |
| Portugal | 8.833 | 15.500 (2nd) |
* Derived from results gained by teams qualifying for the CL group stage, positions in brackets not including countries outside of Uefa's top six
Like British bankers – rewarded for bringing the country into near-financial meltdown with bonuses and handouts – so England's clubs will get away with their dire Champions League form by remaining at the top of the co-efficients. Of the top six countries in the table right now, Italy have gained a greater mark if taking only Champions League group results into account – and that is the way it should be.
Football should be about savouring victories, not working out two divided by seven every time a team from your country wins. That's why when the first draw of the knockout stage is made next week, this writer will be weighing up which of Italy's teams might be able to make it further down the track towards May's final in Munich, rather than working out where the next 0.286 points might be coming from.
AC Milan, Inter and now Napoli are in the last 16, and clubs like Manchester United, Valencia, Dortmund and Manchester City are not. It's a huge reason to be cheerful, even if Uefa don't necessarily agree. Congraulations to Napoli and to Italy. Keep up the good work.
Follow Kris Voakes on