ANALYSIS
By
Rob Stewart
Chelsea
and
Manchester United
and
Manchester City
are all standing on the brink of elimination from the Champions League but football industry analysts have warned that the Stamford Bridge club have most to lose if they fail to follow
Arsenal
into the knockout phase of Europe's elite competition.
United would lose out most financially if they go out against Basel on Wednesday but Blues manager Andre Villas-Boas would be hit the hardest, with his efforts to transform Chelsea under Roman Abramovich suffering a severe jolt if the west London club were to be dumped out of the competition by Valencia.
While it might be argued that his job is not in jeopardy, a failure to navigate Chelsea's safe passage into the round of 16 on Tuesday night would hinder Villas-Boas' efforts to transform the team, with the repercussions of failure certain to reverberate long into the future, as well as costing his club millions of pounds.
As speculation mounts over the future of ageing stars Frank Lampard and skipper John Terry, according to highly respected academic figures and financial experts, the Portuguese coach must ensure Chelsea prosper to send out a message that the club is not in dire straits.
"It is more important to Chelsea than either of the two Manchester clubs that they do not get knocked out at this stage but mainly because there is a perception that the club is struggling although not financially of course," Tom Cannon, professor of strategic development at the University of Liverpool's Management School, told
Goal.com
.
"It would be a bigger issue for Chelsea simply because the perception would be of a club that needs major re-building and needs to be spending a lot of money, but is still struggling despite all the money it has got behind them to attract the biggest names and best players.
"
Cannon added: "If Chelsea were looking to sign a player from Tottenham for example, then Tottenham finished third next year and secured a guaranteed place in the Champions League next year, then the Spurs player might think 'am I joining a strong squad and is it worth my while making the move from Chelsea if they can't get through the group stage?'
"So they won't worry about things financially but it would strengthen the concern about whether Chelsea are as strong as they have been in the past."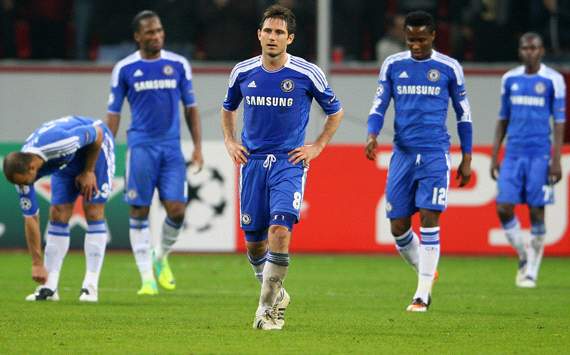 Got the Blues l Chelsea stars look glum after defeat to Bayer Leverkusen
Professor Cannon has estimated that United stand to be the biggest financial losers if Sir Alex Ferguson's team is ousted from the Champions League, but the blow will be cushioned by the acknowledgement that the Red Devils are in a transitional phase.
As for City, the prospect that the oil-rich club is on course to win its first Premier League title and their vast wealth will cushion the blow if Bayern Munich confirm their exit at the Etihad Stadium.
"It is less important to City simply because my guess is that Sheikh Mansour would not have expected to get any further and they are looking so strong in the Premier League that I would have thought that £20 million here or there is not amazingly important," Professor Cannon added.
"For United it would be a disappointment but not a disaster. It would be part of the United team being seen as going through a transition. It wouldn't be good news but it wouldn't be a financial disaster.
"It might affect things like them going on the Singapore Stock Market and it might persuade them to defer that, but in truth they look like coming in the top two of the Premier League and there would be the acceptance that this is a squad in a bit of transition."
Professor Cannon believes the Premier League's big hitters will have been too prudent to be rocked by the loss of their place on the Champions League gravy train.
"Most clubs are sensible enough to budget for getting to the group stage because there is a risk of not going any further," Professor Cannon said.
"There is a difference between what you hope for and what you budget for. So my guess is that the four clubs would budget to get into the group stage but would view getting any further as a bonus.
"If you got the final it would worth be probably worth about £75m as a cumulative total and that is a conservative estimate. If you were to win it then it would be worth a total of £80m.
"And that is not taking into account things like perceived increases in the value of players, so taking the example of Tottenham who are not in it but if they were and they won it then the value of players like Gareth Bale, Aaron Lennon and Luka Modric would shoot through the roof.
"So while the value of the squad is not taken into account if we take all the rest, United have probably made the best part of £30m already but if they lost, and you would normally expect English clubs to get to the semi-finals, getting knocked out would cost them in terms of lost revenue – that is money they would have earned – probably the best part of £35m to £40m.
"It would be slightly different for City and Chelsea because they don't have the 75,000-seater stadium like United, so for them if they were not knocked out now instead of £35m-plus it would be more like £30m that they would forego in terms of revenues."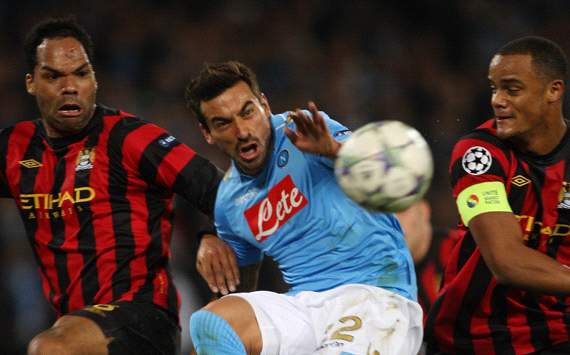 On the brink l Manchester City could pay for the failure to beat Italian side Napoli
According to football finance expert Simon Chadwick, professor of sports business at Coventry University, there would be a loss of prestige for City if they fail to make it out of the group phase.
"Forbes magazine have a list of the top 30 most valuable sports brands in the world and I would imagine a target for City is to start to appear in such tables and gradually creep up them," Professor Chadwick said.
"This values the brand and that is generally reflected in terms of sponsorship contracts, commercial deals and kit deals and the ability to purchase players in the transfer market and if the club was ever to be sold by its current owners it says something about the value of the club."
A place in the Europa League would be scant consolation for the vanquished but Dr Rob Simmons, a senior economic lecturer at Lancaster University, believes that the powers that be at Uefa, European football's governing body, will also be relieved if the bigger clubs get through to the last 16.
"Getting knocked out now would lead to the loss of prize money and broadcasting payments so it would be a substantial hit that would be by no means compensated with a place in the Europa League," Dr Simmons said.
"This is the biggest and most prestigious competition and people aren't normally that excited by Basel versus Manchester United but what is exciting to viewers is usually Barcelona against United later on in the latter stages. Audience interest does increase as the competition unfolds, so that is the justification for prize money going up in big chunks.
"What Uefa want is for the most glamorous and most prestigious teams to be playing late on and they don't want a system that gets Barcelona and Manchester United knocked out early.
"That is what brings the revenue in if they had dull final between say Basel and Borussia Dortmund or something that will not bring the punters in. The punters like to see glamorous teams.
"Manchester City don't have a track record in the Champions League so they got bumped into this pretty awful group and will most likely get knocked out on Wednesday.
"They were put into an awkward situation by Uefa's draw structure because of the seeding that favours the teams that have performed well recently, so City have to fight it out against Bayern Munich and Napoli, who are both extremely strong."
It is fair to say, though, that an early setback to City's world domination plans would pale into insignificance compared to the knock-on effect that Chelsea could face from losing their place at Europe's top table.
Follow Rob Stewart on