ANALYSIS
By Ben Hayward | Spanish Football Editor
Following a delay in proceedings due to a missing piece of paperwork,
Zlatan Ibrahimovic
finally appeared in front of the Catalan press. The smiling Swede claimed
Barcelona
were the only club for whom he would have left
Inter
. He was here, he said, to fulfil a dream.
But that dream eventually turned into a nightmare as Zlatan lasted a sole season at Camp Nou. So where did it all go wrong for the most expensive player in Barca's history?
Ibrahimovic joined Barca in a deal worth close to £60 million as Barca parted company with around £38m and sent Samuel Eto'o - valued at around £21m - to San Siro as well. The package was supposed to include the loan of former Arsenal midfielder Aliaksandr Hleb, too, but the Belarus international ended up staying and that made the deal even more expensive.
It was a hefty price tag and remains the second-highest transfer fee in history. On top of that, Eto'o had netted 36 times in his last campaign to help Barca to an historic treble of Liga, Copa del Rey and Champions League titles. So there was a lot to live up to for the Swede.
Eto'o had been seen as a disruptive influence by the Catalan club and Guardiola had spoken of a lack of 'feeling' with the Cameroonian forward. So Barca and their fans hoped they would find the 'feeling' with Ibrahimovic as 60,000 supporters turned up at Camp Nou to welcome their new hero on the day of his presentation.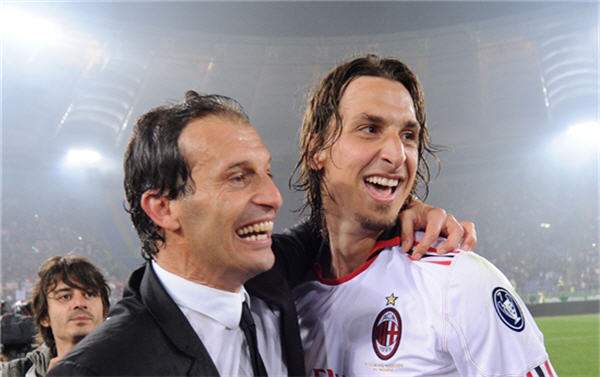 Happier times | Ibrahimovic is back on the up in Milan


And things started well. Zlatan set up Lionel Messi for a goal on his debut in the Spanish Supercopa and netted on his first league start against Sporting Gijon. A goal in each of the next three games helped the team pick up where they had left off the previous season, while a brace against Zaragoza later made it seven strikes from as many games, before a thigh injury kept him out for three weeks.
Ibrahimovic returned to hit the winner in his first Clasico, a fine volley just minutes after coming off the bench to replace Thierry Henry at Camp Nou, and ended 2009 with 11 goals in his first 15 games as Barca claimed the Club World Cup to make it six trophies out of six since the arrival of Guardiola in the summer of 2008.
Barca, though, were looking less slick than in the previous campaign, their passing game slowed down by the static Swede, who failed to press as Eto'o had done so effectively and appeared to be waiting until his team-mates gave him the ball. Although technically gifted, there was a clumsy element to his game at times, and Barca fans began to see him as a selfish individualist who was unsuited to their side's 'tiki-taka' style.
| | |
| --- | --- |
| | IBRA AT BARCELONA | GAMES & GOALS |
| | | | |
| --- | --- | --- | --- |
| Season | Games | Goals | Assists |
| 2009-10 | 41 | 21 | 9 |
| 2010-11 | 1 | 1 | 0 |
| Total | 42 | 22 | 9 |
They had been warned. Former AC Milan and Italy coach Arrigo Sacchi had dined with Guardiola in the summer of 2009 and advised the Barca boss against signing Ibrahimovic. This was a man who helped pioneer the tactic of pressing from his forwards in the great Milan side of the late 1980s. His was a qualified opinion. "Ibrahimovic is a fantastic player," he later said. "But he is too much of an individualist in what is a team game. I advised Guardiola against signing him."
Sacchi would eventually be proved correct, but it was the Champions League quarter-final against Arsenal which really defined the future for Ibrahimovic. In the first leg in north London, the Catalans produced what many described as the 'best 45 minutes of football' they had ever witnessed; a first-half masterclass which saw Barca pepper the locals' goal but, bizarrely, fail to score as the woodwork and Manuel Almunia's brilliance kept them at bay. Ibrahimovic himself had missed chances, but scored two fine strikes after the break as Guardiola's side deservedly took control, only to concede two late goals and somehow end up with a draw.
Ibra's performances had been inconsistent and enigmatic, however, and he was sidelined for the second leg. By that time, Guardiola had been utilising Messi in the middle, the place where the Argentine could do the most damage. That was always Pep's plan, but with Ibrahimovic in the side, it was almost impossible. The Swede was out for the return leg against Arsenal and in his absence, Messi sensationally hit all four goals in a 4-1 win to advance to the semi-finals.
"Ibrahimovic is a fantastic player. But he is too much of an individualist in what is a team game. I advised Pep Guardiola not to sign him"






- Arrigo Sacchi in 2009

There, Zlatan would be back: up against his former club Inter and his previous coach Jose Mourinho. Barca were forced to travel to Milan by coach due to the ash cloud and went down 3-1 in an unusually-subdued display in San Siro. Ibra had been even quieter than most and stats showed he had covered even less ground in that game than goalkeeper Victor Valdes. It was a damning statistic.
The return match at Camp Nou saw Barca needing a 2-0 win to advance to a second successive final and it looked as if they would achieve it following Thiago Motta's early dismissal. But Mourinho's men dug deep, defended as a unit and frustrated a Barca attack devoid of movement and ideas, with Ibrahimovic appearing to hinder instead of help the Catalans' cause. He was finally replaced by Bojan after 63 minutes and the substitute smashed what he thought was the clincher into the roof of the net in the dying seconds after Gerard Pique had given the home side hope. But it was ruled out and Barca's dream of a second successive Champions League had died. So had Ibrahimovic's of a first European crown.
Barca claimed La Liga in a successful season which had earlier brought three other titles, but there was a feeling of disappointment at Camp Nou after everything the club had achieved in the previous campaign. During the final months of the season, the relationship between Pep and Zlatan had deteriorated and with what he had witnessed on and off the pitch, Guardiola decided that Messi would be his team's focal point from then on. Ibrahimovic had to go.
"Guardiola has only spoken to me once in six months. He is the 'philosopher' who has destroyed my dream to play for Barcelona. It's the end he wanted"






- Ibrahimovic before joining Milan in 2010

So Barca cut their losses, loaned the Swede to AC Milan, with the deal later becoming permanent for £21m and the original purchase described by incoming president Sandro Rosell as 'the worst signing in the club's history' - in terms of outlay at least.
Ibrahimovic has constantly blamed Guardiola for his failure at Barca, but Sacchi believes Zlatan's Camp Nou experience has allowed him to become a more complete, well-rounded, team player. "Ibrahimovic's experience with Barcelona has helped him a lot. Now he plays for the team. He is now the best in the world along with Lionel Messi and Cristiano Ronaldo," he explained earlier this year.
On Wednesday night, in Milan, Ibrahimovic will hope to prove that Sacchi's reassessment is correct - and that Barca's was wrong.
Follow Ben Hayward on