The £50m striker can seek respite from his woes in England and bolster his Euro 2012 hopes by continuing his recent upturn in form in front of more sympathetic eyes at the Mestalla
ANALYSIS
By
Rob Stewart
It is coming to that time of year when planeloads of sun-seekers head from Britain to southern Spain in a search of a pick-me-up as winter approaches and
Chelsea
striker
Fernando Torres
will be no exception because he is already in need of a respite from the strains of everyday life in England.
The Spaniard has had such a torrid year since leaving Liverpool for Chelsea in a record-breaking £50 million transfer deal in January that he would be forgiven for thinking he is jinxed.
Every time he takes one step forward he seems to take two steps back, but he will hope a visit to Valencia brings a change in luck.
In the last fortnight alone we've seen the 27-year-old follow up a return to goalscoring form with a moment to forget - on two occasions. When Torres struck a sublime goal against Manchester United at Old Trafford he followed up by missing an open goal.
Then last weekend, he capped off his third goal in 25 Chelsea appearances in the 4-1 rout of Swansea with a reckless two-footed striker's challenge leading to a red card and a three-game ban.
Every moment of magic has its thunder stolen by a moment of madness and the Fernando Torres rollercoaster has become a favourite subject for the tabloids.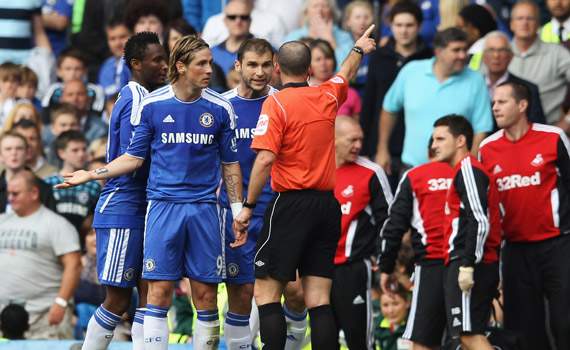 Seeing red l Things take a turn for the worse for Fernando Torres at Stamford Bridge
Apart from such much-needed game time as he faces a spell on the sidelines in domestic matches, what does a return to Spain offer the much-maligned £50m striker?
"The Spaniards have been less keen to get on his back and he is still regarded as a very, very good player," European football writer Andy Mitten told
Goal.com
. "The Spanish press haven't been rejoicing in his lack of form but they have been reporting on the English press enjoying his misery. That has been the story – the fact he has been criticised so much.
Mitten adds: "They were more surprised that things had not worked out for him. He is still headline news. When he was sent off it was a big story in most of the Spanish papers, especially the Madrid-based ones such as Marca and AS. Nobody thinks he is a bad player but they are a little surprised at his drought.
"
With Euro 2012 looming, Torres' place in Spain's first team is under threat with Roberto Soldado pressing his claims for a place having scored five goals already this season for Valencia while Sevilla's Alvaro Negredo is also vying to play alongside first-choice David Villa following five goals in seven outings for his country.
Goal.com Spanish Football Editor Ben Hayward believes that his absence from the first-choice team is justified.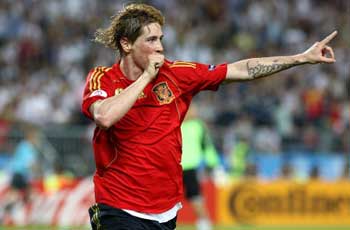 "Torres is remembered fondly for scoring in the final of Euro 2008 and he always puts in a shift for Spain"
"As things stand, many fans believe Torres doesn't deserve to be in the side," Barcelona-based Hayward said. "Many more don't see him as the right kind of player to fit in with their 'tiqui-taca' style, believing his game to be more suited to the English Premier League because of his direct style.
"Having said that, there is a real desire to see him do well and regain his best form. Every Chelsea game is followed here by the press and fans are keen to know how Fernando is getting on, along with Juan Mata.
"They also remember him fondly for the goal he scored in the final of Euro 2008 and because he always puts in a shift for Spain, working hard to come back from injury and putting his body on the line for La Roja.
"But they are somewhat losing their patience, however, with his recent performances, and right now the consensus is that he deserves to be out of the Spain side."
The Press Association's European football writer Cindy Garcia-Bennett is confident that Torres will be back in the thick of it for Spain in Poland and Ukraine next summer.
"He is regarded as a hero because of Euro 2008 and the Spanish press have put the fact he has not lived up to expectations down to injury and not discovering his form," Garcia-Bennett told Goal.com.
"He doesn't seem to get a lot of criticism from the fans or media and I very much doubt that because he plays for the national side that he will be singled out for special treatment, especially as Juan Mata will be there.
"Personally, I think he still has a good chance of making it to Euro 2012 because he is playing for one of the top clubs so I would think he would still get selected no matter what. But it will help if he scores at the Mestalla.
"
Follow Rob Stewart on