Drawings by Omar Momani

10) Xavi Hernandez records more passes at Wembley than Michael Carrick...in his career...including friendlies...even school ones.
9) Dani Alves goes to ground after a particularly bad foul by Paul Scholes. The referee sends off Scholes but also books Alves. When the full-back tries to claim he didn't dive, the referee points out: "Of course you dived... the tackle was on Busquets."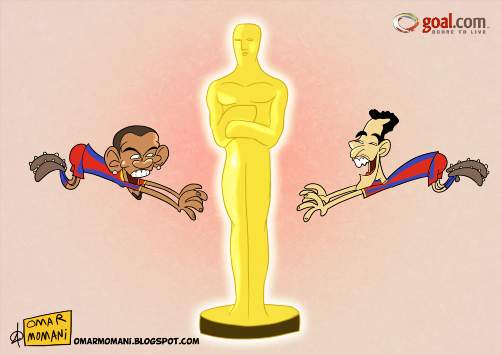 Move over De Niro & Al Pacino | The Oscar for Best Actor goes to...
8) A minute later Wayne Rooney is clean through on goal, but suddenly stops running after hearing a whistle...blown by suspended Barcelona reserve goalkeeper Jose Pinto in the crowd. The striker is promptly sent off.
7) Sir Alex Ferguson is furious about the red card and the fake whistle. "Typical cheating Catalans," he is overheard muttering to his press officer after forgetting to switch off his microphone.
6) Sky Sports' Jamie 'never heard of Pato' Redknapp also blasts Barcelona's sportsmanship. "None of this foreign diving and cheating goes on in our league," he snipes to co-pundits Steven Gerrard and Didier Drogba.
5) After Pele remarks that Javier Hernandez is the "next Lionel Messi", the Mexican suffers an inexplicable drop in form - failing to score another goal for three years, and retiring from the game at the age of just 25.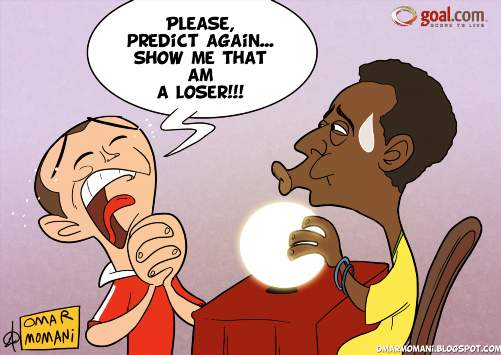 Pele's Plague | Hernandez joins Freddy Adu on The Jinx's long-list of victims
4) Messi scores a stunning hat-trick, including a slalom past the entire Man Utd team, but some Real Madrid fans still proclaim Cristiano Ronaldo as the best player in the world due to his 53 goals against Almeria and Levante.
3) An unnamed Premier League footballer, who is married with children, is denied the 33rd title of his career after coming on as an 85th minute substitute. In unrelated news, Ryan Giggs plays the last five minutes as he misses out on a third Champions League crown.
2) Giggs tries to match the heroics of Manchester United legend George Best. Like Best, he stars in a Man Utd team at Wembley in the European Cup final. Like Best, he attempts to score by sneaking up from behind Victor Valdes. And just like Best, he goes home with a Miss World contestant afterwards!
1) With Barcelona cruising to a 3-0 win, the fourth official indicates four minutes injury time, sending Sir Alex Ferguson into a rage. "At least 47 minutes should have been added," he roars, as he spits out his chewing gum.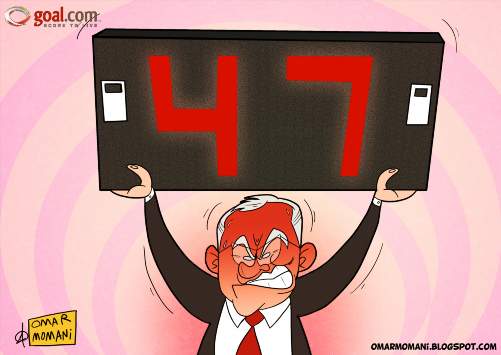 Fergie Time | Barcelona won't win the Champions League on his watch
What do you expect to take place during the Champions League final? Leave your light-hearted suggestions below in the comments box...