ANALYSIS

By Jonathan Birchall
The post-mortem has been as long as it has been painful for Manchester United. Nearly two years ago to the day of their Champions League final clash against Barcelona at Wembley, Sir Alex Ferguson's men were humbled by the wizardry of their Catalan opponents. Fed to the lions in Rome, the Premier League champions barely put up a fight.
The Scot has suffered heavier defeats during his time at the club than the 2-0 dished out at the Stadio Olimpico in 2009 but the helplessness with which United combated the untouchable pairing of Xavi and Iniesta not only left Ferguson reeling then but has kept the biggest question in football still testing Britain's most decorated manager; just how do you solve a problem like Barcelona?
There is an argument to be made that Pep Guardiola's men are an even fiercer proposition in 2011. David Villa offering additional firepower, Pique and Busquets two years wiser, the holy trinity of Xavi, Iniesta and Messi with two seasons more playing time to transform their mutual understanding to telepathy.
If United are to secure their fourth European Cup, Ferguson, a man whose unwavering need to control is famed, must learn what went wrong for his team to lose it with such troubling ease and fix the issues before they are embarrassed once again.
PROBLEM 1: Burning out in first 10 minutes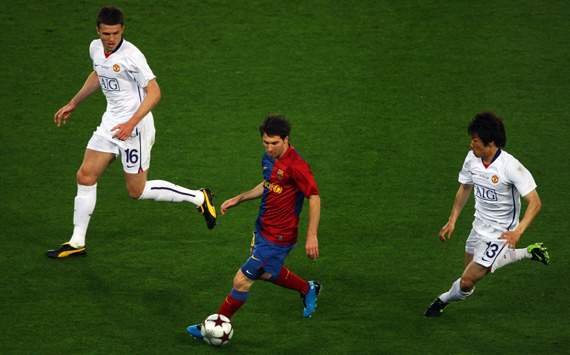 Running on empty | United harried Messi & Co. - but could not sustain that pace
The code appeared to have been cracked in the opening 10 minutes in Rome. With Park inches away from latching on to a Cristiano Ronaldo free kick that was deflected away by Victor Valdes, United so nearly took the lead.
Interrupting the rhythm of Barcelona's midfield was done with a fury expected of a Premier League side, as United pressed and hassled and harried. However, having looked briefly rattled, Barcelona struck through Samuel Eto'o to end the tie as a true contest with 80 minutes still to play.
"We only had 10 minutes until they scored and then we never found ourselves again. We didn't do well, the tactics were not good and everything went wrong," said Ronaldo after the game.
The goal ruined the façade of United's opening energy - it had been adrenaline that had provided a start of such vigour. The chasing stopped, the hunting down became laboured. Under the sweltering heat of a Rome evening, United were out on their feet, dead men quite literally walking.
Solution
Conversely, being fully rested might have been the problem. The last league game the Red Devils played ahead of Rome was against Hull, with the title already sewn up. Not a single player appeared in both fixtures, with Ferguson clearly wary of risking his stars ahead of the main event in Italy.
However, in similar circumstances against Blackpool last weekend, United kept many of their first team ticking over, maintaining the sharpness that has seen them take the title. Keeping his players on their toes may well just allow United to keep up the pressure on their irrepressible opposition for a little more than 10 minutes this time around.
PROBLEM 2: Surrendering possession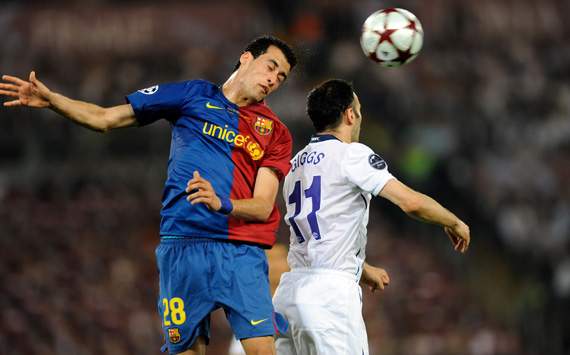 Highs and lows | United gifted possession to Barcelona too often in Rome
Of course, chasing the ball is a far more tiring job than keeping hold of it; such is the Barcelona mantra. United's simple inability to do so in 2009 was significant to their downfall.
As each ball went back to Edwin van der Sar and his defence, a hoof up field was met with an almost pitiful delight from their opponents.
The distribution from the back and from Carrick and Anderson in the middle suggested that not only were Ferguson's men concerned with the suffocating pressure being exerted on them but that their self belief was entirely shot to ribbons.
As Ferguson said: "The simple reason [we lost] was possession. We didn't do anything with it."
Solution
When a United player receives the ball at Wembley, he will no longer be afforded the excuse, albeit a flimsy one, that they didn't know just how intense the pressure from those in red and blue would be. Ferguson's side must remain calm in battle, regardless of the onslaught.
It would be impossible to forget the hoards of Barcelona players chasing them down in Rome; it would be a crime to have not prepared for it.
PROBLEM 3: Exposed in midfield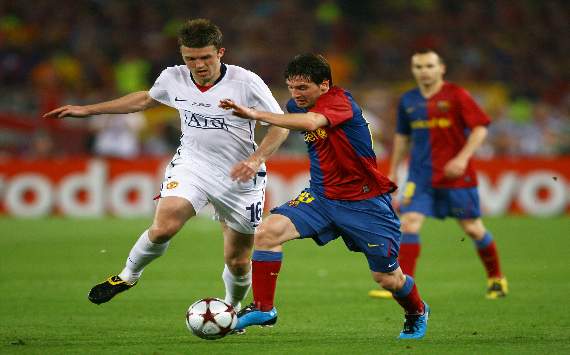 Feeling the heat | Michael Carrick struggled to keep up with his Barca counterparts
Keeping tabs on Busquets, Xavi and Iniesta is a test that even the greatest modern midfields have failed to pass. In Rome, Ferguson's side never even got close, in terms of possession or quality.
For once, United's players were let down by their manager, with his tactics leaving the midfield exposed as the English side chased the game. With Anderson, Giggs and Carrick, United were lacking a player with the defensive nous to stem the flow from Barcelona's attack, with none sitting deep enough to disturb the influence of the Catalans' terrific trio.
Anderson's half-time substitution for Tevez only worsened the midfield mauling; United's endeavour left them toothless on the retreat.
Solution
Ferguson will have undoubtedly watched all of the rare occasions within which Barcelona have suffered defeat this season.
It's an unusual quartet of conquerors in Real Madrid, Arsenal, Hercules and Real Sociedad but a theme is prevalent throughout most of their line-ups; the 4-2-3-1 formation.
Only Madrid, who needed extra time to defeat their rivals, opted for a loose 4-3-3/4-5-1 set up, while all the others recognised that it takes two deep lying midfielders, as well as support from those in front, to somehow stop the current kings of Spain.
PROBLEM 4: Cristiano Ronaldo's ego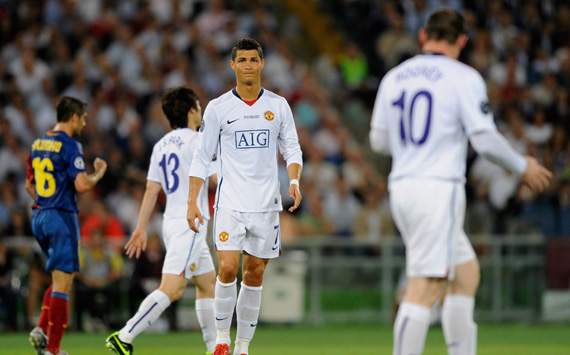 Out on his own | Ronaldo tried too hard to upstage Messi in 2009
The myth that Cristiano Ronaldo had a bad game in Rome is largely just that. Individually, Ronaldo threatened Barca on the break and at least got Victor Valdes thinking, if not quite concerned.
The issue that derailed Ferguson's side was the Portuguese star's seeming obsession with proving himself as a greater player than Leo Messi.
It was such an ego-driven act that proved the contrary. United's shape was soon lost due to their leading scorer going all Ron of the Rovers, running down culs-de-sac alone, and shooting without a hope in hell.
It was a tragic way for such a fine player to part with the club, the Argentine the winner, Ronaldo the sinner.
Solution
United may well be stronger than the sum of their parts these days, with their collective psyche arguably as potent a weapon as their now-departed No.7.
Losing Ronaldo may have hurt at the time but it may just prove a surprising advantage at Wembley to have his sideshow safely basking the limelight in Madrid, not London.
PROBLEM 5: Giving Barcelona too much time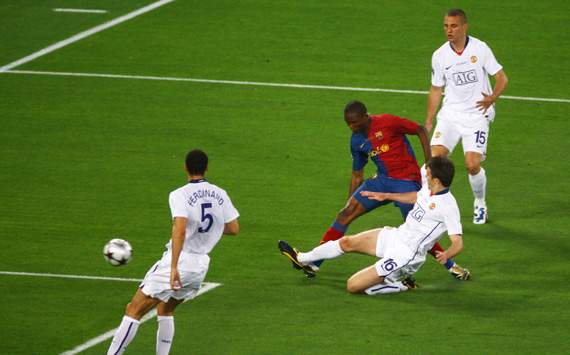 Eto'o easy | The Barca striker struck early in Rome, benefiting from slack marking
It was arguably a culmination of United's fatigue, flawed tactics and inability to keep hold of the ball that Barcelona were able to stroll so freely across the pitch without a fight of any note.
Eto'o's opener saw Nemanja Vidic stand far off him and Xavi was allowed all the time in the world to set up Messi's header without fear of being quelled in the same way in which they had done to Ferguson's side.
United lacked a player to break up the play and that let Barca remain solid, untroubled. A perfect structure.
Solution
Darren Fletcher's absence in Rome is widely acknowledged as having a truly detrimental on his side's chances.
"I knew it might count against us because he is a big-game player," said Ferguson of his compatriot following the defeat. "He was a big loss for us. It's ­difficult to say how big, and Barcelona had players missing too, but it showed itself for us tonight."
He has missed a large proportion of United's title run-in but Fletcher, if fit, must play. The Red Devils' destroyer-in-chief, the once maligned Scot has the tenacity and drive to pester the Barcelona midfielders like no other in his squad.
United's blueprint is almost certain to have changed having been ruined in Rome. If Ferguson and United haven't learnt from their mistakes, this is a Barcelona side that will be more than willing to teach them a lesson all over again.