Perhaps more than any other
Champions League
tie in recent history, the clash between
Barcelona
and
Real Madrid
sparked a media frenzy that has rarely been seen before. The occasion of a Clasico is always a special one, but these two fixtures were played out in unique circumstances as the clubs entered the games having met recently in two vital domestic clashes.
In the La Liga stalemate at the Bernabeu, bad blood had been drawn from the fixture, and this escalated further as the capital club picked up the Copa del Rey via a Cristiano Ronaldo extra-time header. With these heated encounters as the backdrop to two even more important meetings, it was no surprise that there was no love lost between the teams.
During the Copa final, Barcelona saw Pedro have a goal disallowed for offside. Speaking in his pre-match press conference prior to the first leg, Mourinho stated: "It's not about the referee."
The Real Madrid boss provoked an angry reaction from the usually placid Guardiola. "In this room [the press area] he's the f**king chief, the f**king boss, and I can never compete with that," the Catalan coach responded, setting the tone for an encounter that would also get ugly on the field.
In the build up to the opening game, Mourinho revealed his motivational tactics were drawn from the words of Albert Einstein. "I simply told my players - they're not my words, they're the words of a chap called Albert, Albert Einstein - that the only force stronger than steam, electricity or atomic energy is human will," he told reporters, though many observers would comment that Madrid's tactics in the first-leg drew from brawn rather than brains.



"

In this room [the press area] he's the f**king chief, the f**king boss, and I can never compete with that

"






- Pep Guardiola on Jose Mourinho

Madrid certainly lost their cool in the Bernabeu after German referee Wolfgang Stark dismissed Pepe, acting as the catalyst to a 2-0 loss. "His decision [to send off Pepe] was completely decisive. We had chances but the game was as he wanted," Xabi Alonso cried, rather blatantly contradicting the prediction of his coach from only days earlier.
But the most remarkable outburst would come from the Portuguese boss, who was himself sent to the stands for his reaction to the red card, though it would be his post-match tirade that would catch the headlines.
"Sometimes, it's disgusting to live in this world," he blurted. "We need an early goal in Barcelona to get back in the tie, but even if we manage to do that, they'll just kill our chances again... Uefa doesn't allow any team to really do something against them.
"Guardiola is a great coach, but I'd be embarrassed if I'd won the tournament like that after the scandal at Stamford Bridge [two years ago]," the two-time European champion continued, not doing his own standing any favours in the eyes of neutrals. "He deserves to win the Champions League in normal fashion. You'd want him to achieve that, because he's a great person and I have a lot of respect for him."
Meanwhile, Guardiola was happy to ruminate over his side's chances of reaching Wembley, but he would not be drawn into commenting on his opposite number. "I have nothing to say," he stated.
The first-leg was far from the beautiful affair that the footballing fraternity had wanted, drawing comment from far and wide.
"It was bad, very bad," Jorge Messi, Lionel's father, explained to
Goal.com Spain
when considering Mourinho's comments, though he was happy to take a light-hearted tone after revealing his first leg prediction of 2-0 to Barca, with his son scoring both goals. "Paul the Octopus is useless, you have to listen to me!"
Rio Ferdinand, a possible opponent of Barcelona in the final, was scathing of the event, tweeting: "This diving is a joke - embarrassing."
The Manchester United centre-back then continued, "If you ever see me go off on a stretcher then run back on to play, I give everyone on here the green light to hit me with a two-footed tackle." Barca's eyes will doubtless be trained intently on the Red Devils' forthcoming games.
"

Guardiola is a great coach, but I'd be embarrassed if I'd won the tournament like that after the scandal at Stamford Bridge [two years ago]

"






- Jose Mourinho launches an attack on Pep Guardiola and Barcelona

While Barcelona's players were gagged to some extent prior to the second-leg, the repercussions of the first-leg defeat were still being felt in the capital, with former club president Ramon Calderon critical of Mourinho's influence at the White House. "Mourinho is the owner of the club," he blasted, before describing the Portuguese's previous outburst as "shameful".
Criticism was not just forthcoming from within Spain; respected coach Ottmar Hitzfeld, who now leads Switzerland, said: "Mourinho has damaged the reputation and image of a legendary club... Barca should make him pay on the pitch."
Back on the Iberian Peninsula, Barcelona indicated their eagerness to simply prove their worth on the field. "We must not get into a war of words with Mourinho," Xavi declared during a press conference on Monday.
But Madrid had appealed to Uefa to have as many as six Barca players banned for the second leg following a series of rows in the tempestuous first meeting. This drew a frustrated response from Guardiola, even after European football's governing body rejected the appeal. "Real Madrid have 109 years of history but they do not have the power to decide who plays and who doesn't, it is decided by Uefa," he affirmed.
Jose Mourinho, meanwhile, made his statement by his silence.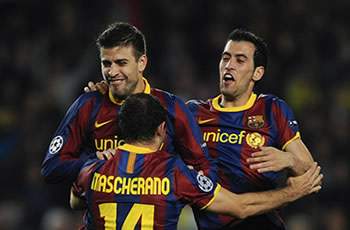 After a scoreless first half at Camp Nou, former Italy striker Gianluca Vialli offered a frank assessment of why he feels Messi is the world's best player. "Ronaldo is a great player, but when the team really needs him in the big knockout games he doesn't do it. He goes asleep. This is the difference between Ronaldo and Messi," he told
Sky Sport Italia
during the half-time interval.
Neither Messi nor Ronaldo would go on to have a decisive impact in the second leg, which finished level at 1-1, leaving the hosts to celebrate their progression and Madrid to pick further holes in the officiating after Gonzalo Higuain had an effort chopped off.
Andres Iniesta captured the mood of the home side by explaining: "This is a unique moment. The fact that we're in a final having beaten an opponent as strong as Real Madrid means a lot.
"Going beyond the rivalry, beyond fighting for your own interests, fair play must take precedence. I just want to talk about football and not about non-sporting matters."
The theme of injustice prevailed once more for the opposition, however.
"Higuain's goal is nothing more. It was another [decision against us], like always," Iker Casillas told the media. "It's not normal to get so much help."
Rarely can a two-legged tie have caused such a polemic, further feeding one of Europe's great sporting rivalries. And we've not heard the last of this story, which is set to run and run due to the controversy and high feelings which purveyed throughout these two games, and the two stage-setting fixtures which preceded them.