The fourth and final Clasico of this unprecedented run of meetings between Spain's two giants takes place at Camp Nou on Tuesday evening. Controversy, chaos, and red cards have courted the clashes, with a sprinkling of genius from both
Lionel Messi
and
Cristiano Ronaldo
thrown into the mix, too.
In our head-to-head battles between the pair, however, there is a clear winner. Messi's double strike at the Bernabeu last week, which included a goal the likes of which the Champions League has never seen, gave the Argentine his second knockout victory from three bouts.
Round I
, November 29:
Lionel Messi 59-53 Cristiano Ronaldo
Round II
, April 16:
Lionel Messi 59-59 Cristiano Ronaldo
Round III
, April 27:
Lionel Messi 59-54 Cristiano Ronaldo
While no team has ever reversed a 2-0 first-leg defeat in a semi-final in the history of the European Cup, Madrid will cling onto the hope the that their dynamic Portuguese has put his recent sulk behind him and is ready to at least restore the battered pride of the capital club. He criticised coach Jose Mourinho's tactics after last week's loss, but would dearly love to be unleashed at Barca one more time this season.
Therefore, the potential remains for another intriguing clash of styles between the world's two greatest players.
Goal.com
has documented each player's performance for much of the season, game by game, goal by goal, record by broken record, in our unique head-to-head series, and for the fourth and final time, we will pit the pair against each other in a boxing bout - Round IV.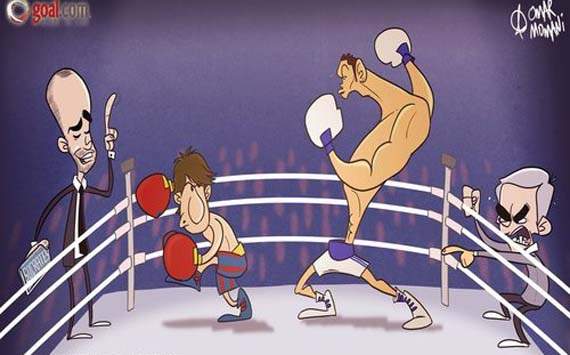 REAL MADRID VS BARCELONA:
ALL YOU NEED ON GOAL.COM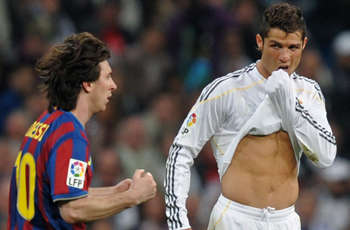 Four Clasicos in 18 days - and you can follow them all with Goal.com:

Apr 16: La Liga
Real Madrid 1-1 Barcelona

Apr 20: Copa Del Rey final
Barcelona 0-1 Real Madrid

Apr 27: Champions League semi, 1st leg
Real Madrid 0-2 Barcelona

May 3: Champions League semi 2nd leg
7.45 BST - Nou Camp


Once again, you, the reader, can get involved. Via our

and

sites, send us your round-by-round scores during and after the match, and we will include our favourite comments from the readers in our final article, which will be published after the events at Camp Nou have unfolded.
For the Clasico, we will apply the same rules as before for each 15-minute round:
If there is little to separate the two players in a round they will be scored 10-10. A narrow win in a round, where there are no goals in the match involving the pair, will produce a 10-9. If Messi scores a goal in a round, and Ronaldo doesn't, the Argentine will win that round 10-8. If Messi scores twice, and Ronaldo doesn't, he will win 10-7.
The same system is used for assists and for winning a penalty. So if in a round, Ronaldo creates a goal and wins a penalty (without taking the penalty), while Messi does nothing of note, then Ronaldo wins that round 10-7.
A yellow card results in a one-point deduction. A dive in the penalty area or just outside that is penalised by the referee will lose a player a point too.
At least one of the two players will always be awarded a 10 for a round unless both get booked in the same round, which will result in a 9-9. Should one of the two players be sent off, then it will result in a Knockout victory for the other player providing he is not also red carded later in the match.
Please recognise that these values are different to Goal.com's Player Ratings, and designed to reflect the one-on-one, combat-style judging of a boxing bout.