Fitness is no substitute for class
Prior to Schalke's meeting with Manchester United on Tuesday evening, much had been made of their physical conditioning and running ability. While Ralf Rangnick's side didn't employ the pace of game they were expected to force upon the Red Devils, they still managed to comfortably outrun their Premier League opponents. Yet for all their undoubted industry, the Bundesliga outfit failed to make any kind of impression upon Sir Alex Ferguson's men. Raul, even at 33 years old, did more running than anyone else on the park, but his influence was peripheral, typifying the flaws in Schalke's approach. That they rarely had the possession needed to make the ball do the running for them was the home side's greatest weakness. Indeed, had it not been for Manuel Neuer, they would face a deficit far greater than 2-0.
Wayne Rooney will be vital if Manchester United are to be successful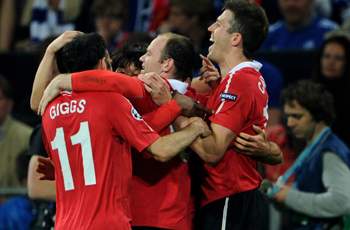 Deployed just behind Javier Hernandez in a No.10 role for Manchester United, Wayne Rooney enjoyed a magnificent evening against Schalke, proving a class apart from anyone within the German side's ranks. In this position, he was able to dictate the flow of much of United's attacking play, often getting involved in the game to good effect. This performance has simply added weight to the fact that the England attacker is coming out of a long period of mediocre form. Of course, this campaign will not be remembered as one of his best, but there are strong signs that he can again be Sir Alex Ferguson's go-to player in the closing weeks of the campaign, coming good just when it was most required. After the Premier League side suffered a frustrating first hour in Gelsenkirchen, Rooney's intelligent dummy and killer pass created the first goal and he dealt the hosts a decisive blow by scoring himself a couple of moments later. If Manchester United are to challenge Barcelona in the final – assuming both sides qualify – he will have to be similarly influential.
Wolfgang Stark is prepared to make big decisions
It was something of an unenviable task to be asked to officiate Real Madrid against Barcelona, which was always going to come under the microscope to an unprecedented extent given the hype that has built up around these fixtures. With bad blood simmering between the teams from two recent domestic meetings, German referee Wolfgang Stark had a hard job controlling the two sets of players. One thing the official couldn't be criticised for was making the big decisions. The red card to Pepe has split supporters – even neutrals – into two very distinct camps, highlighting the difficult nature of the job he was asked to undertake. But the referee's performance has been widely praised, and rightly so for the sensible manner in which he took charge of the fixture and dealt with two teams so intent on winning at all costs.
Barcelona's players are so gifted it does not matter who plays where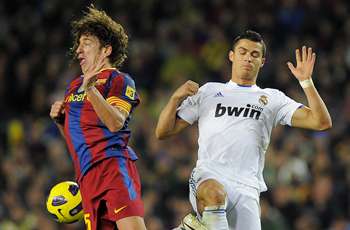 Travelling to the Spanish capital on Wednesday night, Barcelona had a vastly depleted squad. Though Andres Iniesta's absence from the midfield caught the headlines, arguably their greatest problems were in defence, where they were without a recognised left-back due to a succession of players picking up problems. Carles Puyol was played in the role as a stop gap measure while Javier Mascherano was moved from his habitual midfield role into the back four. Did this faze the Catalans? Not one bit. They looked assured and confident at the back for all but a brief spell before the half-time interval, with goalkeeper Victor Valdes enjoying a comfortable evening between the posts.
Jose Mourinho is a particularly bitter loser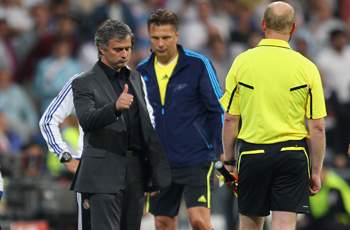 Having set out to stifle Barcelona once more, Jose Mourinho saw his plans come apart in the latter stages of the game as Lionel Messi scored a brace to remember at Camp Nou. But rather than reflect upon his own tactical shortcomings in this encounter, Mourinho chose to launch a scathing attack on Pep Guardiola. "Guardiola is a fantastic coach, but he won a Champions League which would shame me, with the Stamford Bridge scandal [in the 2009 semi-final]. This year, if he wins it, it will be the Bernabeu scandal," the Portuguese incredibly blasted. Given that Mourinho's teams are better known for pragmatism and sportsmanship, it might be wise for him to ensure his own house is in order before criticising others, particularly an opposing number whose side was so technically superior to his own.