Goal.com
presents a boxing-style head-to-head battle between two of the Clasico's key players -
Real Madrid
's
Cristiano Ronaldo
and
Lionel Messi
of
Barcelona
.
Tonight's Champions League clash at the Santiago Bernabeu represented
Round III
.
Round I
, November 29:
Lionel Messi 59-53 Cristiano Ronaldo
Round II
, April 16:
Lionel Messi 59-59 Cristiano Ronaldo
Here's how it works:
If there is little to separate the two players in a round they will be scored 10-10. A narrow win in a round, where there are no goals in the match involving the pair, will produce a 10-9. If Messi scores a goal in a round, and Ronaldo does not, the Argentine will win that round 10-8. If Messi scores twice, and Ronaldo does not, he will win 10-7.
The same system is used for assists and for winning a penalty. So if in a round, Ronaldo creates a goal and wins a penalty (without taking the penalty), while Messi does nothing of note, then Ronaldo wins that round 10-7.
A yellow card results in a one-point deduction. A dive in the penalty area or just outside that is penalised by the referee will lose a player a point too.
At least one of the two players will always be awarded a 10 for a round unless both get booked in the same round, which will result in a 9-9. Should one of the two players be sent off, then it will result in a Knockout victory for the other player providing he is not also red carded later in the match.
Please recognise that these values are different to Goal.com's Player Ratings, and designed to reflect the one-on-one, combat-style judging of a boxing bout.
Let's go!
RONALDO V MESSI - ROUND III
| | | |
| --- | --- | --- |
| Cristiano Ronaldo | | Lionel Messi |
| | | |
3' SHOT: Spins thirty yards from goal and fires in a low shot, but effort is easily gathered by Valdes.
11' Looks to rob Busquets of possession and launch an attack but the Spaniard recovers to win back the ball.

9
0-15 mins

10
12' Jinks across the edge of the box, evading Diarra, but is robbed by Raul Albiol.
14' Exchanges passes with Dani Alves and Xavi in quick succession in a tight area, but Pedro wastes chance.

25' Makes a rare foray forward on the right touchline, but is cut off by Puyol.
23' Feeds Diarra who promptly loses the ball, and gives a glance of frustration to the bench.

9
16-30 mins

10
17' Attempts to escape Diarra on the half way line but is easily robbed of the ball.
22' Tries lobbed through pass to Keita who runs into the area, but is intercepted.
25' PASS: Lovely turn and slips perfect pass into the path of Xavi, whose shot is saved.

37' FREE KICK: Ronaldo shoots from a set-piece near the touchline, but fires low into the wall.
45' SHOT: Fires in a snapshot strike from 30 yards that flies towards the corner, but Valdes beats his effort to safety.


10
31-45 mins

9
32' PASS:Spots Villa in behind on the right flank, and pass finds him, but striker concedes goal kick.
41' Cuts in from right touchline, skips past challenge of Alonso, but Marcelo tackles him as he enters the area.
42' Quick one-two with Villa at the edge of the area, but can't quite reach the return pass.


28
Half-Time
Score

29

49' Beats Valdes to a loose ball, swivels quickly and shoots, but Puyol blocks his strike.

9
46-60 mins
10
51' Exchanges passes with Pedro, controls, 16 yards out, but low shot is blocked.
53' Skips away from the challenge of Marcelo, but is unceremoniously stopped by Ramos, who is booked.


64' Beats Puyol to the ball 40 yards from goal and is barged to the ground by the stopper.
65' Leaps highest to meet Xabi Alonso's delivery, but nods his effort over the crossbar.
74' FREE KICK: 30 yards out, but always rising and flies into the stand.


10
61-75 mins
10
63' Plays ball patiently with Xavi in the centre circle, before former plays in Villa on the flank.
71' Wins ball and escapes from Ramos, but his attempted lob through runs harmlessly to Casillas.

79' Fights through three tackles on the edge of his own area and wins a defensive free kick.


7
76-90 mins
10
76' GOOOALLL!! Makes near-post run to meet Afellay's cross, in front of Ramos, and slides ball through Casillas' legs.
80' Collects Villa pass and almost completes one-two with Xavi on edge of area, but is intercepted.
86' GOOOALLL!! Skips past Diarra, Ramos and Albiol, outmuscles Marcelo and rolls into the far corner of the net.

| | | | | |
| --- | --- | --- | --- | --- |
| Cristiano Ronaldo | 54 | | 59 | Lionel Messi |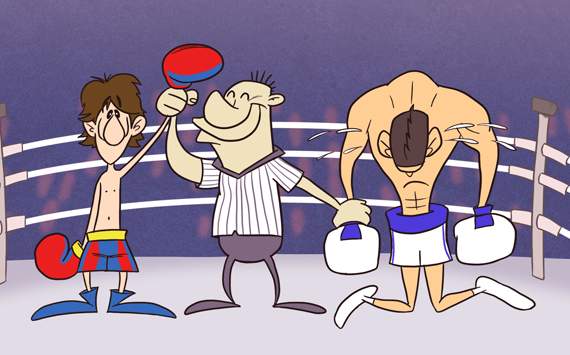 YOUR REACTIONS

Meer Tauhid Husain, via Twitter:
That was a Messi vs 10-man Real Madrid match! That little man is unstoppable!!
Tawanda Chipembere, via Facebook:
Sheer class from Messi, Cristiano Ronaldo has been shown how its done...that goal deserves to win any game
Ali Muhammad Shahid, via Twitter:
Messi has OUTCLASSED CR7 (who's THAT????)
Andre Doffoux, via Facebook:
More than ever it's been said who is the best player in the world, and, like in the song...Nothing Compares to U Lionel...