The Germans shocked Europe by putting seven past holders Inter in the previous round, and reproducing the tactical masterclass that disposed of Chelsea is vital for Ferguson's men
ANALYSIS
By
Nick Price

Let Wayne Rooney hurt from deep
Manchester United's progress against Chelsea in the quarter-finals owed much to the deployment of Wayne Rooney off the front line, with Javier Hernandez playing on the shoulder of the last defender.
It was an awesome combination, playing to Hernandez's ability to create separation from his marker as well as forcing defenders to sit deeper to counteract his speed. Leave too much room at the back and you'll be chasing Chicharito eventually - and you won't catch him.
Even more importantly, it allowed Rooney to drop towards a five-man midfield and give them an "out" ball, pick up possession and release wingers down the flanks, and time late runs into the box that defensive midfielders must be alert to. Witness his winner in the first leg at Stamford Bridge for just how effectively this works.
Rooney has not fared too well in United's last two matches, but given the freedom to roam, the England man could inflict lasting damage on Schalke.
Start Park Ji-Sung
The big name for the big games is coolness personified. The South Korean midfielder always shows up when it matters most, as evidenced by his superbly timed strike against Chelsea in the last round that sealed a 2-1 win at Old Trafford and a 3-1 aggregate success.
Of course, it's not just Park Ji-Sung's steely nerves that make him so dependable for Sir Alex Ferguson, it is his relentless running and complete selflessness for the cause, not to mention his versatility – he is a manger's dream.
The indefatigable midfielder could line up down the left for United to negate the forward thrust of the stupendously attack-minded right-back Atsuto Uchida and to keep the electric Jefferson Farfan in check, leaving Nani or Antonio Valencia to push up against either the rawness of Danilo Avelar or the stodgy Hans Sarpei on the opposite flank.
Or he could play centrally should Ralf Rangnick decide to deploy Jose Manuel Jurado in the middle, which might see United use the five-man midfield that worked to such devastating effect in the first leg against Chelsea.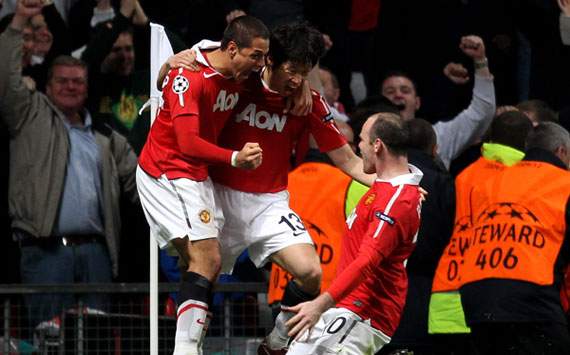 Big game boys | Hernandez, Park and Rooney all know how to turn it on in Europe
Invite pressure and pounce on the counter
Schalke showed in the previous round that they will play without fear against the big teams. Their five goals at San Siro were not due to luck alone, while the win in the return leg at the Veltins-Arena was entirely deserved after another dominant attacking display.
Expect the German hosts to be similarly forward thinking against their English opponents on Tuesday as they seek to make the most of their early advantage to leave the Premier League leaders chasing a big figure in the second leg, but United can turn that urgency to their advantage by laying down a trap to launch their trademark counters.
Just as they did to Arsenal in the 2009 semi-finals, Ferguson's men can target the areas vacated by a marauding midfield and punch holes through the exposed flanks left open by Schalke's attacking full-backs.
Bully Raul
The veteran Spanish striker has dumbfounded the critics who said he was past it with an outstanding campaign for the German club, arguably proving to be the signing of the season since his Bosman move from Real Madrid.
At 33 he may have lost some of his pace but his game was never really about speed of foot, it was always about speed of mind and a soft as silk touch, and he has continued to get goals into the twilight years of his career – earning the respect of many who thought he could only turn it on when supported by a cast of superstars.
But in Nemanja Vidic and Rio Ferdinand, United have just the weapons to ensure that the three-time Champions League winner does not improve upon his goals record in the competition having usurped Filippo Inzaghi with his strikes against Inter.
Getting tight to the legendary forward, perhaps hitting him with a few tough but fair early challenges or deploying more underhanded tactics, and keeping a close watch on his every movement would be advised.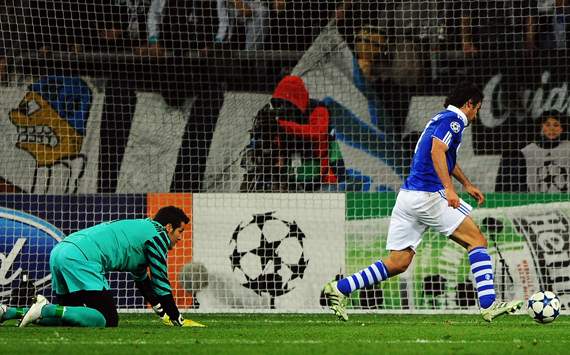 Touch of class | Spaniard has not lost any of the skills that made him a Madrid legend
Keep up with Farfan and Jurado
It's not just Raul that Ferguson's men have to worry about as the Germans maintain remarkable levels of fitness, noted by Lyon chairman Jean Michel Aulas after the two sides met in the group stages, with the Frenchman left bewildered by the Bundesliga side's ability to run his team into the ground.
Whether or not they still are as fit as that remains to be seen, but in Jefferson Farfan and Jurado, Schalke have two top class, energetic and quick-witted wide men, although the Spaniard was deployed in a holding role to good effect against Inter and may yet play through the middle once more given his tendency to drift towards the centre.
Again, Park's inclusion will be vital to negate those two, and whoever lines up on the right flank – likely Antonio Valencia rather than Nani, given the Ecuadorian's greater ability to cover the length of the pitch – will have to be mindful of their direct opponent. Allow them too much time on the ball or plenty of space to run into and they can drag defenders out of shape and create chances.
Follow Nick Price on