As Italy crashes, England soars. The four
Premier League
clubs taking part in the
Champions League
each enjoyed positive results over the last week, with three wins and an away draw indicating that English clubs are serious about regaining their place at Europe's summit.
It's now been three seasons since an English team lifted the famous CL trophy - and that was in an all-Premier League final in Moscow, where Manchester United edged Chelsea. But if the above show of form is anything to go by, 2011 could be the year that the silverware returns to the British Isles.
With that in mind,
Goal.com
's global team of editors convened to discuss three points of interest. We'll take each in turn.



1. After three years without the trophy it looks like the Premier League sides are on a European renaissance. Do you think one will lift the cup?

Amar Singh, Goal.com UK:
I think there is every chance. Despite their current problems, you cannot write off Chelsea due to Carlo Ancelotti's record in this competition and the experience in his squad. Despite winning at home, Arsenal have it all to do at the Camp Nou against the Champions League favourites while Tottenham and Manchester United should progress further.
Sergio Aguilera, Goal.com Spain:
Everyone agrees that the Premier League is probably the most hotly disputed, exciting competition in Europe. It has great teams, outstanding players, so the squads taking part in the Champions League will surely reach the final stages of the competition. However, as for lifting the cup, I see other teams better positioned to win the tournament

Sergio Chesi, Goal.com Italy:
They have a big chance from a statistical perspective, as England could be the most represented country in the Champions League quarter-final, so then it will be easier to see one of them winning the trophy. But no English teams are among my favourites to secure a final victory.

Michel Nasrallah, Goal.com Arabic:
I think it depends on Barcelona's result against Arsenal. If they win, then Barcelona will be hard to beat. If not, I think only Arsenal can lift the cup from the four English teams, as Chelsea are sometimes good and at other times awful. Manchester United are a bit better.

Francois Duchateau, Goal.com Germany:
This year the English teams have learned their lessons and improved in comparison to last year, especially Arsenal against Barcelona. But also Tottenham have a team full of character, who can beat any opponent at any time. Man United have a good sense of routine, while Chelsea are missing the shape to finally be the winners.

Bima Said, Goal.com Indonesia:
Looking at the performances of the four Premier League clubs, I think one will have a very good chance to lift the cup, while all three Italian clubs have lost. And depending on the quarter-final draw, let's not rule out another all-English final.
Yonghun Lee, Goal.com Korea:
There is a chance, but it's not easy because Barcelona and Real Madrid are too strong now. They're making more money than EPL clubs and have more star players and depth with which to win the cup.
Wout Stravers, Goal.com Netherlands:
Well certainly, the Premier League is one of the best competitions, they have four teams who could win it. Tottenham Hotspur celebrate football, but usually teams like that don't get their reward. It's the same story for Arsenal, who are playing the best team - and my potential winner - Barcelona.
Peter Pedroncelli, Goal.com Africa:
A number of them have certainly impressed this season, and it would not surprise me to see one of the sides making it to the final and perhaps even winning the whole thing.
Ewan Macdonald, Goal.com International:
Two years ago I mooted a "Premier League dominance" in the Champions League. That didn't work out too well, but one part of it did come true: Serie A has lost a lot of its European footing. Without the Mourinho factor Inter don't look too dangerous. It's between the Premier League and Barcelona now.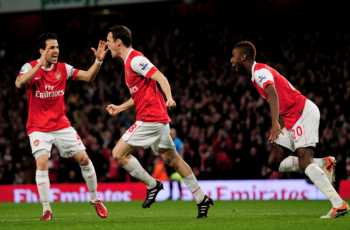 2. If not England, from where will the main challenge come? Barcelona? Inter? Your country?

Amar Singh, Goal.com UK:
Barca at the Camp Nou is the toughest match in football right now, while Mourinho's squad at Real is filled with talent - one of these two clubs will reach the final.
Sergio Aguilera, Goal.com Spain:
Barcelona and Real Madrid will be the main challengers. If the Cules beat Arsenal, a team with many similarities to the squad from Ciudad Condal, very few rivals will be able to stop them from earning the title once more. Barcelona still play the best football, have some of the best players in the world and their system seems unbeatable at times.

Sergio Chesi, Goal.com Italy:
The Champions League teaches us that winning the competition for two consecutive years is almost impossible. For this reason and for the performances offered this season by them, I don't think Inter will repeat the great European campaign of last year. For Italy, also Milan and Roma aren't ready to reach the final. The strongest team in the world right now are Barcelona, and they are the team to beat. Simple.

Michel Nasrallah, Goal.com Arabic:
Real Madrid, Barcelona, Bayern. Nobody else really has what it takes. Notice there are no Italian teams. Their chance has been and gone, and Inter will definitely not be able to lift the trophy again.

Francois Duchateau, Goal.com Germany:
Barcelona will be a major challenge for every club, because this team has been together for a long time and all players are at the perfect age. Real Madrid were brillant in the group stages, but Mourinho needs time, as El Clasico showed us. Louis van Gaal has destroyed the Bayern squad too much to hold the cup in hands at the end. While Bayern were a great unit of quality last year, the team now is still a work in progress.

Bima Said, Goal.com Indonesia:
The main challenge will come for Spanish and German opposition. Arsenal still have a major task at Camp Nou, and Real Madrid are now favourites to overcome Lyon. Expect English clubs to face difficulties against Bundesliga clubs.
Yonghun Lee, Goal.com Korea:
Barca, Real or Bayern. The two Spanish teams have no other contenders in La Liga so they can have more comfortable Champions League campaigns. I don't think this 'Big Two' system is good for the Liga but for the Champions League, it cannot be bad. Bayern can also focus on the Champions League if they secure just second spot in the Bundesliga. So I think these three teams are the favourites this season. There is not a great possiblity for English teams.
Wout Stravers, Goal.com Netherlands:
It's kind of boring, but unless something strange happens, Barca will win it again. Although they have proven in recent weeks that they can play on a 'normal' level, they still have by far the most impressive team.
Peter Pedroncelli, Goal.com Africa:
In my opinion Barcelona stand a good chance of winning the tournament. Other than the Catalans, the English teams seem to be the most likely to succeed.
Ewan Macdonald, Goal.com International:
It's got to be Barcelona. Their second-half showing against Arsenal was sloppy, and Arsenal's showing was great - but perversely this indicates that the best of the English teams in Europe is to be knocked out. The Blaugrana will do enough at Camp Nou to progress, and from there their path is clear. But the remaining English teams will run them close.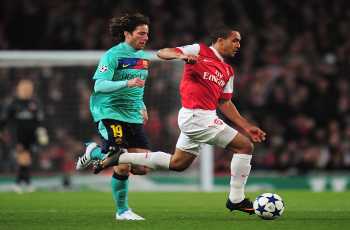 3. Do you think there's a real improvement about the English game over the last two years, or maybe other teams have gone downhill?
Amar Singh, Goal.com UK:
I think you have to take each case on merit. Chelsea, Manchester United and Arsenal are all seasoned European campaigners now who regularly make it to this stage in the competition, while Tottenham have been the surprise package of the tournament this year, but have a strong, deep squad filled with experience and quality.
Sergio Aguilera, Goal.com Spain:
Generally speaking, English teams have improved in the last few years. The main reason for this improvement is probably that most of those English squads which progressed have produced smart transfer moves and have signed extraordinary players. Tottenham, Man City and Chelsea are only three of the most remarkable examples.

Sergio Chesi, Goal.com Italy:
The English style of play in Europe is more pleasent to see than in past years. Arsenal are spectacular, Tottenham are growing, and United are always the same, good United. We expect more from Chelsea, they have the talent and the experience to play better football.

Michel Nasrallah, Goal.com Arabic:
I think English clubs are improving very well, especially Tottenham and Man City. The former are playing non-English football in the Premier League and have good players; Man City could be better as they have the money they need to build the strongest team on Earth. But in general, English clubs improved in the last couple of years.

Francois Duchateau, Goal.com Germany:
Even if the improvement is not that high, still the English game is state-of-the-art for the moment. You can see somebody like Dzeko, who was a star in the Bundesliga and says he can't deal with the tempo of the EPL for now. Top sport is becoming more and more athletic, and the Premier League has already realised this. Also, the commercial boom gives a lot of money to the competition that other European countries don't have.

Bima Said, Goal.com Indonesia:
Both Manchester City and Tottenham are strong candidates to reach next year's Champions League and they have shown improvement, and overall I feel there has been a tighter competition between all the EPL clubs.
Yonghun Lee, Goal.com Korea:
The Premier League has develeped over the last two years. Tottenham are having a great season, Man City are threatening and Liverpool will join top four competition next season. But this makes Man Utd, Chelsea and Arsenal's lives hard in Europe. They are now confronting serious challenges in every competition. The top three are just doing what they have done before, but there are more difficult seasons ahead for them.
Wout Stravers, Goal.com Netherlands:
I don't think the game in England has improved in recent years, there was just a change. Liverpool went down, Tottenham Hotspur came up. The only new top team is Man City, which came out of the blue due to big investments. The level stayed the same, the number of good teams increased.
Peter Pedroncelli, Goal.com Africa:
The English teams have certainly improved as their league has become more competitive, and the growth of teams such as Arsenal and Tottenham into world-beaters is testament of the maturity of the Premier League.
Ewan Macdonald, Goal.com International:
England has improved in terms of depth. It used to be that the "Big Four" were considered completely inviolable: now Spurs and City can count themselves as part of a "Big Six". Yet Chelsea and United are both past their peak. It's making the competition more exciting but much harder to gauge.