Champions League rivals joined by financial uncertainty...
ANALYSIS
By Wayne Veysey | Chief correspondent


The tables don't lie. Or do they? Unbeaten
Manchester United
have taken their accustomed position in the upper echelons of the
Premier League
while
Valencia
lead Spain's Primera Division by a single point and further raised eyebrows across the continent by dishing out a 4-0 win in their opening
Champions League
group game.
For followers of United and Valencia who gauge their club's strength only by their position in the league table and presence in Europe's elite competition, there seems little to worry about.
MORE...
Yet the optimism that surrounds their activities on the football pitch is complicated by the ever present shadow of financial strife.
Valencia are much further down the road than the team they will host at Estadio Mestalla on Wednesday evening in what is one of the most mouthwatering ties of matchday two.
Spain's third most successful club sold £74 million worth of players over the summer, including the two iconic Davids – Villa and Silva – and have debts standing at over £425m and have downed tools halfway through building a 75,000-capacity stadium.
Even after all the player sales, staff redundancies, cuts and general pruning, president Manolo Llorente admits: "Our key objective is economic viability and that means we are obliged to take responsible decisions. One of which is to sell our best players."
United fans who scrutinise the club's balance sheet as well as their position in the league table fear that Valencia offer an apocalyptic glimpse into the future if the unpopular Glazer family remain owners of the club.
"I can see some parallels in the situations at Manchester United and Valencia," Duncan Drasdo, spokesman for the Manchester United Supporters' Trust, told
Goal.com UK
. "Certainly debt problems and lack of investment - especially the recent selling of the best players without replacing them is one that United fans will be all too familiar with."
United were bought by the Glazers in 2005, with borrowings of £559m, which were then loaded on to England's highest-earning club to repay. Since then, United have poured out £400m in interest, bank fees and charges, yet still the total debt has climbed to an eye-watering £716m.
The financial figures for 2009-10, to be released in next month's annual report, could make even more gruesome reading.
Like the alcoholic who won't admit his addiction, United have maintained the unconvincing argument that investment in the team is not affected by the debts, 16.25 per cent interest rates on the £202m 'payment in kind' loans included in that, and huge annual interest paid, £42m for 2008-09.
Sir Alex Ferguson claims he has money to spend, including the £81m Cristiano Ronaldo proceeds, but does not see sufficient "value" in the transfer market, and has responded by investing relatively parsimoniously.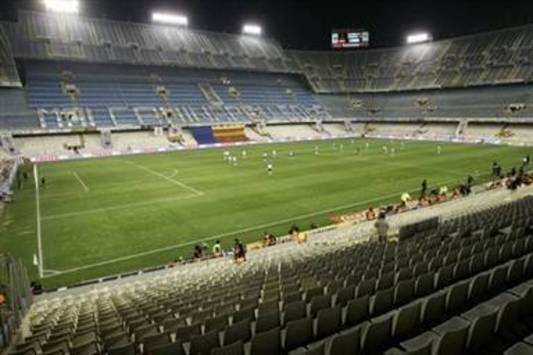 Misery at the Mestalla | Financial problems have crippled Valencia
Since selling the world's most expensive player to Real Madrid in the summer of 2009 and allowing Carlos Tevez to leave, United have bought Antonio Valencia, Chris Smalling, Javier Hernandez, Gabriel Obertan, Michael Owen and Bebe. There remains a heavy reliance on players brought through by Ferguson in the early 1990s – Ryan Giggs, Paul Scholes and Gary Neville.
"They have been quite cautious with their financial management," Emmanuel Hembert, football business expert for management consultants AT Kearney, told
Goal.com UK
. "At some stage they will have to replace those players. They either continue to be cautious and buy young players or they take lots of risks and start to have financial issues.
"The interest payments and the reimbursement is clearly taking cash out of the business and is a drain on the club. It is money you cannot spend on players or salaries. I don't think administration could be an issue because Manchester United are generating enough cash flow to cover their debts."
While United are better placed than Valencia, and indeed fierce north-west rivals Liverpool, whose own American owners are, if anything, even more unpopular than the Glazers, there is great unrest among supporters.
The 'Green and Gold' protests, the brainchild of MUST, have made a huge impact at Old Trafford over the last nine months. For the first time in a generation, the club have not sold all their season tickets, falling 2,200 short of the 54,000 target.
The Red Knights, a collective of wealthy individual supporters, lie in wait, continuing to recruit wealthy investors from overseas as they maintain their bid to oust the Glazer family from Old Trafford.
Drasdo observed: "I don't believe Manchester United will get into real financial trouble however because even if the Glazers are forced out there is a queue of wealthy United supporters around the world just waiting for that opportunity to invest in the club.
"Certainly, that is the evidence we've seen at MUST too with the membership counter showing 163,600 and ticking over every day, demonstrating the huge interest from supporters in participating in shared ownership of the club.
"The worst case scenario I foresee is not actually United going into administration as that would lead to a rebirth where we come back stronger than before. The worst case is that the Glazers continue to cling on draining money out of the club season after season and rather than failing we just move into mediocrity and dull limbo."
And there is also the elephant in the room – the date when Ferguson will finally decide call it a day and bring down the curtain on arguably the most outstanding managerial career of them all.
"One of the big problems that United are facing very soon is that there is a question mark over when Ferguson is going to stop coaching," said Hembert. "It is unlikely they are immediately going to find a coach able to take over from Ferguson and be as successful as him and that could have a big financial knock-on effect."
Valencia will offer first-hand evidence of a club that lived way beyond its means.