Englishman Howard Webb will take charge of the
Champions League
final in what will be the highlight of his career. His appointment ensures there is at least one English representative in the showpiece occasion for a sixth
successive season.
UEFA's decision to pick Webb has certainly raised a few eyebrows given his colourful history. The 38-year old former police man has got the task of laying down the law in the Santiago Bernabeu to the players and Jose Mourinho
who he has clashed with before in a final.
Webb and Mourinho had a run-in during the 2007 Carling Cup final when a mass brawl broke out on the pitch between Arsenal and Chelsea. Both Arsene Wenger and Mourinho ran onto the pitch to intervene and Webb flashed three red cards - a record for a league cup final. The Portuguese tactician may see Webb as a lucky omen as the Blues went on to win that match and Webb was also the man in the middle when Chelsea won the Community Shield in 2005.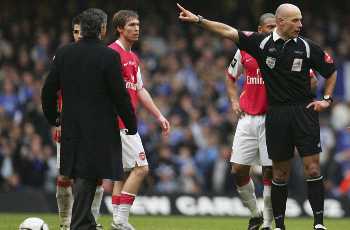 * Red Card in Champions League Final Odds
Yes 3.25 (9/4), No 1.30 (3/10)
On the European front Webb has officiated 47 UEFA games including 19 in the Champions League. This season he has been in charge of six CL matches and given a total of 26 yellow cards (average of 4.3 a game) but as of yet not a single red.
Webb has already refereed both finalists this season. Back in September he was in charge for Bayern's goalless home draw with Juventus where he handed out three yellow cards all to the visitors from Turin. He officiated Inter's 1-0 quarter-final home win over CSKA Moscow and cautioned Marco Materazzi after 12 minutes in a match where three names entered the book.
Of the four matches involving Italian teams that he has been in charge of Webb has given a total 15 bookings. Nine of those have been given to the Serie A outfit with six for their opponents.
Inter Milan have picked up more bookings than any other side in the competition with 31 to Bayern Munich's 21. Inter have also committed 183 fouls to Bayern's 153 and are second only to Lyon who notched up 185.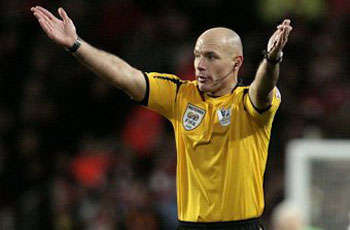 * First Card Odds
Inter 1.85, Bayern Munich 1.85 (17/20)
* Number of Yellow Cards (1st Half)
Over 1.5 - 1.75 (3/4), Under 1.5 - 1.95 (19/20)
* Number of Yellow Cards (90 mins)
Under 4.5 - 1.68 (17/25) - Over 4.5 - 2.07 (107/100)
News of Webb's appointment has inevitably triggered memories of some of his controversial decisions. He awarded a 'brave' late penalty to Austria against Poland in the depths of injury time in Euro 2008 prompting fury from Poland's then coach Leo Beenhakker.
In 2009 he inadvertently set up a goal for Wolverhampton Wanderers in the FA Cup against local rivals Birmingham City and said afterwards it was the 'lowest point' of his career. He recently incurred the wrath of Aston Villa manager Martin O'Neill by refusing to award the Villians a penalty against Chelsea in the FA Cup semi-final. However, he has yet to award a penalty in the Champions League this season.
*
Penalty Awarded: NO 1.30 (3/10), Penalty Awarded: YES 3.30 (23/10)
In total this season Webb has officiated 42 games giving a total of 153 yellow cards and four red cards. Two of those came in a bad tempered Premier League match between Wolves and Wigan where he also handed out nine bookings and gave a penalty.
UEFA's choice is a no nonsense individual who isn't afraid of making tough calls. Dubbed 'Pierluigi Collina light' by some due to his bald head and imposing stature Webb knows a good showing in Europe's showpiece will aid his quest of featuring in the latter stages of the World Cup where he will also be officiating.
Whatever he does at the Bernabeu everybody will be watching whether he gets it right or wrong.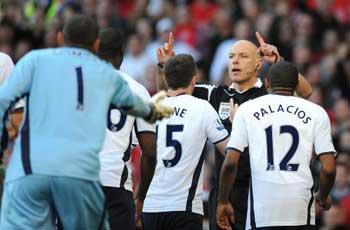 Howard Webb's record in the Champions League 2009/2010Play Off
Sporting 1-1 Fiorentina
Six yellow cards, 0 Red cards (3 cards each)
Time of first card: 33
Time of last card: 92

Group Stage
Bayern 0-0 Juve
Three yellow cards, no reds. (All Juve)
Time of first card: 8
Time of last card: 57
Milan 1-1 Marseille
Three yellows, no reds (2 Milan, 1 Marseille)
Time of first card: 34
Time of last card: 93

Dynamo Kiev 1-2 Barcelona
Seven yellows, no reds (4 Dynamo, 3 Barca)
Time of first card: 45
Time of last card: 88

Knockout Stage

Olympiacos 0-1 Bordeaux
Four yellows, no reds (two each)
Time of first card: 29
Time of last card: 80
Inter 1-0 CSKA Moscow
Three yellows, no reds (1 Inter, 2 CSKA)
Time of first card: 12
Time of last card: 37
Place a free €5 bet on the Champions League final courtesy of Titan Bet. Register and snap up your freebie here.



Odds correct at time of publication. Goal.com encourages all readers who bet to do so sensibly.
Become a fan of Goal.com UK's Facebook fan page for all the latest news and insight into everything related to the beautiful game!