ANALYSIS
By Alex Young
After dropping five points in their past two Premier League games and slipping three points behind table-toppers Chelsea in the process, Manuel Pellegrini will be desperate for a confidence boost when he once again goes head-to-head with Jose Mourinho in the FA Cup on Saturday.
Most of the pre-match talk heading into the clash at the Eithad Stadium 11 days ago centred around whether or not the Portuguese would 'park the bus', a phrase he coined, against City's free-scoring, record-breaking attack. It was a surprise to many, and especially to Pellegrini it seemed, when Chelsea triumphed with an efficient and vital 1-0 away victory with an adventurous display.
Pellegrini, though, will surely be pleased that he has had little time to lick his wounds, with an identical fixture - this time the prize being an FA Cup quarter-final berth - scheduled so quickly afterwards. But how can the Chilean out-think his counterpart this time? What lessons will he, and should he, have learned?
While it is difficult to predict any Premier League manager's FA Cup line-up, the league encounter between these two sides will have shown Pellegrini where he went wrong. The Chilean may rest players with the Champions League clash against Barcelona on the horizon, including the likes of Joe Hart, who has traditionally sat out FA Cup matches.
Welcoming back Fernandinho and Aguero would improve City's chances of progression exponentially, but
Goal
understands that Pellegrini is planning on keeping both men on the sidelines ahead of their match with the Primera Division side, so both are expected to be missing once more.
With Fernandinho still out Pellegrini must address the most glaring mismatch from the league encounter. The former Malaga boss can be forgiven for sticking with his tried-and-tested 4-4-2 formation - after all it had garnered 68 goals in just 23 games previously - but in the absence of the combative and astute Brazilian, Pellegrini was steadfast and moved the less-than-mobile Martin Demichelis into a defensive-midfield role.
Demichelis has played there previously, but his best days are long gone and the plan backfired spectacularly. Chelsea lined up in a defensive-minded 4-3-3 formation as Mourinho sacrificed Oscar for Nemanja Matic and put Willian on Demichelis to pressure and stifle the Argentine's influence and, in turn, the service to Alvaro Negredo and Edin Dzeko. City lost a season-high 73 50-50 challenges as their midfield was overrun. Matic had the freedom of the midfield at one point, completely losing his markers to receive the ball and crash a thunderous shot off the post from long range.
The simple answer is to replace Demichelis with a more comfortable central midfielder - namely James Milner - and bolster City's presence in the centre of the pitch. Yaya Toure is at his best when allowed off the leash, but with no Fernandinho at his side he has looked a shadow of the man who has scored 12 Premier League goals already. He was poor against Chelsea and worse against Norwich in the 0-0 draw last Saturday. The absence of Fernandinho has basically disrupted the entire midfield, with Toure's influence completely neutralised as a result.
With Aguero ruled out, Pellegrini should drop one of his two strikers. Edin Dzeko is a classic No.9 and does his best work in the opponent's box, pushed up against the opposing centre-backs.
But John Terry and Gary Cahill proved to be far more comfortable playing against Alvaro Negredo and Dzeko in the recent meeting. At the Etihad, the two strikers struggled up against the two Englishmen, who recorded a mammoth 22 clearances - 14 of which were headed - and won 12 aerial battles. They were in their element.
If City can get more bodies in the centre of the pitch, and drag Chelsea's centre-backs out of their comfort zone, they will surely fare better than when Toure and Demechelis were isolated and completely swamped.
BEST OF ENEMIES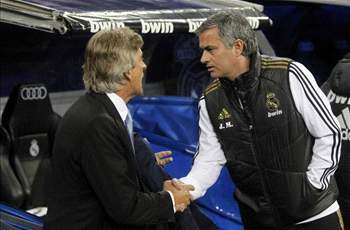 By Sam Lee | Goal UK Assistant Editor

Pellegrini and Mourinho are not the best of friends, it's fair to say. The two engaged in some verbal sparring during their time in Spain, after Mourinho replaced Pellegrini at Real Madrid in 2010.

Mourinho guided Inter to the treble that year and swiftly took up office at the Santiago Bernabeu, just months after Marca readers voted for their preferred manager and the Portuguese achieved 0 per cent.

Barcelona won the Primera Division that season but Pellegrini was aggrieved to have been ousted after racking up 96 points. "Second place is just the first loser", Mourinho later pointed out. And he was not done there: "If Madrid were to fire me, I wouldn't go to Malaga. I'd go to a top-level team in Italy or England."

Pellegrini hit back, attacking Mourinho's defensive style of play, and saying he has a different philosophy on life and in football.

With both men reunited once again at one of those "top-level teams in England", they will relish the opportunity to win a battle, even if the war will go on.
With no Aguero, City should bolster their presence on the wings and in the middle by simply swapping one of their two strikers for an extra man in midfield.
The change of shape could unsettle Chelsea's centre-backs, stretch their midfielders, and restrict their full-backs.
The normally adventurous Pablo Zabaleta, for example, had a terrible time against the Blues, failing to even attempt a dribble and completed just half of his 20 passes once he did venture across the halfway line. He was completely inhibited by the threat of Eden Hazard.
The Belgian was imperious, completing 11 take-ons from 16 attempts as he was allowed to roam the pitch. If selected on Saturday evening he will again be key, so City should do what they can to guard against his threat across the field.
Milner would be the best option to track midfield runners and allow his defenders to keep an eye on Hazard, and given that Branislav Ivanovic scored the winning goal from right-back, extra cover on the flanks is imperative.
With Jesus Navas the best option on the right, Pellegrini should turn to Aleksandar Kolarov to occupy the left-hand side. City will be given natural width with both men on the pitch, which will stretch Chelsea's compact midfielders and give David Silva, who must be restored to the middle, space in which to work his magic.
Kolarov has created a remarkable 25 clear-cut chances for City this season and continually looks to push the play forward, evidenced in his 103 passes into the final third.
The 28-year-old will also, naturally, provide support for Clichy and protection against the likes of Ivanovic and the tactically perfect Willian - Kolarov's awareness has led to 23 interceptions in the league this term.
Silva should also be returned to a central role, where he does his best work and does not have to track his runners - which he has often struggled with.
The Spaniard is City's most effective midfield attacking option with seven intentional assists and a staggering 63 chances created. However, against Chelsea, he failed to even attempt a dribble in Chelsea's half, let alone complete one, and only 19 of 33 passes in the opposition half found a team-mate.
Not only would he be deployed where he is most effective, but at the same time he would give Chelsea's central midfielders another headache with his constant probing and intelligent runs. With Navas and Kolarov hugging the touchline, there should be spaces between Chelsea's full-backs and centre-backs for Silva to exploit with pinpoint passing.
Mourinho's side triumphed 2-1 in the league meeting at Stamford Bridge, but only thanks to Joe Hart's injury-time howler. In that game Aguero and Fernandinho were available and Pellegrini opted to use the Argentine as a lone frontman. A far more successful ball-retention approach was evident back in October as Fernandinho held court in a bolstered midfield which stunted Chelsea's counter-attacking style. This is exactly what Pellegrini was missing 11 days ago and exactly what he needs to replicate on Saturday.
Follow Alex Young on