COMMENT
By Peter Staunton at the Etihad Stadium
You would only have to stand in the rain at the Etihad for a minute, tops, before being soaked through on Saturday afternoon. The cold would have constricted your blood and numbed the back of your hands. It was grey. Miserable. An uninspiring day to play, or even watch, football. The visitors were lower-league opposition with a chip on their shoulders. The Hornets is Watford's nickname. They played up to it.
Before long, City fans were consulting their programmes to see who these lightweights were - playing their way around a totally disinterested Yaya Toure & Co. in midfield. Sean Murray, Cristian Battocchio. Who? City were 2-0 down at the break. Watford were probably feeling hard done by. They had reason to dread what was coming next.
INSPIRATIONAL AGUERO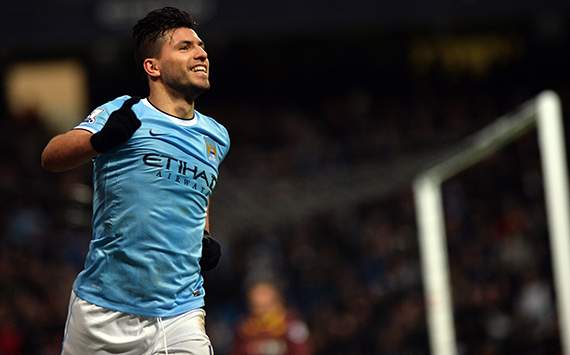 | | | |
| --- | --- | --- |
| | 60' | Pounced on a spilled Dzeko effort to lift City's spirits |
| | 79' | Struck a fine curling effort to level matters |
| | 90' | Completed a 30-minute hat-trick with a strong header |
PLAYER RATING






A perfect second-half hat-trick. Right foot, left foot and a header. His impact for City is immeasurable.
Against teams the calibre of City, no matter how badly they are playing, 2-0 is risky. The classic dilemma faced the Watford coach Beppe Sannino. Stick or twist. He stuck. Fast. Where four defenders were, there now were five. Watford defended the edge of their box. They forlornly waited to concede the inevitable goal that would precede the cascade which would knock them out of the FA Cup.
After a player scoring a hat-trick in a 4-2 win, it might be silly to suggest that, without such an intervention, his team would have lost 2-1. The goals surely would have come from elsewhere. Not today. This was Sergio Aguero's day. City were hopeless otherwise, Jesus Navas aside. Kun illuminated this tie and gave respectability to a City scoreline it scarcely deserved. Without him they would have been eliminated.
In all honesty, Aguero was just about as bad as the rest of them in the first half. Manuel Pellegrini admitted afterwards that he would have substituted all 11 of his starting line-up at half-time if he could have. Aguero stayed on.
This is a work in progress, remember. This is a player who has missed plenty of football and is working his way back to fitness. But how badly City need him. And how thankful his team-mates should be that he interprets the penalty box as well as he does. There was nothing extraordinary about his first goal. Typical Aguero. Right place, right time. Credit the bravery of Edin Dzeko for meeting the cross. But Aguero tidied it up. The blue charge was in motion.
Dzeko then slipped a lovely pass through to Aguero on the edge of the area. He dealt with it as only he does. Three or four players were between him and the goal. But he wriggled through and put the ball on his left foot. Jonathan Bond thought he had his angles covered and let the ball go past him. If he knew anything about Sergio Aguero he would have known his angles were not covered. Goals like that come as naturally as he breathes.
The Watford spirit broken, the sting taken from this particular tale by Aleksandr Kolarov's lucky drive. But there was more. Rising high to meet a Navas cross which was following the rain out of the sky, Aguero nudged a header past the desperate Watford goalkeeper. A perfect hat-trick on a day when his other team-mates simply were not taking responsibility.
Manuel Pellegrini is conscious of the fact that Aguero is not yet fit. He wants minutes put gradually into the squat forward's legs. At half-time, facing abject humiliation, valour got the better of the Chilean. Aguero was risked. "The idea was for him to play, today, 60 or 70 minutes," Pellegrini said afterwards. "But he had to play the whole match."
City have important games coming up. Pellegrini is making a big noise about the strength of "the squad". But today, and many other days in fact, are not about the squad at all. It's all about Sergio 'Kun' Aguero. Tottenham and Chelsea in the Premier League are to be faced in quick succession. Barcelona are lurking in the Champions League. Watching this performance against Watford you would be assured that any of those three teams would fancy their chances. They were ordinary. All but Aguero.
Barca will come calling in three weeks time with a diminutive Argentine of their own who is coming off the back of an injury too. Aguero can do what Lionel Messi does. And for City to have any chance of their unlikely quadruple, he must. The rest of them have too many off-days.
"Sergio is a top player; he is very important for us," Pellegrini said. "He made the difference." He sure did.