COMMENT
By Liam Twomey at Stamford Bridge
It's not a good time to be Spanish at Chelsea.

Rafa Benitez is perhaps the first 'interim' manager in history to be so emphatically not 'interim' enough for fans of his own club, while Fernando Torres is openly scorned by supporters who once blindly defended him in the desperate and vain hope he might someday repay their faith.

Oriol Romeu's knee ligaments won't allow him to kick a ball until next season at the earliest, and Cesar Azpilicueta likely has to put up with being called 'Dave' for the rest of his Blues career because he inherited a surname longer than two syllables.


LIVIN' IN A MATA-ERIAL WORLD


MATA'S 2012-13 ATTACKING STATS

GOALS
SHOTS ON TARGET
CHANCES CREATED (INC. ASSISTS)
CLEAR CUT CHANCES
PASSING ACCURACY

10
20
62
11
85%

Brazilian? Certainly. David Luiz and Ramires have already been adopted as heroes, and Oscar is well on the way to joining them. But Spanish? Not so much. Unless you're Juan Mata, that is.

Mata is the exception to the rule. In fact, he appears to be the exception to almost all the rules at Stamford Bridge.

Even at a club which has done so much in recent years to ensure it is widely despised by the rest of English football, Mata's cuddly persona and classy skill set charm neutrals and Chelsea fans alike.

In a young and prodigiously talented side which has often been accused of lacking the resilience exhibited by grizzled veterans John Terry, Frank Lampard and the gone-but-never-forgotten Didier Drogba, Mata has provided much-needed backbone, scoring at crucial times in big games against Arsenal, Tottenham and Manchester United.

And perhaps most strikingly, in a collective campaign undermined by depressingly familiar managerial flux, frequent dalliances with mediocrity and maddening inconsistency, the Burgos-born 24-year-old's own level of performance has remained stable and spectacular.

In 20 Premier League starts and four substitute appearances this season, Mata has notched 10 goals and nine assists - meaning he has been directly involved in 34.5 per cent of Chelsea's league goals, without taking into account his equally impressive tendency to play 'the pass before the pass' which leads to the back of the net.

Were it not for the sensational Robin van Persie, Mata would surely be the frontrunner for Footballer of the Year. As things stand, he can console himself with the knowledge that, with Torres continuing to misfire, Frank Lampard's future in the balance and Eden Hazard and Oscar still adapting to English football, he has at least earned the title of Chelsea's 'Mr Reliable'.



MATA INSPIRES CHELSEA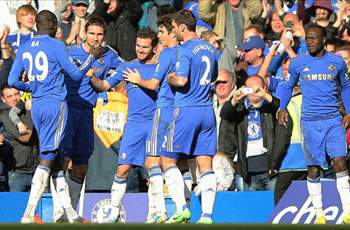 PLAYER RATING VS BRENTFORD






As always, he was at the centre of everything Chelsea did well, and it was no surprise when he was the man to break the deadlock. Finding little pockets of space almost by instinct, he tormented Brentford and set up Lampard for the Blues' third. He is brilliant, but Rafa Benitez will be wishing his team were not quite so reliant on him.
FROM OUR LIVE! COMMENTARY


GOAL! Juan Mata finally finds the breakthrough for Chelsea. It's a simple goal too; the Spaniard collects a long ball from the back, taking a fine first touch before drilling a low effort past a helpless Moore from just outside the area. Super finish, 1-0 to the Blues!
Within this context, the source of the Blues' decisive breakthrough against Brentford on Sunday seems almost inevitable.

For 54 minutes, Uwe Rosler's Bees had stifled their more illustrious opponents with an assurance and discipline which belied their League One status. "Everything worked to plan," the former Manchester City striker told reporters after the game. "We had a very good shape, and at times Chelsea were running out of ideas."

But Mata, who never hides or suffers a bad game for lack of effort, always looked likeliest to find a way to break their resolve, and so it proved. "We had good control in terms of denying him space to receive the ball, but then he picked up a second ball and our midfielders were a little high up, and he had a fantastic shot," Rosler lamented. "After that it was difficult to come back."

In truth, Brentford never looked like coming back, and Mata was predictably instrumental in putting the game to bed. After Oscar flicked Branislav Ivanovic's cross over the line to double their advantage, he scurried down the left before squaring low for Lampard to edge within three goals of Bobby Tambling's all-time scoring record for the Blues.

The result sees Chelsea into the fifth round of a competition they have won in four of the last six years but, these days, Mata's match-winning exploits take on a greater significance than merely as a particularly thrilling means of winning more trophies.

Rather, his virtuoso displays are among the only things capable of dispelling, even for a few fleeting moments, the suffocating atmosphere of gloom which has enveloped Stamford Bridge since the brutal sacking of Roberto Di Matteo and the loathsome imposition of Benitez back in November.

Startling though it may sound, many Chelsea fans would gladly endure a season without silverware if it ensures the man forever associated with Liverpool is gone come the summer.

But every time their No.10 turns on the magic, they are reminded of the excitement and optimism which greeted the start of this season, and filled with hope for a new one which delivers two of the things they desire most: A brand new manager and the same old Mata.
Follow Liam Twomey on