EXCLUSIVE
By
Rob Stewart
Former
Liverpool
defender John Scales insists
Luis Suarez
can enable the Reds to shrug off a "disastrous" Premier League campaign and ensure their season ends on a high in the
FA Cup final
against
Chelsea
, at Wembley, on Saturday.
Scales feels Anfield manager Kenny Dalglish will make sure his League Cup winners will raise their game against the Champions League finalists, and believes Uruguayan striker Suarez will be their key player.
"It would be great for the club if they can make sure this season ends in style by winning the FA Cup," Scales told Goal.com.
"That would allow them to take so many positives from a season when they've been criticised so much and I'm optimistic for them.
"They have shown this season that they can rise to the challenge in the big games. This will be their third visit to Wembley this season and that means the so-called monkey of not playing there for so many years is off their back now, they will feel comfortable.
"They will look at Chelsea and think they've been preoccupied with their league form and endeavours to try to get fourth spot because they won't want to rely on the Champions League final to secure Champions League football next year.
"So I feel confident it is about Liverpool and how they play, they know that they have a team of players that are absolutely capable of beating anybody and that is something Kenny has instilled in them.
"They won't feel like underdogs. They'll go out there with a lot of confidence and if they have the right game-plan, and every single player steps up to the plate and puts in a good performance, I see no reason at all why Liverpool will not win.
"You want it to be a special game and let's hope it is because it is a great stadium and it will be a great occasion. The FA Cup semi-finals were all fantastic and it feels like the competition has been as memorable and as exciting as it has in a long time. It would be nice to cap it off with a cracking final."
Speaking exclusively to Goal.com, Scales, who helped Wimbledon shock Liverpool in the 1988 final and was in the Reds side beaten by Manchester United in the 1996 final, gave his thoughts on where Saturday's showpiece could be won and lost.
"It would suit Chelsea if Andy Carroll was playing because he is excellent in the air and that would play to the strengths of the Chelsea defence because he is less mobile than Luis Suarez but they will have to be on their toes to stop him because he is such a mercurial player," he said.
"Suarez kept Liverpool on track for the final with the equaliser against Everton and he hit a stunning hat-trick against Norwich so, with the form that he is in and the way he can play the game, he is going to be the key player for Liverpool leading their attacking line.
"His movement, pace and energy will really unsettle a back four that has had to be chopped and changed of late. So Suarez really could cause Chelsea all sorts of problems.
"I am excited at the prospect of seeing Suarez at the weekend because when he is on form there is no better sight than seeing him torment defenders.
"For me the most important thing for Liverpool is for them to get bodies in the box to support Suarez. When I have seen Liverpool struggle to convert chances, they have had players isolated in those advanced areas and you can't afford to do that.
"With so many defenders absent, John Terry will be more important than ever for Chelsea.
"Over the last two months since things have turned around for Chelsea you just look at him and you see what a colossal figure he is. I have been critical of him at times but when you see him play you appreciate his awareness, his reading of the game, the way he leads the back line, his commitment, and his technical ability on the ball – his first touch is excellent – and everything about the way he dominates that Chelsea backline.
"He is a phenomenal centre-half – an absolutely top-drawer centre-half. You can fault him for a number of issues but fundamentally as a player anybody would want John Terry in their team. He is that good."
Didier Drogba v Jamie Carragher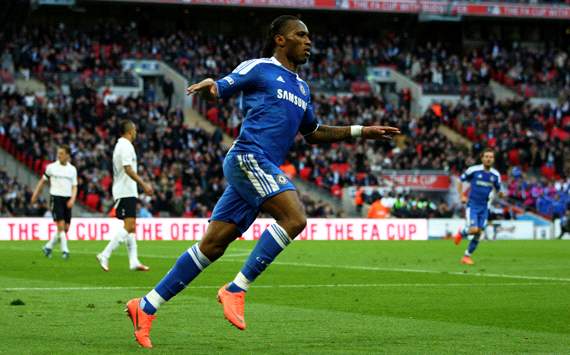 "Anyone coming up against Didier Drogba will know they are in for a physical battle so you have to compete with him but you have to be subtle in the way you go about trying to stop him.
"If you get too tight, then Drogba has the power and the cleverness to roll his marker. You have to challenge with him and put him off his stride because if he feels as though he has got the upper hand then Drogba will not only be on form, he will be on fire.
"You have to be very clever when you are up against him. You have to unsettle his game and that is very difficult because if he is in the mood he is a phenomenal forward.
"It will be a tough job for whoever is up against Drogba, if indeed they are up against Drogba, because the great thing for Roberto Di Matteo is that he has got the option of Fernando Torres because he looks lively again.
"But Drogba is such a handful that any of the defenders that play for Liverpool will need cover so their co-centre-halves will be keen to make sure that the one who is marking him has the confidence to do what he needs to do.
"This could be the sort of challenge that suits Jamie Carragher down to the ground. Martin Skrtel will be a lot more physical, he will relish the physical battle while Jamie would need to use all his experience to be very clever and astute. He played one of his best ever games in a Liverpool shirt in a Champions League semi-final against Drogba at Anfield and he will need to be at his best again because Drogba can be awesome."
Frank Lampard v Steven Gerrard
"It is a massive game for both Frank Lampard and Steven Gerrard. Both have been to a degree influenced by injury and a loss of form or not playing as much as they want to this season, and both have come back in over the last couple of months to show how absolutely invaluable they both are and what great players they both are.
"Everyone will be fascinated to see who will come out on top – including new England manager Roy Hodgson. It is a difficult one to call but you would think that whoever comes out on top in this particular duel, they will be critical to their team's fortunes because central midfield is an area where games are won and lost.
"At the moment, Gerrard seems to be playing in a much more withdrawn role, almost a holding role, and he doesn't break forward as much as he can but in this sort of game the shackles might come off because it is a one-off and he may want to burst forward.
"You need players able to break into the box and arrive at times that make it very awkward for defenders. So I hope Liverpool commit bodies forward into the box when they get the chances from wide areas. If they don't then they will struggle and so I hope Gerrard bursts forward from that midfield area, as we know he can do.
"On the other hand, Lampard can perform both roles. He can get forward and he can sit there and hold alongside Michael Essien or John Obi Mikel. I saw him last weekend against QPR who were terrible and he just drifted forward into an advanced role behind Juan Mata, who supported Torres brilliantly. It is all about getting the balance right but whatever happens will be a fascinating duel."
Ashley Cole v Glen Johnson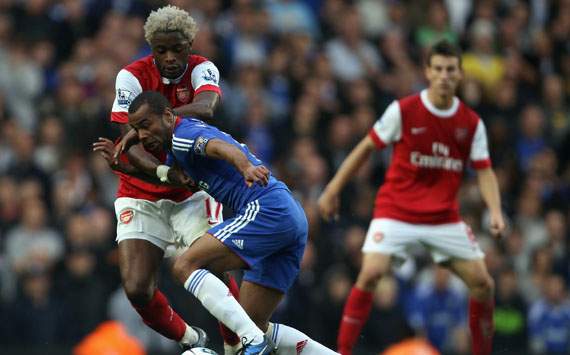 "I know they are both full-backs but their paths are bound to cross because they are both so attack-minded and could easily be the full-back pairing for England at Euro 2012.
"Those two have to know when the time is right to push forward and know when the time is right for them to occupy the right areas and get into the box at the right time.
"There is arguably no better left-back in the world than Ashley Cole. I have been more and more impressed with him the longer the season has gone on, especially with this run Chelsea have been on since Roberto Di Matteo took over.
"He showed against Barcelona in the Champions League semi-final that it takes something special to beat him and that is why Glen Johnson joining the attack could make a vital difference against the club he once played for.
"It will be so important to see if Liverpool can get Johnson bombing forward and released from his defensive duties every now and again. They play a 4-4-3 formation and it will be interesting to see if he is given orders to dart forward to operate higher up the pitch and support the attack, like he did to devastating effect when he scored in Liverpool's win at Stamford Bridge earlier this season.
"But Cole can be a real handful when he is attacking so Johnson will need to make sure that his winger tracks back so he is not outnumbered. Johnson will know what a threat he poses thanks to his England duties."
Ramires v Stewart Downing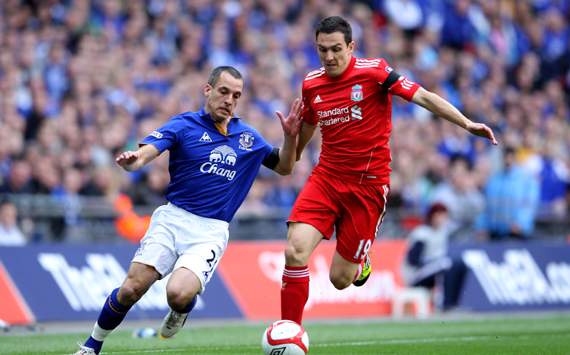 "Ramires has been quite simply incredible over the last few weeks and it is now clear that he was just what Chelsea needed because they had become a bit pedestrian and predictable.
"He has typified what they were lacking because of the energy he has got, the pace and the movement and the overall quality that he is blessed with, as he showed with that goal in the Champions League semi-final against Barcelona and the way he set up Didier Drogba's goal in the first leg.
"He has become such an integral part of this team and he will be a huge loss to Chelsea in the Champions League final, but he will be a key player for Chelsea at Wembley. He deserves to be in the same bracket as Juan Mata, Fernando Torres, Didier Drogba and John Terry as one of their most influential players.
"Whoever is tasked with containing him will have a huge task on their hands, but the thing about Chelsea now is that they have options all over the pitch.
"They have a depth of squad now because Di Matteo has really re-generated throughout the whole squad and not just a group of 11 players.
"He is in great form and, with the upturn in fortunes at Chelsea, I think that all their players have a confidence that we didn't see earlier in the season.
"We have to see more of Jordan Henderson and, especially, Stewart Downing. We want to see players that have clearly got lots of ability step up and perform on the biggest stage, but Downing did well in the Carling Cup final and he did well for England at Wembley when they beat Sweden, so maybe he can come good again.
"He is an excellent crosser of the ball, he is two-footed, he handles possession well and has a good work-rate and a fine shot on him but in his influence will be determined more about how the team functions as a whole.
"Sometimes he is a little bit too deep so I'd like to see Downing playing higher up the pitch. He needs to be another 10 to 15 yards forward. I have seen him play too deep, and the same can be said for Henderson. Downing needs to push on, get on the full-back and keep their defender occupied.
"Then that will be more important because it will create a better platform for success but they need to cut off the supply lines to Ramires, or suffer the consequences."
Former Liverpool centre-half John Scales is the project leader of Wembley Stadium's new 'Exhibition of Champions'. To book a place on the Wembley Tour and see the 'Exhibition of Champions' visit www.wembleystadium.com/tours or call 0844 800 2755.

Follow Rob Stewart on