COMMENT
By
Wayne Veysey
at Stamford Bridge
Fernando Torres
began the match with the statistics of his half-year drought hanging over him like a curse.
He ended it with two goals, two assists and a smile that lit up Stamford Bridge. Just as the nationwide hosepipe ban kicks in, one of the most famous droughts in football ended in a flood of net-bursting amid jubilant scenes.
Only perhaps the four goals against Napoli in midweek have been celebrated with more all-round glee by Chelsea fans this season than Torres' careful side-footer that put his team 3-0 up in a tie they dominated with their verve and ambition.
TORRES' KEY MATCH EVENTS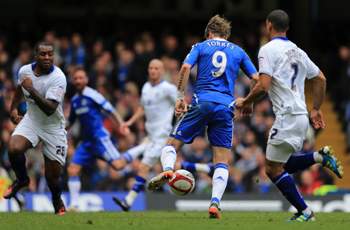 | | | |
| --- | --- | --- |
| | 18' | Assists Kalou's goal |
| | 67' | Scores Chelsea's third goal |
| | 85' | Scores Chelsea's fourth goal |
| | 90' | Assists Meireles' goal |
PLAYER RATING




8.5
Ended his five-month goal drought with a careful side-footed effort, just when it seemed he would never supply the finish that his excellent approach play deserved and, then, for good measure, added a late header. Set up Kalou's goal with a surging run down the right and unselflishly laid on the late fifth for Meireles.
After steering Raul Meireles' square ball past Kasper Schmeichel, Torres held up his right arm in salute, hugged a few of his team-mates and, when they had jogged back to the centre circle, clapped the supporters who had chanted his name all afternoon.
It was a cathartic moment and drew a line under a series of numbers that were a statistician's dream and a striker's nightmare.
Since the second of his two goals in a Champions League group match against minnows Genk on October 19, five months, 152 days, 25 matches and an astonishing 1566 minutes of playing time had elapsed since one of the most accomplished European strikers of the last decade had celebrated a goal. That equates to 26 hours and six minutes, more than a day spent labouring on a pitch trying to put the ball in the back of the net.
"Fernando Torres, he scores when he wants," sang the Bridge, who have been willing the No.9 to replicate his Liverpool scoring feats for the last 14 months, but never with as much sustained verbal support as on Sunday against Leicester City.
For the opening hour, it was everything but the goal for Torres. He expertly worked the channels, particularly the right flank, where he terrorised former Liverpool team-mate Paul Konchesky, and caused mayhem to the Championship team's defence with his pace and ball carrying. A surging run and cross created the second goal for Salomon Kalou. The crowd sang the name of Torres, not the Ivorian.
Inside the penalty area, which was once his personal fiefdom, Torres was not so lethal. He missed two early presentable chances, the second of which – an unmarked header from six yards – he would once have buried with a blindfold on. A few chortles could be heard in the East Stand.
Nevertheless, the crowd responded with choruses of the Spaniard's name, as they did when he set himself up for another first-half shot that was athletically saved. They could see Torres was trying everything to extricate the goal-scoring monkey from his back.
By the time he sliced a 59th minute opportunity wide, the centre-forward's travails had almost over-ridden the scoreline as the game's principal talking point.
Just when it seemed his finishing could not get any punier, at last Torres' misery was brought to an end. In one of dozens of menacing second-half Chelsea counter-attacks, Meireles charged forward, squared to his team-mate and a finish of accuracy, but hardly aplomb, squirmed past Schmeichel. The Bridge roared with relief.
Unrestricted by the burden of statistics, Torres was now re-born. He revelled in the space that Leicester's spirited attacking allowed him and looked like he would score every time he had the ball. A smart flicked header doubled his account. The crowd urged 'shoooot' when he closed in on goal in stoppage time but, unselfishly, Torres looked up, saw Meireles in a better position and repaid his team-mate for the two chances the Portuguese had fashioned for him that day.
As he strolled bare chested off the pitch with a swapped Leicester City shirt draped over his shoulders and the crowd once again chanting his name, Torres looked about a foot taller and a good deal chipper than the anxious, subdued figure of the last few months.
He even ended his self-imposed ban with the British media by agreeing to a short post-match interview with host broadcaster
ESPN
, in which he admitted the relief of finally ending his drought. "I needed those goals, I was working so hard to get them," he said.
However, his claim that "I feel I have the confidence of the manager" did not ring entirely true, given that interim boss Roberto Di Matteo has handed him starts in only two of his four games in charge, both of them FA Cup ties against lower league opposition.
Yet scepticism should be temporarily suspended. With the belief of player and team now greater than it has been since last autumn, Torres has the opportunity in the next two months to completely rehabilitate his reputation and save his Chelsea career.
With his team in the last eight of the Champions League and the final four of the FA Cup, the club need their record signing to prove that he can deliver at the big moments in the marquee matches.
If a Sunday lunchtime double against a second-tier team proves to be another false dawn in what has been an abject spell in west London, it is not exaggerating to suggest Torres can kiss goodbye to Chelsea and the club will be hawking his name around Europe this summer.
Then, this game will be remembered as the statistical exception that proved the rule.
Follow Wayne Veysey on