EXCLUSIVE
By
Rob Stewart
Former
Manchester United
defender Gary Pallister has paid
Liverpool
skipper
Steven Gerrard
the ultimate compliment ahead of the teams'
FA Cup
showdown - by admitting he wishes the Anfield talisman was playing for his old club.
Pallister played alongside United greats Bryan Robson and Roy Keane during his trophy-laden days and he has insisted that Gerrard can be bracketed alongside the midfield lynchpins thanks to his exploits for Liverpool.
Gerrard will have to be at his inspirational best when the League Cup finalists face the Premier League champions in the FA Cup on Saturday and Pallister is relishing the fourth-round tie between the arch-rivals whose rivalry will ensure a tense atmosphere.
"Playing at Anfield is a daunting prospect because you take a lot of stick when you are going to the ground and when you are on the pitch and you always know it will be a tough day's work," Pallister told
Goal.com
.
"But also you hope that a game at Anfield brings the best out of people because it is one of the biggest fixtures of the season and there is always a crackling, highly-charged atmosphere and you should thrive in those conditions.
"For many years Liverpool set the bar for everyone to try to reach and Manchester United have gradually done that over the years and Liverpool have been in the doldrums when it has come to domestic competition.
"But as we have seen over the last few years it does not matter how well United have been playing, when they go to Anfield they find it very difficult.
"The rivalry between the Manchester clubs is being cranked up but there is certainly a more hostile feeling in the Liverpool-United games which is a shame because they have both been great standard-bearers over the years for English football. It is a deep-rooted rivalry but it is a fantastic place to play football."
Speaking exclusively to Goal.com, the former England international has given his thoughts on where Saturday's game could be won and lost...
Martin Skrtel v Wayne Rooney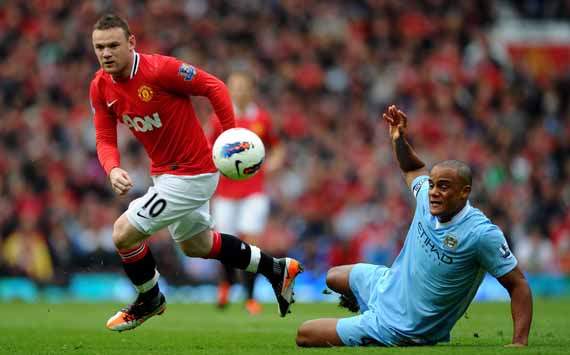 "How the Liverpool defence cope with Wayne Rooney all depends on which Wayne Rooney turns up. When he is on fire any defender in the world would have trouble dealing with him because he is such an explosive kind of player. He has peaks and troughs and if he is hitting peak form then it will be tough for them because he is such a difficult player to handle.
"It will also depend on where the gaffer plays him as well. He could play him up top or he could play him off a striker or just give him free rein, but whichever positions he takes up he will be a thorn in Liverpool's side. He plays off-the-cuff at times and it will not only be the defenders that have to be aware of him but the midfielders as well because he likes to drop deep and spray the ball about or run at defenders.
"Martin Skrtel will have to make sure that the midfielders keep a close eye on him and deny him the space that he thrives on but he will also have to make sure that him and Daniel Agger stay on their toes and are prepared for Wayne to hound them when they are in possession."
Steven Gerrard v Anderson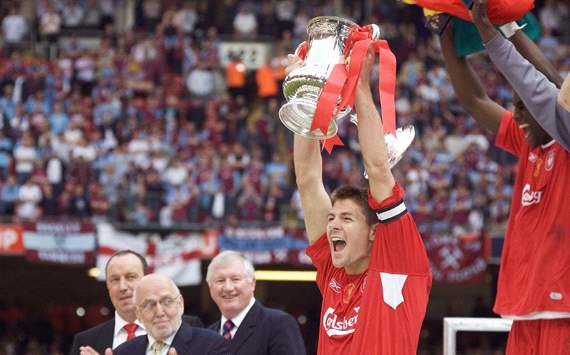 "Along with Paul Scholes I would say that Steven Gerrard is the best midfielder the Premier League has seen over the last decade.
"Steven Gerrard is a player, and I hate to say it that I really wish he was in a Manchester United shirt because of the way he plays and the way he reminds me so much of the Roy Keanes and the Bryan Robsons of this world.
"He is up there with them too because he just seems to have so much energy and just seems able to do anything on a football pitch and still have this uncanny knack of making it all look so easy.
"He is Liverpool's engine room. He is so important to them. He is a fantastic leader on the field and is understandably loved by the Anfield faithful. Keeping him fit for Liverpool is of paramount importance to them and their chances of having any kind of success this season.
"Anderson is now returning to full fitness after his knee injury which is great for United. He generally uses the ball well and his energy and tenacity will be crucial when it comes to limiting Steven Gerrard's influence."
Jordan Henderson v Paul Scholes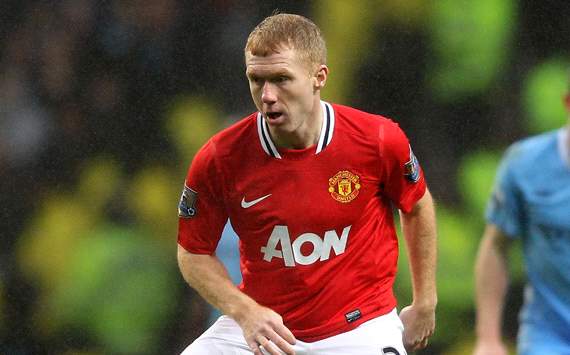 "It would have been the thought of taking part in this sort of game that will have persuaded Paul Scholes to come out of retirement and I am delighted because I thought he had hung his boots up too early and that he had another season and possible one after that left in him.
"He never had great pace so there wouldn't be a problem with him getting a bit slower in his old age but he's back and he is already making his presence felt because of his amazing passing ability, his habit of being there when team-mates need him and his eye for goal.
"He is probably not right back up to full speed in terms of match fitness but he has been working with the reserves so he is in reasonably good shape and he will get back to peak condition with a few games under his belt.
"From a United perspective it is great to see him back because he can still dictate the pace of games, set the tempo and we all know about his passing and his ability to ghost into the box and score a goal. He gives the manager an extra option. He won't play in every game but it will be great for the dressing room.
"It will be interesting to watch if Jordan Henderson has to pit his wits against Scholesy because they are opposite ends of their careers. Jordan clearly has potential and has plenty of energy but he won't have the guile that Scholesy's got in the middle of the park or that sixth sense in terms of finding space."
Daniel Agger v Danny Welbeck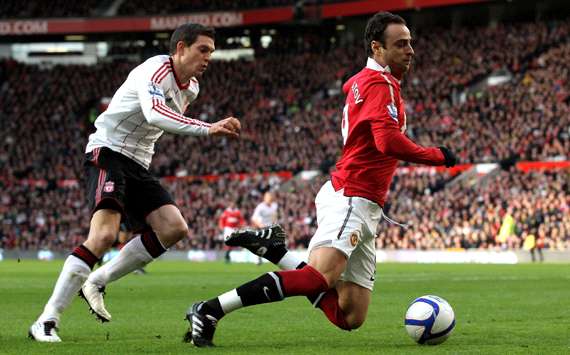 "Most centre-halves fear pace the most and that means Daniel Agger will be given plenty of food for thought by Danny Welbeck because he is a real speed merchant. He seems to have really kicked on this year after that season on loan at Sunderland, even though he has had a few injury problems.
"He has come back firing on all cylinders and he poses a huge threat on the shoulder of defenders. He is always looking to get in behind the defence with his pace but he has a bit to learn in terms of holding the ball up and bringing others into the game but that can be learned.
"It is essential when you are the focal point of a strikeforce and you are leading the line that you have to be strong enough to keep the ball and hold off defenders. But in saying that, his off-the-ball running is excellent. He is finding the right areas.
"He did well at Sunderland but there is a different challenge at Manchester United because you are playing with better players and there is more of a spotlight on you but he has dealt with that and he has kept Javier Hernandez and Dimitar Berbatov on the bench and they are high-profile signings so you have to take your hat off to Danny. He has put in the hard work and he is reaping the rewards.
"The key thing for Daniel Agger will be to make sure that he doesn't get too tight to Danny because his turn of pace is such a strength at the moment and if a defender does get too tight on him he just goes drops his shoulder and goes beyond his opponent and you've got no chance of catching him. Agger has to be a bit weary of getting too close and should give himself an extra half-yard and make sure he is not being left flat-footed."
Jonny Evans v Andy Carroll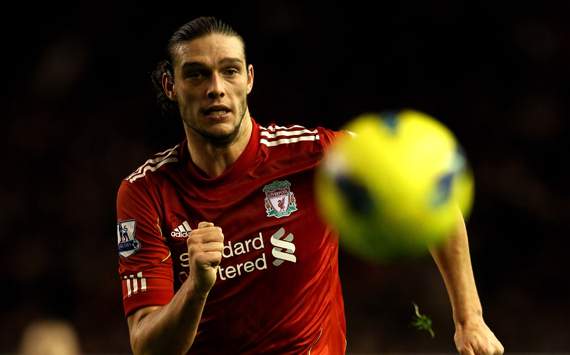 "I feel a bit of sympathy for Andy Carroll because I made a similar journey to him when I was a young player but whereas he went from Newcastle to Liverpool I went from Middlesbrough to Manchester United but like him I was regarded as a huge signing at the time.
"Have a couple of bad games and everyone is on your back and that can leave you as low as a snake's belly or be a catalyst in that it makes you determined to prove people wrong. That is the way Andy has to view it.
"Liverpool paid an enormous amount of money for him even though he had not even had a full season of top-flight football and I am sure that Andy would admit that he was surprised at the fee that changed hands.
"But he has to forget about that and trust the manager and the people he works with at the club and his team-mates as well as making sure that he has faith in his own ability. That is all you can do.
"He is bound to be given a tough time by the Press because of his history both on and off the field but ultimately it will be down to Andy to help himself by knuckling down and getting fitter and sharper. He has got an unbelievable chance to play up front for a fantastic club so you would hope that he would take it with both hands.
"Jonny Evans is a very good player but, again, if he does make a mistake it seems to be exaggerated and made more of than any other player that would make a mistake such as Rio Ferdinand or Nemanja Vidic or Phil Jones.
"Defenders do make mistakes but the manager would not have him there if he did not think he was a good player. I have seen him play some terrific games for Manchester United and I would certainly not say he was a bad player or a bit-part player. When Nemanja and Rio are finished he will be a pillar of the United defence.
"It will be a tough task for anyone playing against Andy Carroll because he is a handful, especially when the ball is in the air but Liverpool have to find a way to get the best out of Andy Carroll before Jonny Evans really has to worry about their duel."
Gary Pallister spoke to Goal.com at the launch of the 'Back from the Brink' exhibition at the Dorman Museum in Middlesbrough that marks his old club's flirtation with financial disaster in 1986. Back from the Brink is open every day apart from Mondays through to April. Entry is free.
Follow Rob Stewart on