Red Devils old boy relishing prospect of the striker pitting his wits against Kompany but believes United hopes of beating holders rest on stopping David Silva in his tracks
EXCLUSIVE
By
Rob Stewart
Manchester United
will be out for revenge when they face
Manchester City
in the
FA Cup
at the Etihad Stadium on Sunday and Old Trafford legend Gary Pallister believes
Wayne Rooney
will be crucial to the Premier League champions' fortunes.
It will be the first time that the neighbours have faced each other since Roberto Mancini's side hammered the Red Devils 6-1 at Old Trafford and Pallister is convinced there will be a few scores to settle and in the wake of Rooney having to quash rumours that he is unsettled, the former defender believes the striker will be raring to go.
Until last weekend, it had seemed that the rout had invigorated United but surprise defeats by Blackburn and Newcastle mean that United will be out to avoid a third consecutive defeat when they face the FA Cup holders who beat their arch-rivals at the semi-final stage last term.
While Rooney represents the biggest threat to City, Pallister, who helped United win the competition three times in the 1990s when he formed a formidable double-act with Steve Bruce in the heart of Sir Alex Ferguson's defence, believes his old club's ability to keep City's attack quiet will be critical at the Etihad Stadium.
"That 6-1 defeat at old Trafford is going to be fresh in the minds of a lot of the players and is something they will be desperate to put right because they were humiliated in their own back yard so this is a great chance to make amends," Pallister said.
"Looking at the injury crisis, the key thing for Sir Alex will be to stop City's frontline which has been terrific this season. That will be the crux of the battle because United have still got problems in the back four in terms of personnel while City have terrific quality up front."
Speaking exclusively to
Goal.com
, the former England international has given his thoughts on where Sunday's game could be won and lost...
Vincent Kompany v Wayne Rooney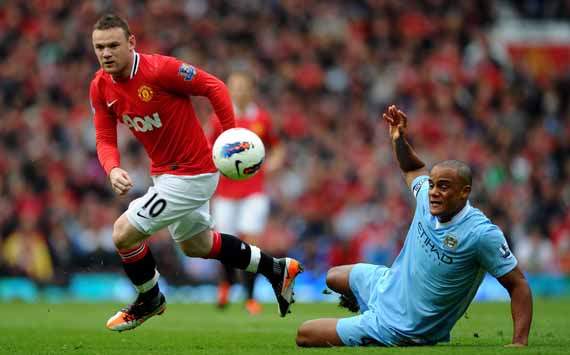 "This will be a great battle because both of them are fantastic players. They both play on the edge and they won't give an inch so there could be fireworks.
"Vincent Kompany has been an outstanding signing for City and seems to have thrived on the responsibility of being appointed captain. He is the one that they all take their lead from and he is the glue that holds the team together. He is an excellent defender and is very strong.
"Roberto Mancini had some strong words to say after that 1-0 defeat at Sunderland but they way they got back on track after that to beat Liverpool will have been in no small measure down to Kompany.
"It doesn't matter how good Kompany is, though, because Wayne Rooney won't be daunted by him or Joleon Lescott because I honestly don't believe that he is afraid of any defender in world football and when he hits top form he will do well against anyone.
"You also have to factor in that he will have something to prove as well after the reported run-in with Sir Alex and with all that in mind you wouldn't bet against him being the star man for United and getting the winner."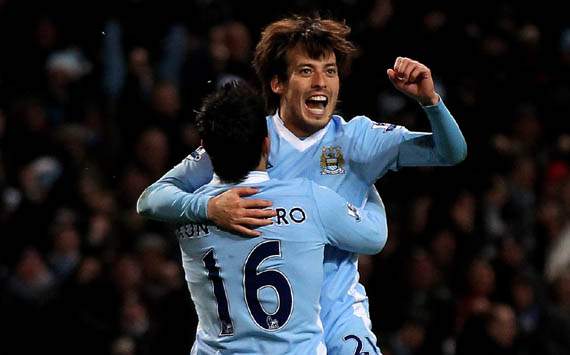 "If I was a United player then the opponent I would be most concerned about would be David Silva.
"Silva is the one that pulls the strings for City and really gives the team imagination and flair. The word mercurial springs to mind when you think about him. No matter how much attention has been on him this season he always seems to find space between the midfield and attacking lines. His movement and awareness mean he is very difficult to pick up in the hole he plays in and he has the quality to hurt any opponent.
"It is Silva that gives City's attackers the ammunition they need and so if you prevent him doing that can stifle him you go a long way to stifling City's attack because you cut off their most important supply line.
"Anderson will have to break things up. One of the great things about Ando is that he has great energy when it comes to getting about the pitch. The manager probably didn't want to play him against Blackburn but he probably had no choice. I thought he did well. He might not be able to play for 90 minutes but he could still be invaluable."
Sergio Aguero v Phil Jones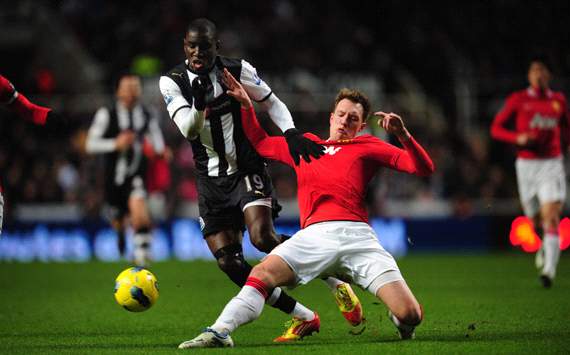 "A lot of people are looking at Phil Jones and seeing a lot of John Terry in him and seeing him as a bit of a leader. I can see why. He is very committed and is the type of player that you can see as captaincy material and the way he is going there is every chance that he will go on to do that both for England and Manchester United.
"He looks a great player even though he is not having the impact that he did in the early part of the season because he has taken a few knocks. But he still looks as though he is a star of the future.
"I know he has excelled in central midfield but I would prefer to see Phil playing at centre-half. He has all the attributes to be a really top-class centre-back and I have no doubts whatsoever that he will be but you have got to remember that is still only a teenager.
"The thing is, though, a career in football can be a bumpy road but he is smart enough and he has the coaching staff around him to make sure that he recovers from his encounters with Yakubu and Demba Ba who could be a real handful for any defender.
"Coming up against the lightning quick Sergio Aguero will be a different challenge to ones he has faced recently but Aguero is so mobile and has so much pace and is lively in and around the box that he will have to keep a close eye on him, especially when David Silva is on the ball."
James Milner v Patrice Evra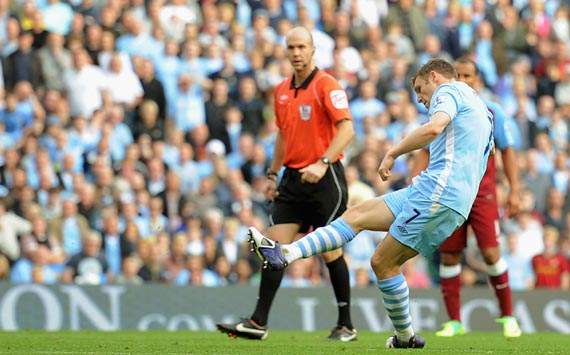 "Patrice Evra has been fantastic over the years and the energy that he brings to the team down United's left wing is terrific.
"He is very committed and has proved to be an inspired signing and what I like about him is that when he had to play second fiddle to Gabriel Heinze he never complained but just kept working hard at his game and was rewarded with a regular first-team slot.
"Patrice is a brilliant professional and his importance to the side is growing because of all the injury problems. He has the experience and he has to be talking to the back four. He is invaluable and if you were to lose him I think that back four would be in real trouble. He has been a real constant and they need him more than ever this weekend.
"Like Patrice, James Milner is a great professional and deserves his place in the England squad. You would not hear a word from him when he is not in the side but as soon as he gets the call he fits in straight without any fuss.
"His work-rate up and down his wing is phenomenal and he is exceptionally good when it comes to counter-attacking because of his ability to move with the ball at speed."
Antonio Valencia v Gael Clichy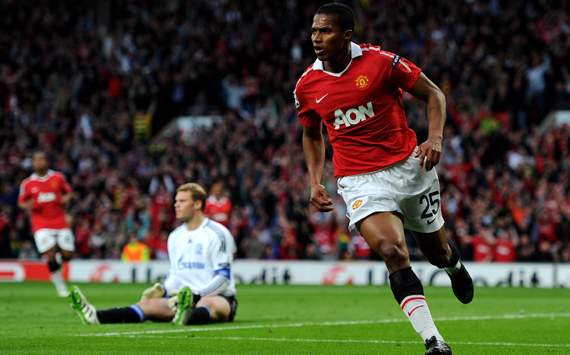 "I don't particularly like seeing Antonio Valencia playing as a right-back. He has a lot to learn as a right-back and I think he is a bit naïve when he is playing there. When you are up against teams like Wigan he would be playing more or less as a right-winger anyway. Needless to say it will be different against City.
"It is great when you are up against teams that you are constantly attacking but in the tougher games I don't see him as a full-back because I don't think he has got the experience to play there.
"But as a right-winger I think he has come into his own and the experience of playing at full-back may help his overall development. He had a slot start to the season after ending the last campaign in exceptional form. He is finding his feet again and he is looking a real threat.
"Whatever position he plays in, Antonio will be relishing taking on Gael Clichy who I always liked at Arsenal and give them bite in defence and an extra attacking option so this will be a fascinating duel. Antonio will be out to take advantage any time he is caught out of position."
Follow Rob Stewart on