| | | | | |
| --- | --- | --- | --- | --- |
| MANCHESTER CITY | | V | | MANCHESTER UNITED |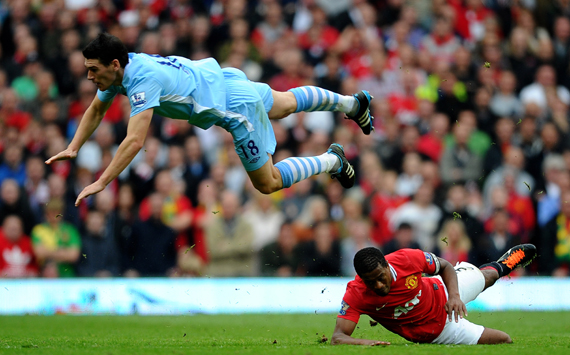 Who will be the key player for your team in this match?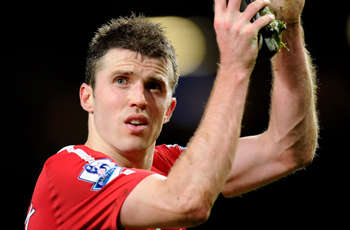 MANCHESTER CITY:
David Silva
was instrumental in the game at Old Trafford earlier this season, and will be City's key player again on Sunday. He is our most creative player, and generally when he performs, so do the team.
MANCHESTER UNITED:
Normally I say Wayne Rooney, because in the biggest games your best players have to perform. But this game will be won and lost in midfield and United has just received a massive stroke of luck with Yaya Toure missing the match.
So, for this match, with the huge importance it has for both club's season,
Michael Carrick
simply must win the midfield battle. The Geordie has been in fine form, and it's unfortunate that he was forced to play a couple of matches in central defence, which appeared to disrupt his rhythm.
Who will be your team's most dangerous opponent?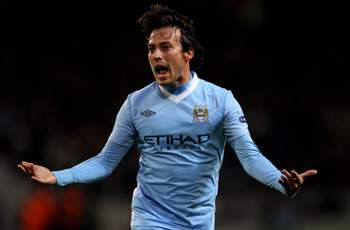 MANCHESTER CITY:
Nani
is always a threat down either flank.
MANCHESTER UNITED:
The Blues have a few injuries, but
David Silva
has been brilliant this season. Silva ran rings around United at Old Trafford earlier this season, and Sir Alex Ferguson must have a plan to negate the Spaniard's influence.
Silva is the player United should have bought two summers ago. The current United side has such a dearth of creativity from midfield it's shocking. Silva's a big piece of magic wrapped in a tiny package.
Who will be the opposition's weak link?
MANCHESTER CITY:
A toss-up between
David de Gea
(if he plays) and
Phil Jones
. Jones has been lauded by some as the new Duncan Edwards, which is fairly ridiculous based on his performances so far. He struggled badly against Newcastle midweek, and will find life difficult against Sergio Aguero.
MANCHESTER UNITED:
If United enjoy enough possession in central midfield then Rooney may be able to exploit
Joleon Lescott
. The England player started the campaign well enough, but he's not had a great spell in the past month. But that's a big if when it comes to gaining possession.
Is there any player that has a point to prove in this derby?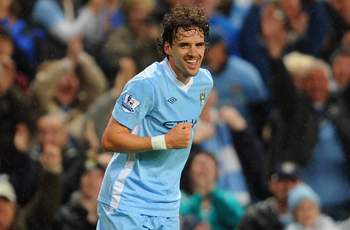 MANCHESTER CITY:
I'm sure
Owen Hargreaves
will feel he has a point to prove, but it remains to be seen if he will be available for selection. With Barry's suspension and Yaya Toure's call up for the Africa Cup of Nations, we suddenly look a bit short of numbers in central midfield.
MANCHESTER UNITED:
They should all be up for it shouldn't they? The point to prove is that, after two serious defeats in the past week, United are still relevant in this campaign. Another loss to City will be devastating. Not just for supporters, but for the whole campaign, the side's confidence and, conversely, City's belief in whether they can take the top honours this season.
Opposition player who will get booed the most by your fellow supporters?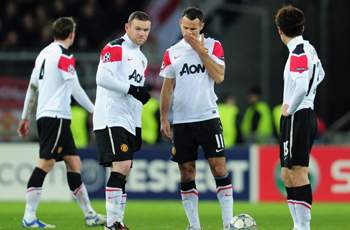 MANCHESTER CITY:
A toss-up between
Ryan Giggs
and
Wayne Rooney
.
MANCHESTER UNITED:
If he were anywhere near Eastlands it would be
Carlos Tevez
. Ferguson has been proven right about Tevez. You don't hear City fans crowing any more. There are no posters on Deansgate. It would also be interesting to gauge the reaction to
Owen Hargreaves
, who jumped ship over the summer, but unfortunately the midfielder is injured.
What's your favourite, and worst Manchester derby memory?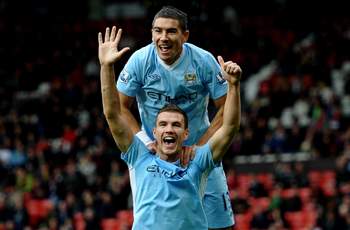 MANCHESTER CITY:
My favourite derby memory is the 6-1 drubbing of United at Old Trafford in October. I didn't think I'd see the day where a United team was so comprehensively outplayed by City on their own patch. It was humiliating for United.
As for my worst derby memory, the 5-0 defeat in 1994 was painful to watch.
MANCHESTER UNITED:
Worst came earlier this season. The 5-1 loss in 1989 was terrible, but at least that wasn't in our own back yard. Losing so heavily at Old Trafford was humiliating. The best - there have been so many, haven't there!! But the best, for me personally, was United's comeback from 2-0 down at Maine Road to win the game. Roy Keane, Eric Cantona - absolutely immense.
Name the XI you would pick for this match
...
MANCHESTER CITY

Hart
Richards, Kompany, Lescott, Clichy
De Jong, Milner
Silva, Aguero, Nasri
Dzeko



MANCHESTER UNITED
LindegaardSmalling, Evans, Ferdinand, EvraValencia, Carrick, Jones, Nani
Rooney
Welbeck

Prediction (score and scorers)
MANCHESTER CITY:
I think it'll be close, with Aguero scoring in a 1-0 win.
MANCHESTER UNITED:
On this week's podcast I've predicted a 2-1 win for City. I haven't predicted United would lose a game in the last three years, so that's a first of sorts. The heart of course wants that prediction to be embarrasingly wrong. I'd gladly run through Picadilly with it on a sign if we snatch victory. But the head says United aren't playing well, and City will take the match. Scorers: Welbeck, Silva, Aguero.
How much of a bearing will this result have on the title race?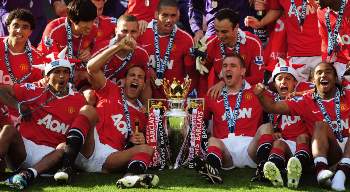 MANCHESTER CITY:
I don't think the game will have any great bearing on the title race, other than the fact that the team who wins will have heavier fixture congestion in the latter part of the season.
MANCHESTER UNITED:
It will have a massive impact on the title race. Clearly there are no points on offer, but the confidence gained or the morale damaged by victory or defeat will be significant. The stakes are probably higher for United given what happened in the past two games. A third defeat on the trot will shake Ferguson's troops. To borrow a catch-phrase: there's no doubt about that.
What area of the team would you like to see strengthened this month?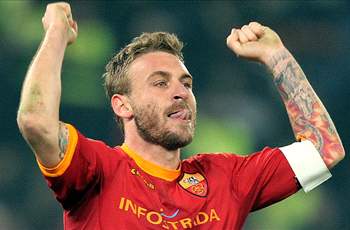 MANCHESTER CITY:
I'd like to see us sign a central midfielder, and Daniele de Rossi would be ideal. Sadly I can't see him leaving Rome.
MANCHESTER UNITED:
Central midfield! Is the Pope Catholic? Do bears do their business in the woods? If Owen Hargreaves gets injured does anybody hear him scream? United have been weak in central midfield for more than two years. The problem is so obvious its become embarrasing. Okay, so Ferguson threw all his eggs into the Tom Cleverely basket, but to bet all on an injury-prone rookie was a risk too far.
If your team could sign one of your opponent's players who would it be and why?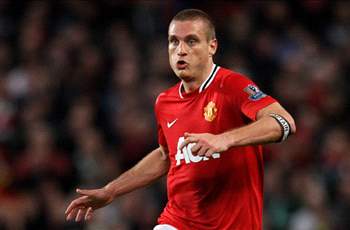 MANCHESTER CITY: Nemanja Vidic
. He'd be the ideal partner for Kompany in the centre of the defence once he returns from injury.
MANCHESTER UNITED:
David Silva
for all the reasons highlighted already. He's a magic little player full of guile and craft - everything that's missing from United's midfield at the moment. But let's be honest, with the Glazer family in charge I think we've seen the last of United competing with Europe's biggest clubs (and City) for the continent's best players.
What are your thoughts on the Europa League, do you want to win it?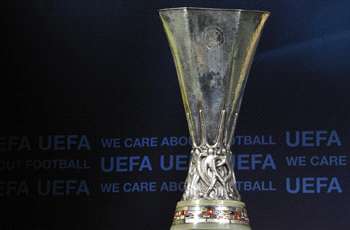 MANCHESTER CITY:
Any European trophy is a great achievement, but I won't be too disheartened if Porto knock us out. It's a difficult draw, and it'd enable us to concentrate on winning the Premier League which, ultimately, is the main target.
MANCHESTER UNITED:
If it's Untied versus anybody at tiddlywinks fans will support the men in red. But it's the second division of Europe, and until United get nearer the big prize nobody will consider the Europa League all that important. Having said that, everybody's looking forward to an away day in Amsterdam next month!
And, finally, what are your general thoughts on the rivalry – strongest it's ever been?
MANCHESTER CITY:
I think so. The rivalry has always been intense, but it's been pretty one-sided for the last two decades. City are now competing on an even footing, and United fans don't like it.
MANCHESTER UNITED:
There's certainly more hype than ever because of the global appeal, media coverage and money involved. That City actually have a decent side for the first time in a couple of generations of course intensifies the rivalry on the pitch. For decades City were an irrelevance on and off the pitch. Now the buzz in Manchester has intensified, even if the Blues still can't be bothered to turn up for matches. The city is theirs? Then why hasn't this game sold out?
How do you stay up to date with football when on the move? With http://m.goal.com – your best source for mobile coverage of the beautiful game.