COMMENT

By Wayne Veysey at Wembley
Whatever happens between now and the end of a sometimes rocky
Manchester City
tenure,
Roberto Mancini
can hold his head high.
It may be overstating it to say that, by shepherding a team funded by owners sitting on a 10th of the world's oil reserves to a Champions League spot and a cup trophy, Mancini has become a City icon.
But by uncorking a winning mentality and allowing the champagne to flow here at Wembley, he will forever be associated with the start of what the club and their far-too-long-suffering fans hope will be a glittering new era.
Mancini is respected, if not, perhaps, loved, by the City faithful. He was given a thunderous hand by the masses as he made his way somewhat self-consciously towards the fans afterwards. Immaculately groomed as ever, he offered quick, staccato-style claps interspersed with the odd wave to the delirious flag-waving, replica-shirted worshippers.
Only perhaps Yaya Toure and Carlos Tevez received receptions to match that of their manager, who had designed a triumph that was perhaps easier on the eye than many had expected.
The oft-cited criticism of Mancini's reign is that the tactics are far too cagey given the bountiful resources at his disposal. At times this season, there has been a frustrating reliance on moments of inspiration from Tevez and, to a lesser extent, Toure and David Silva, to eke out victories.
Yet, at Wembley, there was evidence of flair to match the undoubted resilience and organisation that makes City look so similar in set-up to a Serie A team. Some of the combination play and movement of the front four was out of the top drawer.
The ball was a magnet to Silva's left foot as the Spaniard rose to English football's greatest annual occasion and demonstrated his wizadry skills. If he had an assassin's instinct to match his velvet touch, he would be unstoppable.
There is surely no other adjective to describe the winning goal from Toure. The king of Wembley followed up his semi-final show-stopper with a brutal left-footed shot that would still be travelling now had its path not been impeded by the Stoke City net.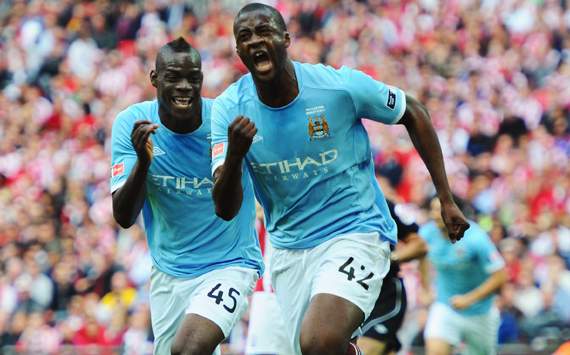 Blue is the colour | Toure & Baliotelli celebrate the goal that ended City's trophy drought
The hulking figure of the big Ivorian was lost amid the bodies that piled on top of him afterwards. Mancini punched the air gleefully and smiled the smile of a man who recognised that victory was in his grasp.
Indeed, City barely broke sweat in the last 15 minutes as they comfortably shut the back door and prevented Stoke from over-exerting Joe Hart in goal.
This is arguably Mancini's greatest gift to City – the consistency and calibre of performance he has coaxed from the defensive half of the team. Joe Hart, Vincent Kompany and Nigel de Jong have very few off days and were all outstanding here, while Micah Richards and the much-maligned Joleon Lescott did not suffer in comparison. The two Englishmen have done enough over the last few months to suggest they still have a future in Manchester.
Yet Mancini had also gone for the jugular. When the scores are level, he normally fields an attacking substitute at the expense of an offensive player. Not this time. Gareth Barry was withdrawn midway through the second half and in his place came the jinking figure of Adam Johnson.
It gave City more threat, Stoke more headaches and helped break down the stubborn resistance of a Tony Pulis side that had been second best all afternoon.
So, what of Mancini's own future? Received wisdom is that he deserves the time and space to build on the triumph that ensures the infamous Old Trafford banner – "35 years" – is finally ripped down.
Yet it is by no means certain that the son of Italy will be in England on the first day of next season despite the City project being ready for lift-off.
Financial Fair Play rules prevent a repeat of the vast sums spent over the past two summers – unless there is a firesale of the first-team squad – but such are the resources at City that the maximum amount of money will always be available to the man in the dugout, be it in filling the academy with the best teenagers in the world or replacing one extravagantly rewarded but unhappy first-teamer with another A-lister.
Tevez has surely come to the end of the two-year cycle that has marked his relationships with all his employers dating back to his days as a rising star of Argentinean football.
Nevertheless, these are clearly exciting times at Eastlands. Not that Mancini is getting carried away. He said he would be celebrating his first trophy in English football "with a shower and dinner". Not a drop of alcohol would be touching his lips, he said. After all, the club have a league encounter with Stoke on Tuesday and there is third place still to play for.
In many ways, Mancini has achieved what he was brought to City to do. He has helped the club get back on its feet and restore some pride to an institution battered by the precious metal being horded down the road.
Friends of Mancini talk of his self-determination, strength of personality and absolute belief in his own ability. There is no room for doubt in Roberto's universe.
At City, he has done it his own way, in the face of some monster egos threatening his own control of the dressing room.
The result: the blue moon has finally risen again. And Mancini deserves to be saluted for the part he has played in that.