EXCLUSIVE
By
James Daly Former
Manchester City
goalkeeper
David James
has been on the winning and losing sides in
FA Cup
finals - and believes this year's staging will be as tough to call as any before.
While Manchester City have the riches and are very much favourites to lift a trophy for the first time since 1976, Stoke City have the form and spirit to cause a famous upset in England's major domestic final.
James - who lifted the trophy with Portsmouth in 2008 but tasted defeat in last year's final against Chelsea, as well as in 1996 with Liverpool and in 2000 with Aston Villa - gives
Goal.com
the lowdown on five key battles that he thinks will settle the match at Wembley on Saturday...
Matthew Etherington v Micah Richards
"
Etherington had a good season but I think this is an opportunity for Micah Richards to shine. As well as Manchester City have done this year he hasn't really been in the frame.
"It's an opportunity to show on the best stage he will have played on in his career why he should be included back into the England set-up.
"He was a young talent that a lot of people raved about. I didn't have much experience playing with him; I think he broke in to the Man City side when I left, but he was obviously included in lots of early group matches for England with Steve McClaren. It's an opportunity for him.
"
Jermaine Pennant v Pablo Zabaleta
"
This is no bias after being in the Portsmouth team with Jermaine Pennant but he is just so raw and again is another player who for all the early talent he showed when he was with Arsenal, has faded a bit.
"It's also an opportunity for him to show the world why he should be taken seriously. Psychology plays a part in every player's performance and it will with Jermaine but I think given the run-in he's had to the season it's a great opportunity for him to maybe add silverware.
"
Kenwyne Jones v Vincent Kompany
"
Kompany has had a great season for Manchester City, but I think I'm going to go with Kenwyne here. Mainly because I feel that he is a big time player and it's the first opportunity I think he will have had to play at Wembley; I just think he'll be up for the occasion.
"I actually think that Man City will win the game but that's not to say that these individual battles won't have different outcomes. He's going to be a focal point for Stoke that's for sure and I think playing against Kompany is a challenge he'll possibly win.
"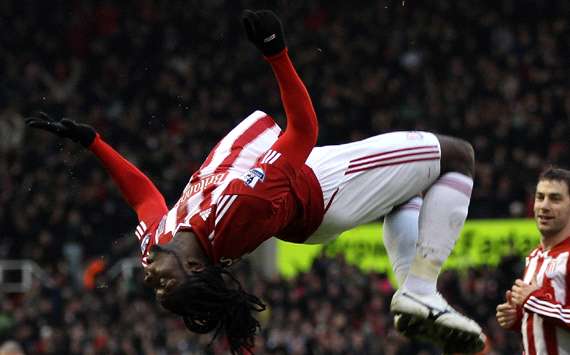 Head over heels | Will Kenwyne Jones be celebrating on Saturday?
David Silva v Glenn Whelan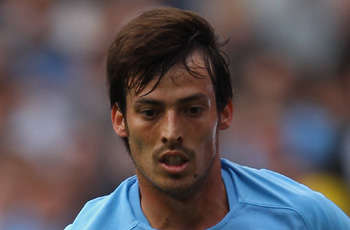 "I think Silva will be pulling a few strings"
"
I think Silva will be pulling a few strings. From what I've seen he's looked very good. Unfortunately the £25 million price tag is not always a reflection on a player's ability and whether any player is ever worth that amount of money is questionable, but as far as being an influential player in a cup final I think he's got every chance.
"Anyone who signed for Manchester City knew what was at stake and that was being successful and winning trophies; they've got the Champions League qualification out of the way and now it is a chance to win something.
"
Edin Dzeko v Robert Huth
"
This is an interesting competition because the initial reference will be Huth's defending ability against Dzeko's attacking ability but Huth himself has got the potential to score goals at the other end; there I think Huth's influence on the game will be large, beyond the defending side of things.
"But given that I think Man City will win the final I guess I'm going to have to say Dzeko for this battle! City are playing well; they're in a cup final and it's an opportunity for the team to win a trophy, and if they share any sort of belief, which I'm very much sure they do about winning trophies as opposed to just qualifying for competitions, then this is a big opportunity for them.
"
David James is celebrating Wembley Stadium's 25 Greatest Events. Fans can re-live iconic football moments at www.wembleystadium.com/greatestevent and vote for their favourite to win prizes including a VIP box at England v Holland on August 8.