Tony Pulis' men have confounded their critics with an emphatic run to Wembley, while exceptional finances and a local owner make them the model for other clubs to aspire to
COMMENT
By Miles Evans
When thousands of
Stoke City
fans pour down to London for the first
FA Cup
final in the club's 148-year history on Saturday, they will do so with spirits higher than ever and with a good dose of self-satisfied virtue to boot.
After years of watching Stoke suffer the agonies and ecstasies of relegation and promotion around the lower echelons of the English game, Potters fans all of a sudden find themselves the envy of many of the country's football followers.
Consider the facts. Stoke have secured their place in the Premier League for a fourth straight season, they will play in next year's Europa League, their first major silverware for 43 years is just one win away, and, perhaps uniquely, they are English-owned and debt-free.
So, the club from the home of the oatcake and Josiah Wedgwood, where grown men unnervingly call you 'duck' has finally reached the promised land.
Rewind a mere 10 years or so and the contrast could not be starker. After current chairman Peter Coates sold his share in his beloved team to a consortium of Icelandic businessmen, the club's fortunes and finances went into freefall.
The affable Coates was hounded out by fans frustrated at the lack of success while local
rivals like Birmingham, Wolves, West Brom and Derby enjoyed fleeting but satisfying dalliances with the top flight.
The managers' revolving door needed to be well oiled. Lou Macari, Joe Jordan, Asa Hartford,
Chic Bates, Chris Kamara, Alan Durban, Brian Little, Gary Megson, Johan Boskamp and Gudjon
Thordarsson all came and went in a little over five years.
Tony Pulis's first spell in charge of the club ended in rancour in 2005, as he joined the flurry of
managers to make minimal impact.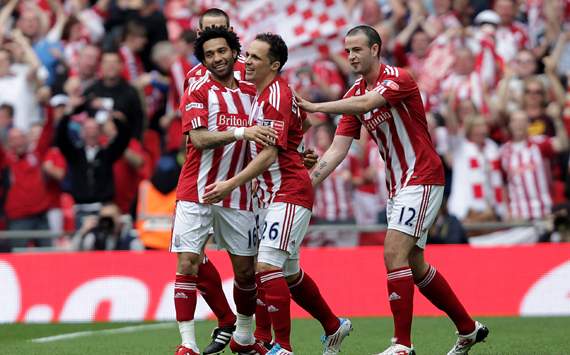 History makers | Wembley heroes emphatically booked first ever FA Cup final appearance
Yet the turning point for the club came in 2006 when Coates flew in the face of supporter angst
towards him and the overwhelming economic climate by piling the millions he'd earned from his
online betting venture to rescue the club of his childhood.
Promotion to the Premier League was secured at the end of the 2008 season and the team has been defying the odds and critics of their direct style of play ever since.
At the start of 2010, Stoke announced they were clear of any external debts on the same day
Portsmouth announced it was going into administration.
And here lies the virtue the club's fans are relishing. People may not like their playing style but they are surely the shining example of how a Premier League club should be run: English-owned, debt-free, investing heavily in its youth programme, and essentially existing within its means.
As Pulis says: "The chairman, Peter Coates, has been a fan since his boyhood and he knows this club inside out. He and his family have put so much into the club. This is a family club, run for the fans, and by local people."
Now talk of a return to the halcyon days of the early 1970s – when Stoke were beaten in consecutive FA Cup semi-finals by Arsenal in 1971 and 1972, and claimed their only major trophy when George Eastham's goal won the 1972 League Cup final against Chelsea – does not seem so churlish.
The latter defeat to the Gunners entered local folklore as John Radford's winner was
allowed to stand after a linesman mistook a programme seller on the far side of the ground as a Stoke defender.
Since then Stoke's FA Cup record has brought new meaning to inglorious. Other fans could wallow in the memory of their near-misses, but Potters had only a handful of distant-misses to go teary-eyed over.
Last year was the club's first quarter-final since those heady days of Alan Hudson, Gordon Banks,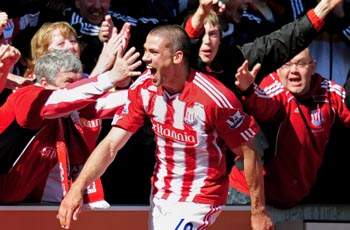 "Stoke's fans responded to Wenger's rugby team remarks with a chorus of 'Swing Low, Sweet Chariot' round the Britannia"
Terry Conroy and Jimmy Greenhoff, and then it all came together this season with a kind draw and one of the greatest days in the club's history.
City had seen off Cardiff, Wolves, Brighton and West Ham in earlier rounds before travelling to Wembley to take on Bolton in the semi-final. No Stoke fan present will ever forget that day.
A 5-0 hammering was one of the biggest semi-final wins the hallowed tournament has seen and they are unbeaten since, including a 3-1 humbling of Arsenal. There has been no fiercer critic of Stoke's combative style than Arsene Wenger, who once compared the Potters to a rugby team.
So imagine the delight among the home fans when a chorus of 'Swing Low, Sweet Chariot' rang
round the Britannia, the anthem of English rugby ringing in Wenger's ears as Stoke ensured they
stayed up and in doing so ended Arsenal's faint hope of the title. Satisfying.
Delilah, the anthem adopted by Stoke fans when they endured their darkest days, will echo loud and proud round Wembley on Saturday against Manchester City and the weight of evidence suggests the success won't stop any time soon.
Miles Evans is Chief Editor of Omnisport