By
Graham Lister
Saturday's FA Cup semi-final between
Manchester City
and
Manchester United
is the 159th competitive meeting between the two clubs, but the rivalry has been punctuated by periods of co-operation, the bitterness ebbing and flowing with their fluctuating fortunes.
City are seeking their first major trophy since 1976, while United have been habitual collectors of silverware, particularly over the last two decades under Sir Alex Ferguson. He may relish putting down newly-rich City as the 'noisy neighbours', but it wasn't always that way in Manchester.
Indeed, prior to World War II, United were the poorer relations of Manchester football.
Early days and the Edwardian era
The first League derby was in 1894–95, when Newton Heath (later United) beat Manchester City 5–2 at Hyde Road in the Second Division; their first top-flight meeting came in December 1906, City winning 3-0.
After winning the FA Cup in 1904 a scandal engulfed City, found guilty of breaching financial rules. They had 17 players suspended and banned from representing the club again. When the suspensions ended, four players - Jimmy Bannister, Herbert Burgess, Sandy Turnbull and the outstanding if idiosyncratic Billy Meredith - were signed by United, who had appointed Ernest Mangnall as manager in 1903.
Turnbull earned notoriety as the first player sent off in a derby, while 'Welsh Wizard' Meredith, City's superstar captain, had scored the winner in the 1904 cup final, and also netted both City's goals in Manchester's first ever League derby. He now played a key role as United claimed their first league title in 1908, the FA Cup in 1909 and the league title again in 1911.
Mangnall switched from United to City, his last game in charge of the Red Devils being the Manchester derby in September 1912 when the Citizens won 1-0, to Mangnall's delight. He remained at City's helm until 1924, even re-signing Meredith in 1921. Meredith played on for City until his 50th year, clocking up 390 games (150 goals) as well as 335 for United (36 goals).
The inter-war yo-yo years
Between the wars, United were relegated three times and City twice, the clubs often missing each other as they went in opposite directions.
However, they did meet in the 1926 FA Cup semi-final, when City won 3-0 with Tommy Browell scoring twice. They went on to lose the final, but were the more successful Manchester club in this period. A key City player was Matt Busby, destined to become synonymous with United.
The Busby Babes and the Revie Plan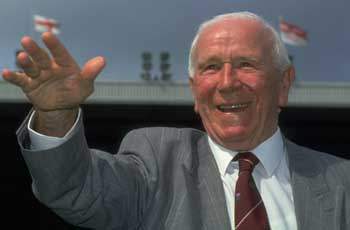 Pre-war City wing-half Matt Busby became a legendary post-war figure for United
In 1945 United secured his services as manager, and he transformed their fortunes, leading them to FA Cup glory (1948) and the league title (1952), before his thrilling young side captured back-to-back championships in 1956 and 1957.
City reached consecutive FA Cup finals in 1955 and 1956, winning the latter with a tactical system dubbed 'the Revie Plan' after their pivotal deep-lying centre-forward, Don Revie.
The 1956 Charity Shield was thus a Manchester derby, with League champions United triumphing 1-0 over FA Cup winners City. Dennis Viollet scored the goal.
United went on to become England's pioneers in the European Cup, but paid a heavy price in February 1958 when their plane crashed at Munich, decimating the Busby Babes. United lost eight players, while journalist Frank Swift, City's illustrious former goalkeeper, also perished.

Intensifying rivalry in the 1960s and '70s
Both clubs enjoyed much success and some disappointment in the '60s and '70s, when bad feeling between the sides became more evident, particularly in several notorious derbies.
In May 1963 both clubs were mired in a relegation battle, second and third from bottom of the First Division and separated by one point. City were just four minutes away from a crucial win when David Wagstaffe's kamikaze back-pass was intercepted by Denis Law - a former City favourite now at United - who was then fouled in the area by City 'keeper Harry Dowd.
Albert Quixall converted the penalty to earn United a point that contributed to their survival and City's demotion at the end of the season.
City gained sweet revenge in 1968 when their 3-1 win at Old Trafford proved pivotal as they finished two points ahead of their neighbours to clinch the league title.

A meeting at the end of the 1973–74 season became known as
'the Denis Law game'
. With United striving to avoid relegation they desperately needed victory. But after 80 goalless minutes, Francis Lee played the ball towards Law, the former King of Old Trafford, who had rejoined City after being discarded by United boss Tommy Docherty. With his back to goal, Law back-heeled the ball past goalkeeper Alex Stepney into the net. Dismayed at the implications for his former club, Law was immediately substituted and later revealed he'd seldom felt so depressed.
In the closing minutes, United supporters invaded the pitch in an attempt to get the match abandoned, but the result stood, and United's relegation was confirmed.
The 1980s end with a stirring City win
City suffered two relegations themselves in the 1980s, while United, despite two FA Cup triumphs, had replaced Ron Atkinson with Ferguson as manager in 1986. But on September 23 1989 he experienced what he called "the most embarrassing defeat of my managerial career".
City manager Mel Machin sent his team out to play with passion, and they didn't disappoint. But United's woeful defence let Fergie down big-time, with Gary Pallister, then England's most expensive player, particularly hapless.
David Oldfield (2), Trevor Morley, Ian Bishop and Andy Hinchcliffe scored the goals in a resounding 5-1 City win, though future City boss Mark Hughes volleyed a superb consolation for United. There were chants of "Ferguson out!". In an ironic twist, it was Machin who was sacked a few months later.

Unit
ed dominate the next decade
United went the whole of the 1990s unbeaten in Manchester derbies, though City were relegated from the top tier in 1996 and tumbled into the third tier for the 1998-99 season.
The first derby following the start of the Premier League era was a 2–1 home win for United in December 1992 when Eric Cantona, who went on to score eight goals in Manchester derbies, made his United debut.
He netted twice in one of the best ever, on November 7 1993, when United overturned a 2–0 deficit at Maine Road to win 3–2. Cantona also scored a double in the return as United won 2–0, and was on target again on November 10 1994, when Andrei Kanchelskis hit a memorable hat-trick in an emphatic 5-0 United win.
The new millennium opens with Roy Keane settling a score
The first Old Trafford derby of the new century was notorious for the retribution sought by United skipper Roy Keane on City's Alf-Inge Haaland. Their feud had begun in 1998, when Haaland wrongly accused Keane of feigning injury.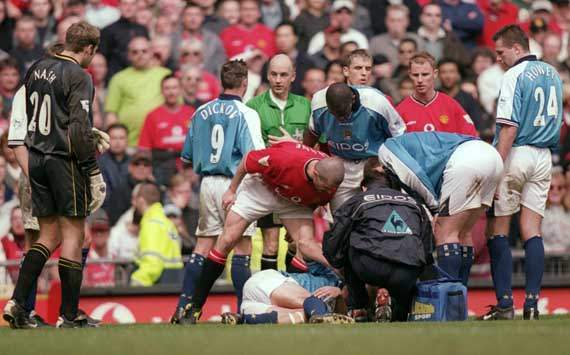 Take that | Roy Keane exacts retribution on Alf-Inge Haaland
In April 2001, Keane launched a knee-high tackle at Haaland, for which he was sent off. He later admitted the challenge had been a premeditated attempt to injure the Norwegian, and was fined and suspended.
On November 9 2002, City - now managed by Kevin Keegan - won the last derby at Maine Road 3–1, a game memorable for City cult hero Shaun Goater's 100th and 101st goals for the club. It was City's first win over United since 1989.
United's goalkeeping legend from 1990-99, Peter Schmeichel, had joined City in 2002 and was appearing in his final season before retiring, thus maintaining his remarkable record of never losing a Manchester derby.
City followed up by winning the first ever derby at their new City of Manchester Stadium (Eastlands) 4-1.
Both 2007-08 derbies were also won by City, their first double since 1969-70. The meeting at Old Trafford in February 2008 marked the 50th anniversary of the Munich disaster, with a minute's silence impeccably observed before Darius Vassell and Benjani scored City's goals in a 2-1 win.
The latest thrilling encounters
Following City's emergence as the world's wealthiest club, the rivalry has moved up several notches, with the Citizens striving to move out of United's long shadow.
Ferguson suggested that the Old Trafford derby of September 20 2009 was the best ever. His team won 4–3 after City had equalised three times - only for Michael Owen to score the decider with 95 minutes on the clock.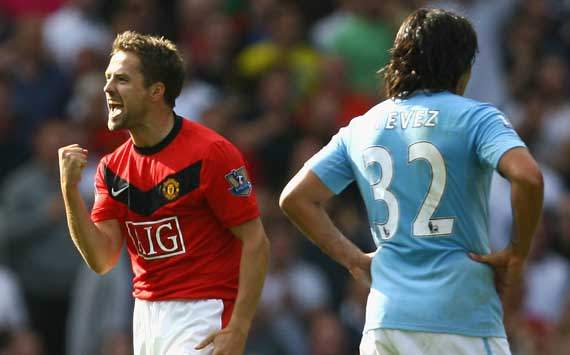 Last gasp | Michael Owen scored the seventh in an epic derby, leaving Carlos Tevez dejected
That same season, the two teams were drawn against each other in the League Cup semi-finals. City won the first leg 2–1, a brace from former United player Carlos Tevez cancelling out Giggs' opener. United went 2–0 up in the second leg through Paul Scholes and Michael Carrick before Tevez made it 2–1, only for Wayne Rooney's dramatic stoppage-time header to win the tie for United.
This season, a goalless draw in November was followed in February by United's 2-1 win, memorable for the stunning overhead kick scored by Rooney.
After that game, the record stood at 66 United wins, 42 for City and 50 draws in 158 competitive Manchester derbies. In the FA Cup, the tally is two wins for City and five for United.