By
Nick Price


Wayne Rooney and Sir Alex Ferguson basking in the sun
The Manchester United manager and his foul-mouthed star striker are both serving suspensions and will not be able to participate at Wembley, but that won't stop them from giving it their all for the boys on the pitch from up in the stands.
Looking at the weather forecast it's set to be an absolute scorcher in London over the weekend, so Ferguson and Rooney ought to have their sun block applied prior to kick-off and before peeling off their shirts to soak up the rays. Expect hideous burns and sweat patches.
Roberto Mancini taking a paddling from 40,000 Mancunians unhappy with his team selection
The Italian manager held his hands up and admitted that his side's 3-0 thumping at Anfield on Monday was his own fault because he picked a, how should I put it, terrible team to play Liverpool. The former Inter man has been curiously curious this season – wearing scarves when it's perfectly nice and warm out as well as giving Gareth 'tortoise' Barry the keys to the midfield.
If City play as abjectly awful as they did at Anfield, Blues fans should each be allowed to lash their bumbling boss on the backside, and he'd deserve it.
Ryan Giggs giving someone else a shot to win things


The Welshman will be playing in the 7,608,982nd game of his career if he figures at Wembley. He's pretty much mastered football and he's already won the FA Cup a few times, so why's he still going?
Selfishness, that's why, he's just refusing to let anyone else play. Maybe deep down in that twisted mind of his there's a conscience, a little muscle in his brain that will twinge and cause him to think: "You know, I should give someone else a go and spend some time with my family for a bit."
Do it Ryan, you greedy old codger.
Darron Gibson breaking the giant screen with a wayward shot
There was once a time when the Irishman was viewed as a long-term replacement for Paul Scholes, now United are looking for a long-term replacement for him. Defences cottoned onto the fact that he isn't all that good and will, nine times out of 10, just choose to shoot when he's got the ball regardless of the abundant passing options presented to him.
The academy graduate has a rocket of a right foot but he has a geriatric's eyesight, causing most of his shots to fly wildly away from target, meaning that the giant screen at Wembley, which isn't all that far above the goal, is in the firing line – just don't ask Gibson to hit it or he'll completely misjudge and end up scoring.
Gareth Barry doing a tortoise goal celebration
The Manchester City midfielder was last week the victim of an attack by Joey Barton. No, not the sort of attack that sees a cigar stubbed out in your eye, or your face pummelled into the ground by the nutjub Newcastle man, but a personal attack about his "slow as a tortoise" game.
Barry should hit back by finding the net and celebrating by whipping out a tortoise shell and crawling along the goal-line for half an hour. That won't happen, however, not because the former Aston Villa man lacks a sense of humour but because Barton was absolutely right and Barry will not score because he's rubbish.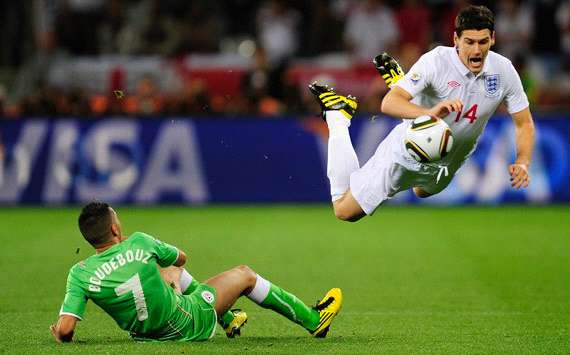 Is it a bird, is it a plane? | No, it's an average midfielder falling over
Mario Balotelli struggling to get dressed
The Italian forward has come in for plenty of criticism in his maiden, and possibly only, season in English football. From throwing darts at kids to getting sent off for pointless rakes on opponents' chests, the 20-year-old has been there and got the t-shirt.
Fat load of good a t-shirt would be though for the striker, who last month struggled to get a bib on in the warm-up to Manchester City's European clash with Dinamo Kiev. Don't know about you, but seeing Super Mario struggle to get dressed is the thing I'm most excited about seeing at Wembley on Saturday.
Owen Coyle wearing jacket, shirt, tie... and shorts
It's an unwritten rule that games at Wembley should see managers turn up suitably sartorial, with a three-piece suit and tie considered the norm. Bolton boss Coyle, however, suits up for nothing, probably not even his own wedding or family functions.
The Scot is never seen without his customary short shorts, leading to many unfair barbs from gents in the stands, who are obviously just jealous of the Trotters boss's manly legs. Frankly, if you've got it, flaunt it, and the former Burnley gaffer should rock up on game day all business above the belt and full on party below it.
Tony Pulis shaking hands with the royal dignitaries in his baseball cap
Like his counterpart on Sunday, the Stoke City boss always makes a fashion faux pas with his trademark Roland Rat cap sitting snugly over his head, occasionally coming off when the Potters manager gets particularly irate at a dodgy decision. Or even a fair one, for that matter.
This column applauds the versatility of the garment (when you can remove a piece of clothing to indicate your displeasure, you have to, well, take your hat off to it) and expects to see the Welshman stick a defiant "up yours" on the touchline to the traditionalists who insist that only a tailored suit is befitting of a place on the hallowed Wembley dugouts.
Rory Delap taking run ups for throw-ins from Row H
The Northern Irishman has launched, quite literally, his way into the collective memory of Premier League fans the world over with his trademark long throws that arrow their way towards goal.
At the Britannia Stadium the veteran midfielder has the benefit of ball boys that happily separate the advertising boards so he can get a good 40-yard run up to fling his throws into the box. If you're in Rows A through to H at Wembley, expect a red-and-white hairy bloke to be treading on your head whenever Bolton boot the ball over the touchlines.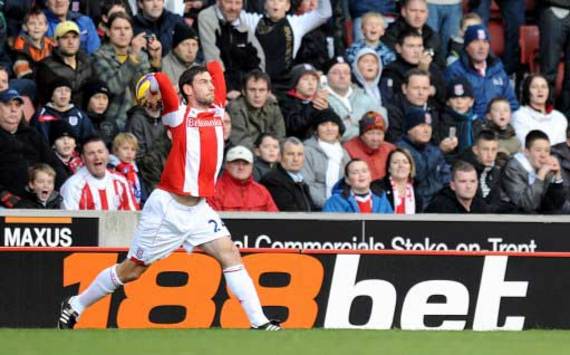 Go go gadget arms | Expect to see this man's backside in your face in the front rows
Children and grown men crying
It's what big games are all about. Just when a team has conceded a late losing goal, the TV director will cut to a youngster bawling its eyes out about seeing their side crash at Wembley. It's all about learning, kids. It's the second step towards becoming a grown up.
Step one of losing your innocence is finding out that the Easter bunny and the tooth fairy are made up figures (Santa's real, mind) with the next step being to cry at a football match. If you see a grown man in tears at Wembley this weekend don't take the mickey, he's probably only just found out that he won't be getting 50p after putting a broken tooth from a lost bar fight under his pillow.
Follow Nick Price on