A week after
Wayne Rooney
's dazzling overhead kick defeated
Manchester City
at Old Trafford,
Manchester United
welcome another club whose unexpected riches from a foreign investor has got rival clubs calling foul.
Meet Crawley Town - the Manchester City of non-league football.
Ninety-three places separate the Premier League leaders with their FA Cup fifth round opponents, with Crawley sitting second in the Blue Square Bet Premier Division.
But who are Crawley Town? How did they get here? And why have they been dubbed, 'The most hated team in non-league football'?
Crawley have had their share of ups and downs recently, especially with finances. The club were close to liquidation in 2006, having been burdened with point deductions in previous seasons for poor housekeeping.
Since then Crawley have had a huge reversal in fortunes, both literally and figuratively.
A takeover, followed by investment from some anonymous parties based in Hong Kong, has revitalised the club, with all debts (around £1.4 million) being cleared and massive investment in the transfer market. The impact has been miraculous.
While you'd be hard pressed to find a non-league club who would turn down the type of money (or any money, for that matter) that Crawley have come into, the extra financial backing has undoubtedly led to some jealousy amongst other non-league fans, an easy rod with which to beat the Crawley fans.
It is seen by many as buying success, almost a form of cheating. Many fans will be familiar with the antipathy displayed towards Chelsea, and more recently Manchester City, for spending heavily when they come into money. Crawley's situation has been mooted as the 'non-league Manchester City', a phrase that, while harsh, is not entirely false.
NON-LEAGUE DREAMS...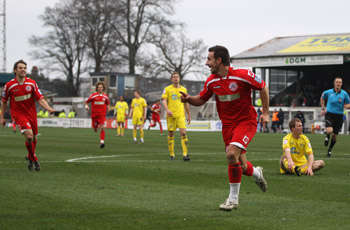 Crawley will hope to emulate the best results of non-league teams against top level opposition in the FA Cup through the years:

1972: Hereford 2-1 Newcastle

1989: Sutton Utd 2-1 Coventry

2005: Man Utd 0-0 Exeter

2006: Burton Albion 0-0 Man Utd

The undoubted signing of the season has been Matt Tubbs, who joined for a reported £70,000. Last year's joint top scorer in the division while at Salisbury looks set to repeat that feat again, with an impressive tally of 28 goals this term in the league, as well as a crucial goal in Crawley's fourth round tie against Torquay United.
Clubs including Leeds United are rumoured to be interested in buying Tubbs, and according to Crawley manager Steve Evans, there were bids turned down for the striker during the January transfer window.
Another key signing has been Pablo Mills, who has become the rock of Crawley's defence and club captain since his arrival from Rotherham. That the defender turned down offers from several league clubs speaks volumes about Crawley's ambition and probably their financial clout too.
Perhaps the most famous of all Crawley's signings this season has been Sergio Torres. It was his last-minute winner that gave Crawley real recognition, as they overcame Derby County in the third round of the cup.
He has become somewhat of a cult hero among fans, as he remains the 'last Torres in the FA Cup' (Chelsea's £50m man is cup-tied), and has an interesting history. He worked in his local Boots pharmacists in Basingstoke while trying to play his way up the leagues in England, cycling to work at 5:30 in the morning.
He convinced himself to stay in England rather than return home to the prospect of working in his father's brick factory in Argentina.
What followed for Sergio was a place in FA Cup folklore thanks to that winner against Derby, and a pitch invasion from the fans, ensuring scenes that Crawley fans won't be forgetting anytime soon.
It goes without saying that the manager has had a large impact on the team. Steve Evans is a truly unpopular figure with many who follow football, not least for having received a suspended jail sentence in 2006 for admitting his part in helping Boston United evade a £250,000 tax bill. However, he has built a team to be reckoned with at Crawley.
So the attention turns to Old Trafford on Saturday, with 9,000 fans making up Crawley's travelling contingent. They will be hoping not to experience a nightmare in the Theatre of Dreams.