There are changes aplenty at the City Ground with the club being taken over and the manager having departed, so what is around the corner for the Championship's sleeping giants?
COMMENT
By Joel Lamy
After a fall from grace that began with relegation from the
Premier League
just over a decade ago,
Nottingham Forest
remain in a state of confused flux.
With manager Steve Cotterill having been sacked on Thursday morning, only a day after the club was bought by Kuwaiti tycoon Fawaz Al-Hasawi, those at the City Ground are facing up to another season of the unknown.
The arrival of Arab billions would, at most clubs, bring cause for heightened expectations among supporters and the incisive nature of Cotterill's dismissal would suggest that Al-Hasawi has big plans for a club that were European champions just over three decades ago. But Forest fans have been stung before.
At the beginning of the 2011-12 campaign there was a great deal of optimism amongst Forest supporters. Despite missing out in the play-offs for the second season running they had former England manager Steve McClaren in charge and with it the promise of plenty of financial backing to make the dream of returning to the Premier League for the first time since 1999 a reality.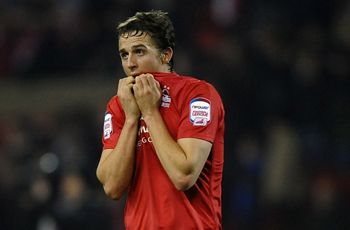 Whoever is put in charge will be extremely busy putting together a squad capable of competing in the Championship once again, never mind pushing for promotion
However, what transpired was a nightmare for all Forest fans: McClaren resigned after 112 days in charge with the team having picked up just eight points in 10 matches. The new, experienced players brought in such as Jonathan Greening and George Boateng looked horribly off the pace, the strikers could not score and the once water-tight defence had completely gone to pieces.
Worse was yet to come, with owner and lifelong fan Nigel Doughty, who had saved the club from administration in 1999, stepping down as chairman after protests at the City Ground over the way he and much-maligned chief executive Mark Arthur were running the club. Doughty said he would not put another penny into Forest, who already owed him £75.6 million worth of debt.
This was compounded with his sudden death in February which rocked Forest and its fans. Despite his best wishes, the club were spending more than 100% of turnover on wages, were looking likely to be relegated having gone seven matches in a row without scoring, and had several of their best players out of contract both this summer and in 12 months' time.
Importantly for the club, they were taken over on Tuesday by Kuwaiti businessmen the Al-Hasawi family who have wasted no time in sacking the man who helped Forest escape relegation. Steve Cotterill was a heavily criticised figure for the first few months he was in charge. Taking over after McClaren's brief reign had somehow destroyed a successful team and turned them into a toothless outfit, and with the news that their chairman was trying to sell the club, Cotterill was charged with trying to raise morale, avoid relegation and only spend money after selling.
Despite a couple of early wins that barren run without scoring over Christmas saw many wanting the former Portsmouth and Notts County man sacked. A 4-0 defeat to Leicester in the FA Cup had fans chanting for former manager Billy Davies to come back and to make matters worse, stalwart Wes Morgan was then sold to the Foxes with his contract set to expire.
It speaks volumes for Cotterill's subsequent work, though, that the news of his sacking on Wednesday has brought a much more negative reaction than it would have done six month ago. Criticised for the way Forest seemed only to play long-ball football, he used the money brought in from the sales of Morgan and talented youngster Patrick Bamford to Chelsea in order to strengthen his defence with George Elokobi, Scott Wooton and Danny Higginbotham brought in on loan, as well as Adlene Guedioura in midfield.
WHO IS FOREST'S NEW OWNER?

New Nottingham Forest owner Fawaz Al-Hasawi is a member of one of the richest families in Kuwait. He was president of local club Kadsia before resigning in 2012 to pursue investment in a team somewhere in the second tier of English football.
These new signings galvanised the team and Cotterill was able to bring out the best of talented yet underappreciated winger Garath McCleary, inconsistent midfielder Raid Majewski and striker Dexter Blackstock, who had been out for a year through injury. What followed was a remarkable transformation as Forest became the only Championship side to win at St Andrew's and the first team ever to score seven goals at Leeds, with McCleary bagging four of them. Majewski then scored a hat-trick at Crystal Palace and improbably Forest survived.
Despite this, many fans have still not taken to Cotterill. His post-match interviews were the subject of much ridicule as he would come out after every game and claim his side should have won easily. The 4-2-3-1 formation which had started working well away from home was still not producing any goals at the City Ground which had been a fortress under Davies when they went 36 matches unbeaten in the league. Many supporters gave Cotterill no credit for the job he had done, with most citing the work of assistant manager Sean O'Driscoll for the turnaround.
With speculation surrounding the possible takeover of the club for the past couple of months there have been rumours of Neil Warnock taking over and recently it has been suggested that Forest tried to tap up Darren Ferguson with Cotterill seen as a dead man walking.
However, former club legends such as Garry Birtles writing in the
Nottingham Evening Post
said he deserved to keep his job and fans commenting on posts have begun to speak more favourably of Cotterill. Even the announcement of his sacking, which not long ago would have brought great relief to so many, was met with some regret that the man who had given his all to keeping Forest in the Championship had been so ruthlessly dispensed with less than 24 hours since the takeover.
The question for Forest is where do they go from here? Expectation has never been a problem for its supporters and the Al-Hasawi family have done nothing to dampen that with promises of a return to former glories, even suggesting that they may one day return to Europe's elite.
Having spoken so little publicly about their specific plans it will be interesting to hear their press conference on Saturday, but already they have made a positive impression having agreed to meet supporters afterwards and having decided to rename the successful Forest academy after Doughty who did so much for the club.
Nevertheless, there should still be some caution at Forest. The club's finances are in a mess and the squad is heavily imbalanced with only one recognised senior defender after captain Luke Chambers and Joel Lynch finished their contracts and moved to Ipswich and Huddersfield. McCleary has gone to Reading to further decimate the squad which is still full of high earners such as Ishmael Miller on £16,000 a week.
Whoever is put in charge (some are optimistically hoping for Harry Redknapp) will have to be extremely busy between now and the end of August to put together a squad capable to compete in the Championship once again, nevermind push for promotion.
However, having come full circle over 12 months there is optimism once again by the banks of the Trent that some resemblance of their glory days may return. The coming few weeks will show us the true intentions of the Al-Hasawi family but they have already shown their ruthless side by Wednesday's dismissal of Cotterill.
Follow Joel Lamy on