MYTHBUSTER
By Sam Lee
Angel Di Maria
is overpriced, detractors of his move to Old Trafford say. His signing just papers over the cracks, when what
Manchester United
really need is defenders and midfielders.
With Juan Mata, Wayne Rooney and Robin van Persie all in attack, do United
really
need to spend £59.7m on Di Maria at all?
The answer is yes, they do.
United certainly do need defenders and midfielders as well, and Ed Woodward must surely be on his mobile phone speaking to agents and various other middlemen across Europe.
But the attack isn't all it's cracked up to be, either. Nobody is quite sure exactly where Di Maria will play in Louis van Gaal's flexible systems, but he is sure to make an improvement wherever he is deployed.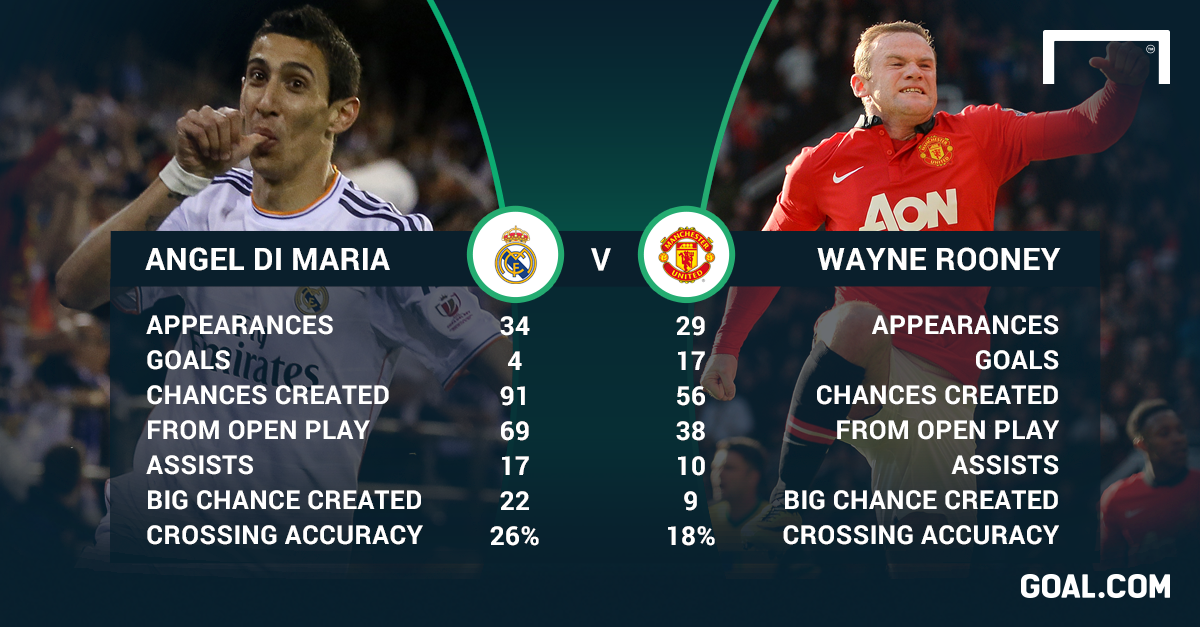 *stats provided by Opta from 2013-14 season
"I have bought him because he can play inside and on the wing, and that is handy for a coach," Van Gaal said on Tuesday. "When I was at Bayern Munich, on August 28 I also bought Arjen Robben, who could also play on the wing and inside."
That is handy, because so far the club's makeshift wing-backs have combined to conjure up the Premier League's worst cross completion rate at 5 per cent this season - 13% lower than their average across the whole 2013-14 campaign.
West Ham led the way last term with 22.64%. Di Maria himself managed 26.28% for Real Madrid, having put in 156 crosses - the fourth highest in Spain.
When he's not putting in crosses he's running at opponents, and last season in La Liga he attempted 110 dribbles, with a success rate of 43.63%. Only one Manchester United player tried more than 70: Adnan Januzaj went at opponents 122 times with a success rate of 41.8%.
There is no stat to express the famous "zig-zag" he produced in the Champions League final which led to Gareth Bale's header and was recently praised on twitter by Xabi Alonso, but it should excite United fans anyway.
¡ Gracias por todo Fideo ! Te deseo lo mejor, aunque sea en el Man. Utd :) Nunca olvidaremos el zigzag de la prórroga en Lisboa.

— Xabi Alonso (@XabiAlonso) August 24, 2014
(Thanks for everything Fideo! I wish you the best, although it's at Man Utd. We will never forget the zigzag in extra-time in Lisbon)
And although Van Gaal chose the 3-5-2 system so he could cram his attacking talents into one team, so far this season his creative players have been blunted.
In terms of creating chances from open play, Ashley Young and Marouane Fellaini lead the way with two each. Chelsea's Eden Hazard has nine already. Some selected others include: Marouane Chamakh and Graham Dorrans with four, and Branislav Ivanovic and Ricardo Vaz Te with three.
It may be a small sample, but last season was hardly any better for United. Rooney and Patrice Evra created the most chances from open play last season with 38 each (though Mata created an impressive 24 in 22 matches, roughly one per match). Di Maria, though, created 69 in 34 games, roughly two per match, the second highest in Spain and what would have been the fourth highest in England.
Of those 69, Di Maria laid on 22 big chances for team-mates, second only to Cesc Fabregas in the Primera Division. Luis Suarez managed that many in England and was the best by far, racking up nine more than Steven Davis in second place.
How many did United's attacking luminaries achieve? Rooney led the way again, but with just nine, while Mata was second with six.
Nani, Van Persie, Young, Antonio Valencia, Shinji Kagawa and Januzaj created Di Maria's haul of 22 between them.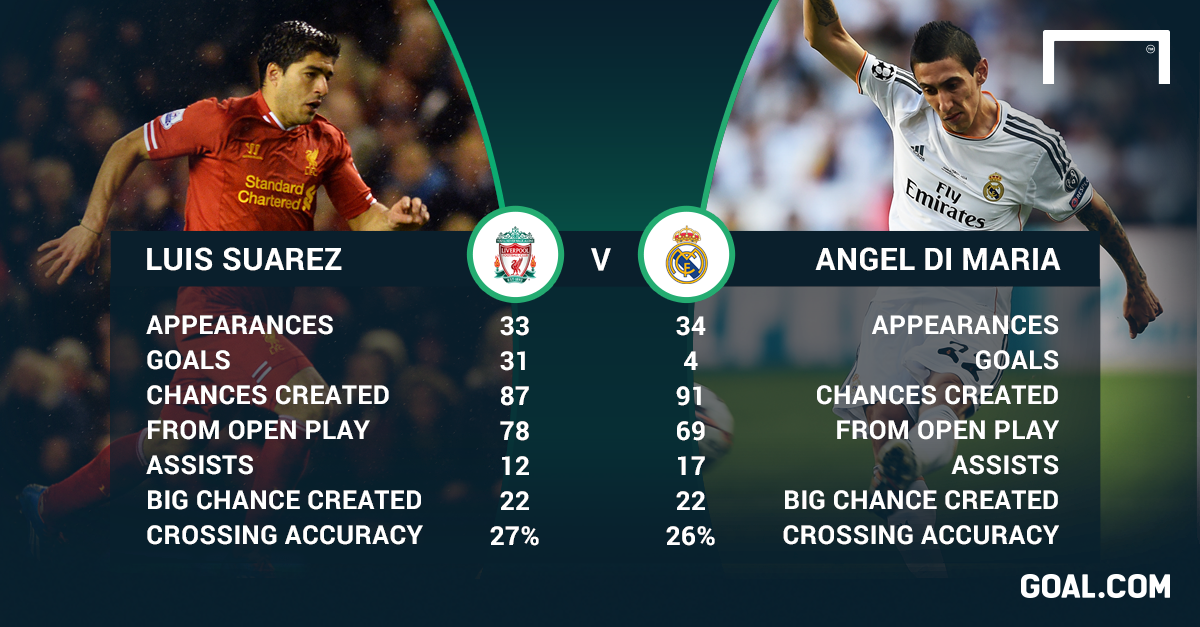 *stats provided by Opta from 2013-14 season
The United attack were hardly dripping in assists, either. Rooney managed 10, the joint third best in the league behind Liverpool duo Steven Gerrard (13) and Suarez (12). The closest Red Devil to Rooney's haul was Mata with four, before Januzaj, Valencia, Van Persie, Kagawa and Javier Hernandez chipped in with three each - and some of those players are expected to leave the club in the next few days.
Di Maria, though, racked up 17 assists - the best in Spain by four.
Tot up all the chances he created last season, from open play, set pieces and including assists, and you get 91, once again the best in Spain. Hazard and Samir Nasri beat that by one each, while the closest United player was Mata was 63.
So as the debate rages on over whether Manchester United were right to spend a British transfer record on a skinny 26-year-old from Rosario, the stats show that he will not just put his new team-mates in the shade, but pretty much everybody else in the Premier League, too.