By Ewan Roberts
A new manager, a new style of football and a handful of new signings mean there has been another summer of change at
Tottenham
– though this time the transition has been less unsettling, with plenty of optimism surrounding White Hart Lane ahead of the new season.
Goal
takes a look at the State of Play at Tottenham…
Tottenham have enjoyed a much more low-key summer this year than compared to the upheaval they endured when Gareth Bale pushed for a move to Real Madrid last year, with seven new faces brought in to fill his enormous void.
Much will be expected of that septet in their second season in the Premier League, especially under new boss Mauricio Pochettino, and as such Spurs have so far only signed four new players – in fact, the north Londoners were the last top-flight club to make any new signings this summer.
They broke their duck with the double signing of Swansea City pair Ben Davies and Michel Vorm, two players possessed of the Premier League experience that had been absent in last summer's much-maligned recruits from overseas.
Wales international full-back Davies should solve a problem position that has existed for far too long, having proven to be a solid, capable defender since breaking into the Swans' starting XI, though Pochettino is unlikely to give up on the pacier Danny Rose just yet.
Vorm, fresh from finishing third at the World Cup with the Netherlands, will provide cover for Hugo Lloris, and the Dutchman's ball-playing ability and speed make him a much more natural deputy for the club's French No.1.
Defensive recruits have been made a priority, with Sporting's English centre-back Eric Dier signed for £4 million, and he could yet be joined in the heart of the defence by Villarreal's Mateo Musacchio.
Full-back Deandre Yedlin, who impressed with the USA at the 2014 World Cup, has also joined Spurs, but will remain with Seattle Sounders until January.
As much due to the club's poor showing last season as anything else, Tottenham have managed to stave off offers for their greatest assets and even tied down their best players, such as the exceptional Lloris, to new long-term deals.
At present the club are operating at a net profit, having offloaded Jake Livermore to Hull City for £8m, Iago Falque to Genoa for £4m and swapped Gylfi Sigurdsson for Davies.
The former two played no role at the club last term and their absence will not be felt, having been on loan at Hull and Rayo Vallecano respectively, but Icelandic midfielder Sigurdsson has proven to be a useful member of the squad, chipping in regularly with goals and assists.
Further departures are expected, with Pochettino complaining that the squad he has inherited is too big. "We have a long, long squad," said the Argentine.
"I think we need to take a decision now to decide how many players to keep, because we have more than 25. For me, too many players. My idea is 25. No more than 25."
Michael Dawson, Vlad Chiriches, Kyle Naughton, Nacer Chadli and Paulinho are among those who could yet leave the club as Pochettino looks to whittle down his squad to a more manageable size.
At present Tottenham have an enormous squad which is likely to be nipped and tucked before the end of the transfer window, though Pochettino has been keen to give as many players as possible the chance to impress before deciding whether they fit his style or not.
And style, for Pochettino, is everything. The former Southampton coach has a very clearly defined philosophy and needs a group of players who are both willing to adapt to his methods and capable of playing the frantic, high-tempo game he promotes.
Lloris is the perfect sweeper-keeper to mop up behind a high line, and there is pace at both full-back positions, but it is at centre-back where Spurs feel lightest and most ill-equipped to embrace Pochettino's philosophy.
Michael Dawson, who will remain as skipper, has floundered when asked to play high up the pitch previously and struggled hugely in pre-season, showing little composure or ability on the ball. Younes Kaboul's long-term injuries make him unreliable, Chiriches has struggled to master the physicality of the Premier League and Jan Vertonghen is deceptively slow.
As such, a centre-back is very much a priority, though a deal for first-choice target Musacchio has so far stalled over third-party ownership complications. Spurs are also looking to strengthen in central midfield, with bids made for Morgan Schneiderlin, though existing options should suffice if Southampton are determined to retain the Frenchman.
In attack, Roberto Soldado – who flopped somewhat spectacularly last season – will be given a chance to redeem himself and has looked more like his old, Valencia self in pre-season, though neither he nor Emmanuel Adebayor are the perfect frontman for Pochettino. Left wing is also an area where Spurs are without an undisputed starter.
Last season, there was feverish excitement at the prospect of Christian Eriksen and Erik Lamela lining up alongside each other. Yet, while the former – eventually – flourished, the latter struggled to justify his price tag, in large part due to injury.
Yet, strangely, it is the Argentine who goes into the new campaign with the greatest sense of expectation, showing flashes of his undoubted brilliance during pre-season, while Eriksen's suitability to play under Pochettino has been called into question.
The Denmark international, though, will be keen to remind everyone just how much of a class act he is and, based on last season, is the stand-out talent in Tottenham's ranks.
Given license to roam in Tim Sherwood's largely structure-less side last season, the Ajax academy product was a rare bright spark in a gloomy campaign. With his touch and control, his flair and no-look passes, his poise and vision, and a virtually unrivalled ability from set-pieces, he became the side's creative talisman.
Now the onus is on Eriksen to prove he can combine his attacking artistry with defensive responsibility and work rate. If he can, he could be an enormously productive player next season, with his quick-thinking and crisp passing likely to suit the positive, attacking football Pochettino wants to play.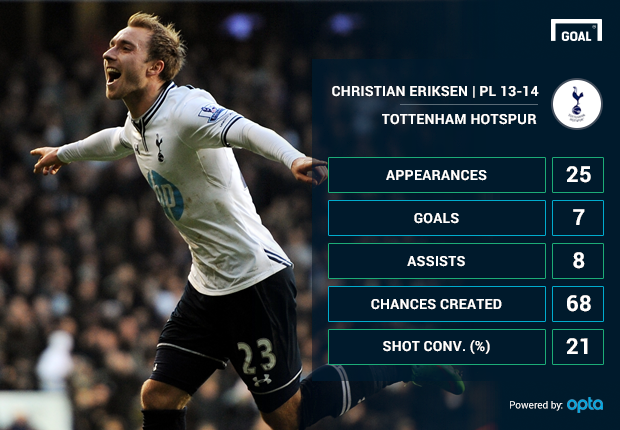 After such an astonishing turnover of managers in the last decade, Tottenham will hope they have finally found a head coach for the long-term – though Pochettino has a huge task on to prove he is more than just another flavour of the month appointment.

The Argentine, still taking the first steps of his burgeoning coaching career, excelled at Southampton, guiding them to an eighth-place finish while also implementing a defined, unique and immensely exciting playing style.

Similarly, at White Hart Lane, Pochettino will be asked to both play the attractive, expansive football he – and Spurs – are known for, while competing on multiple fronts and trying to sneak into the top four in what is shaping up to be one of the most competitive Premier League seasons ever.

Unlike previous incumbents, though, the former Espanyol manager is likely to be given far longer to try and ingrain his style and plot a top-four assault, but already the pressing structure and width of his Saints side is evident after just a handful of pre-season matches.

Pochettino is aided by the fact that he has replaced the largely unpopular Sherwood, despite the latter proclaiming himself as the club's greatest ever manager.

There will be some sense of pressure on the new man, given that Sherwood boasted the highest win percentage of Tottenham managers in the Premier League (though he also posted the highest loss percentage too!), while the former Blackburn skipper provided plenty of headline-grabbing soundbites to satisfy reporters and infuriate fans.

Pochettino, of course, has only just ditched his translator and is much more guarded in front of the press, but if his new Spurs side can quickly show signs of the intoxicating brand of football that beguiled at Southampton, then he should be given ample time to build a team capable of, eventually, challenging for the title.
A GOOD 2014-15 WOULD BE...
The aim for every Tottenham manager in the ENIC era has been to finish in the top four and claim a lucrative place in the Champions League – though the club have only fulfilled that ambition once, in the 2009-10 season, reaching the quarter-finals of Europe's premier club competition the following campaign under Harry Redknapp.
For Pochettino, though, there is a slightly different atmosphere and there have been no targets set. Chairman Daniel Levy is ready and willing to back his new manager and will afford him the time he needs to develop a new playing style, and failure to qualify for the top four this season is highly unlikely to cost Pochettino his job.
That has not stopped the Argentine from aiming high, though. "My challenge is to win the Premier League, eventually. This is our goal, to win the title one day," says the 42-year-old. "Our target at the moment is to provide a team capable of creating our philosophy on the pitch. To develop and improve the style of football we want to play.
"We have an unbelievable squad with some unbelievable players. We need to work to get the players ready to start the season playing with our philosophy. This is our only target at the moment. Afterwards we will see.
"Tottenham are expected to play well and win. Results are important and we will target a position later. But for the moment our aim is to get the squad playing the way we want."
A good season, then, would be to successful implement a new playing style – one that marries greater speed, dynamism and ferocity going forward with more structured, organised shape off the ball – all the while remaining competitive. With a Champions League place up for grabs for winning the Europa League, Pochettino will also be expected to go deep in Europe.