By Sam Lee
As Manchester United prepare for life under Louis van Gaal, the first foreign manager in their history,
Goal
assesses the lay of the land at Old Trafford.
It appears that Louis van Gaal is not a man to be rushed. If you had asked in the middle of June how Manchester United's transfer window was going, you would have got enthusiastic responses. Ander Herrera and Luke Shaw had been brought in for around £60 million between them and the much-needed rebuilding job was well under way. But a month down the line and things are exactly the same.
Van Gaal had signed off these two moves while still in charge of the Netherlands but nothing has been done since. The Dutchman was happy to evaluate his squad during the pre-season tour of the United States, but with Thomas Vermaelen electing to join Barcelona instead, Borussia Dortmund playing hard ball over Mats Hummels, and who knows what going on with Juventus and Arturo Vidal, time is tight. Expect movement between now and the close of the transfer window, and don't rule out a mad dash a la Fellaini-gate.
After the three big defensive exits which most people foresaw, not many players have left the club yet either, even though many are expected to. Rio Ferdinand and Nemanja Vidic were let go at the end of their contracts, while Patrice Evra has gone to Juventus just weeks after signing a one-year extension. Ryan Giggs, of course, has retired to take up the assistant manager's role.
Other than that, it has been surprisingly quiet.
Anderson wasn't even allowed to go to the States with the team, and he will almost certainly go at some point. Shinji Kagawa has been tipped to leave and would be open to the idea, but Van Gaal may even find a role for him in midfield if he cannot bring anybody else in. Ashley Young could be reinvented as a wing-back even though he had looked nailed on to be heading for the exit door, and Javier Hernandez may even be kept around because Danny Welbeck is injured and Robin van Persie will miss the start of the season – though chances are he will have suitors in England and across Europe.
Wilfried Zaha's future is up in the air – especially as Van Gaal says he cannot play as a wing-back – while Nani seems to be attracting no interest even though an exit would suit both player and club (a year after he signed a five-year contract).
At the moment, it is extremely unbalanced. Van Gaal has looked at the players at his disposal and decided that a 3-5-2 is best. Considering that requires three ball-playing, quick centre-backs and a collection of incredibly fit wing-backs and no wide forwards whatsoever, it is a damning indictment of David Moyes' reliance on crosses. Especially when the club aren't exactly blessed with central defenders, midfielders or wing-backs.
Van Gaal says the ability to play Robin van Persie, Wayne Rooney and Juan Mata together is a key factor in his thinking, and they will be key to United's chances next season, but everything behind them until you get to David de Gea is creaky.
After Vidic and Ferdinand left, Jonny Evans, Phil Jones and Chris Smalling are the three senior centre-backs, and none of them covered themselves in glory last season or enjoy healthy injury records. Vermaelen was one target, but he's gone to Barcelona, and Hummels could prove to be the impossible dream, so where United go for defenders is anybody's guess.
In midfield, the problem is not as bad, but still cause for concern. Michael Carrick will miss the start of the season with injury, Darren Fletcher has not been tested at the top level for years, and Tom Cleverley will have to be revitalised by Van Gaal if he is to bounce back from last season. Ander Herrera is a smart buy but you would expect another midfielder capable of carrying out Van Gaal's plans is required.
As for wing-backs, Luke Shaw should be perfect for the left-hand side when he's got his fitness up to scratch, though even a 19-year-old can't run up and down the wing for 90 minutes 50 times a season, so he will need cover. On the right, Rafael and Antonio Valencia should prove capable.
Up front the club should be spoilt for choice if Rooney and Van Persie can get back to the top of their game, Welbeck keeps improving and either Hernandez or James Wilson can provide goals from a back-up role.
Many questioned the wisdom of signing Van Persie from Arsenal two years ago, but he proved to be the difference as Sir Alex Ferguson's United grabbed their title back from rivals City. It is fair to say he did not hit it off with Moyes last season, suffering a number of injuries and looking isolated and irritated whenever he did get himself fit.
This season he should be back to near his best, even if he is now 31. Van Gaal clearly knows how to get the best out of him and cherishes his presence in the squad, and after choosing a formation which allows Van Persie, Rooney and Mata to play together then a return to the top of the goalscoring charts is on the cards.
A happy Van Persie is a dangerous Van Persie, so Premier League defences should be on red alert all season.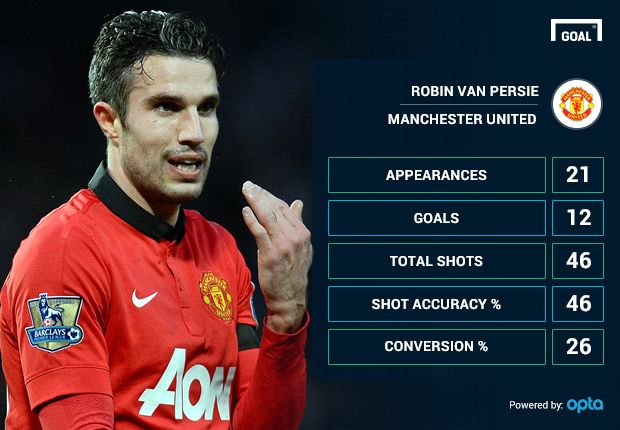 *2013-14 Premier League stats
Van Gaal has clearly stamped his authority all over the club in his short spell in charge and, thus far, he cannot put a foot wrong in the eyes of supporters. He has reenergised a squad, and a club as a whole, which was so lacking in confidence and direction after Moyes' short reign.
He has been building up the confidence of the squad's biggest under-performers, including Smalling and Cleverley, so even if he cannot bring in enough new faces, he may just be capable of turning around one or two careers and the fortunes of a team which could only finish seventh last season.
His strength of personality and aura have enthralled fans and journalists so far, meaning there is perhaps a misplaced feel-good factor around Old Trafford at this point, considering the holes in the squad.
He will provide entertainment value in his interactions with the press, and as tales of his training ground habits emerge from Carrington, but he is in the business of winning and this is what he and Manchester United will expect.
A GOOD 2014-15 WOULD BE...
A title challenge has been predicted in some circles but in reality a return to the top four would be an achievement in itself. It would be no miracle – Moyes's methods made the squad considerably worse than the sum of its parts – but given the quality of the contenders United certainly have a fight on their hands.
MAN UTD ODDS FOR 2014-15
(From William Hill)

Title

9/2

Top 4

1/2

No top 4

6/4
Champions Manchester City, who finished 17 points ahead of United last season, have strengthened with some clever purchases, while Chelsea look intimidating after adding three main components of Atletico Madrid's La Liga-winning squad, plus Cesc Fabregas.
Arsenal, for all their faults, are top-four shoe-ins and are emerging from an era of austerity with big signings like Alexis Sanchez and Mesut Ozil to show for it.
That leaves Liverpool, despite last-season's mouthwatering football , as the weakest of the top four. The loss of Luis Suarez will be keenly felt, and the extra demands of European football will take their toll on a squad which is bedding in a number of new faces.
Everton and Tottenham will also be in the mix under two young, progressive coaches who know how to get the best out of their players.
As all of these clubs have European commitments, fourth place would be a great return for United given the squad as it currently is. Anything more than that is a bonus.