By
George Ankers
With what can only be described as a tumultuous summer only mostly done, Southampton have had it harder than most since the end of 2013-14. Are the Saints doomed to fall away after losing a host of their best players or can new manager Ronald Koeman inspire a resurgence from his much-changed squad?
For all the grief about the exodus from St Mary's Stadium this summer, Southampton have already signed as many as they have sold with more expected to follow.
The first order of business for Koeman was to raid his native Netherlands for some of the best talent that the Eredivisie had to offer. Having left Feyenoord for the south coast, he brought with him from the Rotterdam side Graziano Pelle, who is set to be the direct replacement for Rickie Lambert at centre forward.
The 29-year-old Italian scored 50 goals over his last two seasons in the Dutch top flight and will be joined in attack by winger Dusan Tadic, who created 178 more chances over the last four years than any other player in the Eredivisie. The obvious successor to Adam Lallana, the Serbian has fans excited.
A surprise move for Ryan Bertrand, on loan from Chelsea with an option to buy, provides cover at left-back after Luke Shaw's exit, while a similar loan-to-buy agreement has seen Algerian World Cup midfielder Saphir Taider arrive from Inter.
Southampton's latest acquisition is that of goalkeeper Fraser Forster from Celtic. The England international, who has starred against the likes of Barcelona in the Champions League, looks set to succeed Artur Boruc (who has one year left on his contract) sooner rather than later.
No matter the ins, however, there is no denying that the outs have been painful. The majority of the most important parts of last season's squad have been stripped away by top-tier teams, though the Saints have at least done well to get reasonable fees for every player sold.
Lambert was the first and the one that will hit hardest for supporters. The club's talisman sealed a dream £4 million move to Liverpool early in the summer and his excellent understanding with captain Lallana, who has also gone to Anfield for £25m, will leave a big hole in the team that Pelle and Tadic will need plenty of time to fully patch.
The departure of Shaw was inevitable – sooner or later, a player of such obviously special talent would have gone somewhere. Having already played his way into the Premier League's team of the year last season, Saints will simply not be able to recruit a replacement of equal ability and £30m arguably represents good value on a long-term investment for Manchester United.
The next exit, again to Liverpool, was that of Dejan Lovren, of whom fans were glad to see the back after his handling of Southampton's initial rejection of the Reds' bid. His quality, though, is undoubted and his natural combination with Jose Fonte played a big part in Saints' success last term.
Calum Chambers's sale to Arsenal will be the easiest of the five with which to cope – the England youth international was already competing, more or less equally, with Nathaniel Clyne at right-back and at £16m earned the club a good fee.
Things remain in flux at St Mary's Stadium as the club continue to resist any more star exits and push for further signings but the squad, on paper, is still a very respectable one. The biggest issues are squad depth – which was a pressing problem even before players started leaving – and keeping those who remain happy.
Morgan Schneiderlin will be the main target of the latter – more on him below – but England international Jay Rodriguez is also being closely monitored by former Saints boss Mauricio Pochettino at Tottenham and perhaps only injury has kept him from a more serious transfer tug-of-war this summer. The likes of Nathaniel Clyne and James Ward-Prowse are two more who could be tempted sooner rather than later to fulfil their potential elsewhere.
Those reserves of potential, though, are what make Southampton a still-dangerous side despite their troubles. A back line of Clyne, Bertrand, Fonte (newly of an extended contract and handed the captaincy) plus reportedly imminent centre-back signing Florin Gardos looks solid, while Koeman is also out to reinforce it with
a bid for Leeds right-back Sam Byram
and
interest in Senad Lulic of Lazio
.
Saints still have flexibility and quality at central midfield. Assuming they stand by their stance on Schneiderlin, they can count on the varied talents of Ward-Prowse, Victor Wanyama, Steven Davis and Jack Cork – though the latter is entering the last year of his contract and would be worth tying down as quickly as possible.
The Saints remain a little light in attack, however, with youngster Sam Gallagher not ready for a full season as the only like-for-like backup to Pelle through the middle. Reports emerging on Tuesday of a £12m bid for Shane Long would go some way to addressing that, with the exorbitant price a natural consequence of the recency of his joining Hull City and the very public nature of the money at Southampton's disposal.
Nonetheless, this is not a team who should be in danger of relegation despite all that has happened.
Keeping hold of Schneiderlin, if Southampton are successful in putting down their feet, would – in theory – be a huge bonus. Despite the excellence of Shaw, Lallana et al, the midfielder is arguably their best player of recent times, having come on leaps and bounds since joining the club as a gangly youngster.
A magnificent defensive presence, with more tackles and interceptions combined than anybody else in the Premier League over the last two years, Schneiderlin is strong, fearless and also very comfortable on the ball. He would be the ideal signing for Arsenal and, despite the vast stocks of central midfielders at Tottenham, would improve them too.
The test will be in how he reacts to the whole transfer saga, should he stay. The 24-year-old has still not deleted the furious Twitter message in which he decried his whole time at the club as being ruined by their refusal to sell and has only just returned to training with the squad after being deemed mentally unready by Koeman and his staff to participate in friendlies.
Reports suggest that the manager has reminded Schneiderlin that his newly blooming France career could be jeopardised by a failure to get in line and his previous performances have suggested a head level enough to recognise that another fine season would increase his hopes of getting out next summer.
However, the petulance and odd lack of ambition in wanting a reunion with Pochettino at Spurs rather than a Champions League opportunity at Arsenal seemingly tailor-made for him put that rather more into doubt. But Southampton are too invested – and his quality is too obvious – not to rely on him anyway.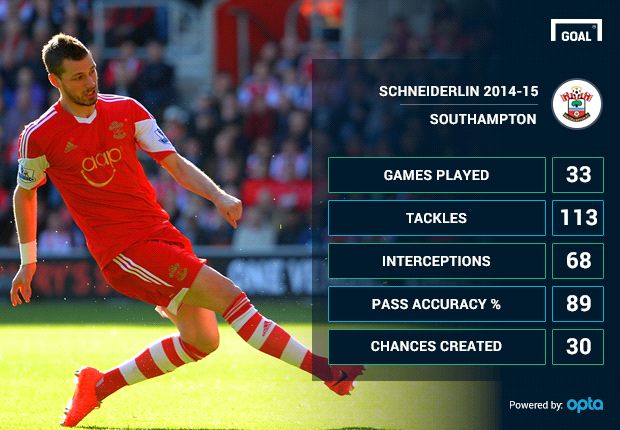 As replacements for Pochettino go, Koeman is perhaps the best attainable for Southampton. Boasting superb experience as both a player and a manager, the Dutchman has already shown great enthusiasm in his new role and remains unfazed by the slew of big-name exits.
The most encouraging aspect of the former Ajax, Benfica and Valencia coach's appointment is his commitment to promoting young players, which lines up perfectly with the Saints' philosophy. Fans should be hopeful that he can give prospects like Ward-Prowse, Gallagher, Harrison Reed and Matt Targett the game time and nurturing that they need to grow into the places of those who have left.
His handling of the transfer frenzy around the club has been calm but firm – if performances on the pitch match, then Koeman should have no problems at all.
A GOOD 2014-15 WOULD BE...
Upper mid-table, perhaps even threatening a similar final position to last season's eighth if injuries and suspensions are kind. While Southampton have some serious adaption to do as they get to grips with their much-changed squad, they still boast several players who could quite easily have followed their contemporaries up to bigger clubs and should be capable of giving more or less any team a tough game.
SOUTHAMPTON ODDS FOR 2014-15
(From PaddyPower)

Title

1000/1

Top 4

33/1

Relegation

4/1
Working hugely in their favour is the fact that there is no kind of abundance of quality in the Premier League's lower reaches. At least seven teams could quite deservedly have been relegated last season and not many of those who finished below the Saints have bought particularly impressively this summer; whatever teething problems this new-look Southampton have, they should have more than enough to avoid being dragged into a relegation battle.
Still, 2014-15 very much represents the first year of a new era under Koeman and expectations need not be so high as to demand a repeat of last term's successes. The area around 10th to 12th looks like the most realistic estimate.
Follow George Ankers on