COMMENT
By Ewan Roberts
Southampton
's astonishing firesale shows no signs of slowing down, with
Tottenham
the latest club looking to profit from the greatest exodus since Moses crossed the Red Sea.
Spurs are closing in on a double deal to sign both midfielder Morgan Schneiderlin and attacker Jay Rodriguez
, having already lured Mauricio Pochettino to White Hart Lane earlier this summer.
While the Saints are on the verge of losing an astonishing seven key players, last summer Tottenham recruited just as many following Gareth Bale's exit. That window was prematurely hailed as a masterclass of wheeling and dealing from the north Londoners, but that septet of players had no Premier League experience and appeared largely unsuited to then boss Andre Villas-Boas's style.
A period of adaptation was required, but, in most cases, was disrupted by injury – Paulinho made the most league starts with just 28 – and collectively the new recruits scored just one more goal than Bale managed on his own in his final season at the club.
This summer, however, is different. Rather than ploughing the pages of Franco Baldini's bulging black book and targeting players from foreign leagues, Spurs have earmarked known quantities and are prepared to pay the premium that accompanies homegrown talent. Michel Vorm and Ben Davies have already been brought in, while Rodriguez and Schneiderlin not only have Premier League experience but 18 months of working under Pochettino.
The importance of having two players already adapted to the Argentine's meticulous methods and philosophy cannot be overstated, and Schneiderlin in particular, lining up in the spine of the side, can be an on-field lieutenant capable of speeding that learning process and helping less versed team-mates execute that new thinking on the pitch.
Rodriguez, too, already knows how to turn theory into practice and can help lead the pressing Pochettino's philosophy demands. "He wants us to recover the ball as high as possible, so to do that it's usually up to a forward to trigger the pressing, then the rest of us follow," revealed Schneiderlin to
L'Equipe
last year, underlining how reliant the system is on a vigorous, intensive frontline.
FLYING ENGLISHMAN | Jay Rodriguez top-scored for Southampton with 15 goals in 30 Premier League starts last season; Emmanuel Adebayor led Tottenham's scoring charts with 11 goals
Left wing is a position clearly up for grabs, with Erik Lamela lining up through the middle in pre-season and Christian Eriksen and Lewis Holtby vying for a role on the right. Aaron Lennon has looked liveliest on the left, but he's far from the natural goalscorer the position demands. Rodriguez managed 15 league goals last season, while Lennon has not even managed that many in the last five seasons combined.
Rodriguez, then, brings the combination of pace, athleticism and intelligent running that can complete the interchanging, fluid attack Pochettino is looking to build. As testament to his directness and predatory instincts, only Andros Townsend (120) attempted more dribbles than Rodriguez (106) amongst the Tottenham squad last season – the former, though, converted just 2.7 per cent of shots on goal, while the latter converted 20.2%, a figure only bettered by two Spurs players.
Targeting players almost uniquely equipped to excel under Pochettino suggests chairman Daniel Levy has learned from the mistakes that exposed Villas-Boas. The Portuguese wanted countryman Joao Moutinho or playmaker Oscar in his first season, players able to unlock the deep defences that where a by-product of the often stale possession the now Zenit manager's style produces.
Both players, however, were deemed too expensive and Villas-Boas was denied key ingredients of his new ideology. Instead Spurs swooped for Mousa Dembele, a player that oozes power but none of the quick-thinking, defence-probing vision the side had required – though, ironically, the Belgian could flourish under Pochettino and his preference for a defensive duo ahead of the back four.
The Argentine's axis of retrieval was a key component of Southampton's success, with two holding midfielders sitting deep, congesting the centre of the pitch and shutting down space, but also able to play the ball forward quickly to a spring-loaded attack.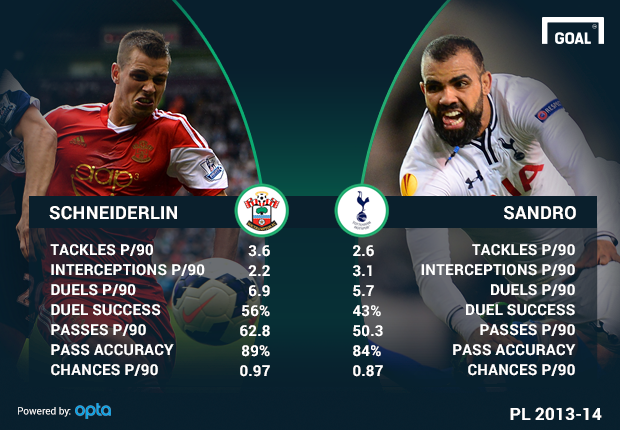 The benefit of having Schneiderlin is twofold; On the one hand, no player has managed more combined tackles and interceptions than the Frenchman's 466 (6.75 per match) across the last two Premier League seasons, but he is also capable in possession. "[Pochettino] asked me to play a step ahead, to get into space and burst forward," the Frenchman explained of his role. "I'm expected to be the constant link between defence and attack whilst maintaining the same intensity in terms of pressing."
Pochettino's thinking marks a remarkable shift from last season, when short-lived boss Tim Sherwood ostracised his side's holding midfielders under the delusion that, if his side never lost the ball, they would never be required to win it back – his second in command, Les Ferdinand, even went as far as to decry archetypal water-carrier Claude Makelele as "the worst thing that happened to this league".
Now there are opportunities for players shunned under the old regime to excel. Etienne Capoue noticeably impressed in the club's pre-season tour of the United States, and his Toulouse best would be both well suited to Pochettino's style and a good foil for Schneiderlin.
Capoue recorded at least 168 combined tackles and interceptions in each of his last four seasons in France, averaging 5.8 per match over that period. What will excite Pochettino further is his composure and passing ability. He has occasionally looked cumbersome and slow while at Spurs, a combination of adapting to the faster-paced Premier League and injury, but attempted the third most passes in Ligue 1 during his final season with Toulouse as well as scoring seven goals.
Sandro, likewise, has the defensive power to excel, though injuries - namely concerns over his knees - have curtailed his involvement in the last two campaigns and Spurs would have little reservation about selling the Brazilian to facilitate a move for Schneiderlin.
Tottenham's transfer business has been uncharacteristically sensible this summer. Long-term deficiencies, such as left-back, have been strengthened and the club are set to back their manager in the market with moves for Schneiderlin and Rodriguez. Pochettino is being given every opportunity to succeed and the Southampton duo will only speed up further the implementation of a blueprint that is already beginning to take shape in north London.
Follow Ewan Roberts on